Chicago Mayor Opposes Bringing in U.S. Troops; Top Cop Says Lack of Early Strategy 'Emboldened' Looters
Chicago Mayor Lori Lightfoot said Monday she does not want any federal troops sent in to assist with keeping the peace after the week began with a night of looting that left 13 police officers injured and more than 100 people arrested.
"We do not need federal troops in Chicago. Period. Full stop," Lightfoot told reporters following a news conference with Illinois Governor J.B. Pritzker. Lightfoot said she and Pritzker discussed the city's situation earlier that morning and agreed that National Guard troops were not needed.
"Both of us believe this is not an incident that requires the National Guard," Lightfoot said.
Pritzker said he and Lightfoot compiled resources in other ways to respond to the violence that broke out early Monday morning, including deploying state police and coordinating road closures. "We want to make sure we're doing everything we can to support the city, as we did back in May and June, when the looting and mayhem was occurring back then. Everything and anything that we're asked to do we'll be helpful with," Pritzker told reporters Monday.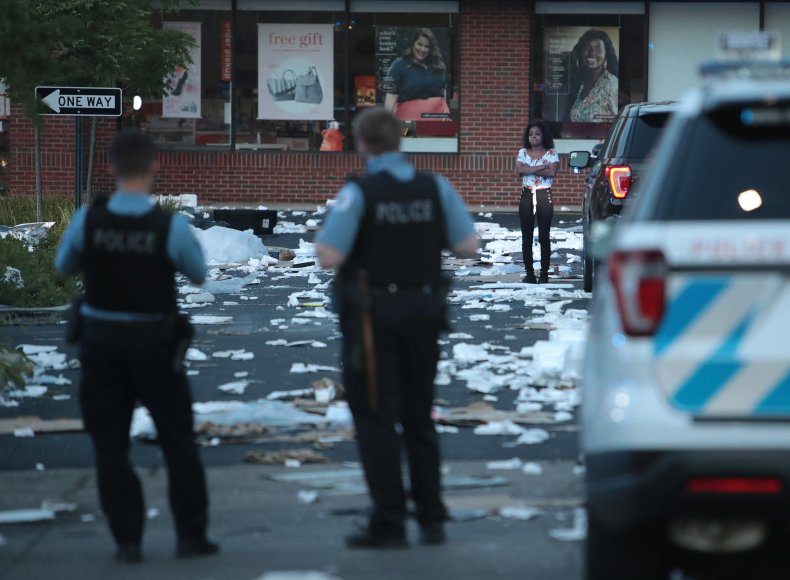 President Donald Trump said last month he was sending federal troops into Chicago and other cities to respond to protests that began after the death of George Floyd, a Black man who died while in Minneapolis police custody on May 25. But it was not known Tuesday morning if he planned to send federal troops into the city over Lightfoot's objections after the looting earlier this week.
Newsweek reached out to the Illinois National Guard for comment but did not receive a response in time for publication.
During an earlier news conference Lightfoot held Monday morning with Police Superintendent David Brown, the mayor encouraged the Cook County state's attorney, Kimberly Foxx, to prosecute those who participated in the looting. "I call upon our state's attorney and our courts to make sure that these individuals who were arrested and those to come are held accountable," Lightfoot said. "Put your best people on this."
Brown and Lightfoot both made a distinction between the looters and the individuals who earlier this summer participated in peaceful protests. At the end of June, Foxx announced her office would not prosecute charges filed in connection with peaceful protests but said she would pursue charges against those who were "choosing to exploit this moment" of demonstrations over police misconduct and systemic racism. The arrests would be assessed on a "case-by-case basis," Foxx said.
Brown said this week's looters "felt emboldened" by the lack of punishment brought against those who were arrested during earlier demonstrations in May and June.
"These looters acted as if there are no consequences for their behavior," Brown said. "They base that on what happened previously, that we made a lot of arrests during May and June and not many of those cases were prosecuted to the fullest extent. That's my point and the mayor's point: We have to have consequences for the arrests that Chicago police officers make."
During a news conference of her own later Monday, Foxx said Lightfoot and Brown were playing "dishonest blame games," according to the Chicago Sun-Times. Foxx posted a graphic on Twitter that said her office has thus far approved charges for 90 percent of the felony arrests conducted between May 29 and June 16. She added that it "has been extremely clear in making the distinction between peaceful protesters and prosecuting those causing harm, damage and inciting violence."
In contrast with peaceful protests, the looting and violence that occurred in Chicago early Monday morning "was unacceptable," Foxx said.