Chicago Mayor Says Looting Is 'Never Justifiable' After Activist Defends Theft as 'Reparations'
Chicago Mayor Lori Lightfoot decried the looting that occurred earlier in the week as being indefensible and behavior that should never be tolerated, dismissing an activist's earlier remarks.
Widespread looting erupted in Chicago's Magnificent Mile late Sunday night, hours after community members expressed outrage over an officer-involved shooting. While Chicago officials condemned the looting, Black Lives Matter organizer Ariel Atkins expressed support for the more than 100 people arrested, saying they can take whatever they want because "businesses have insurance" and likened the theft to "reparations."
Lightfoot didn't mention Atkins by name during her Friday briefing, but said people can never "normalize this behavior or allow anyone to justify it." Regardless of a person's individual life circumstances, Lightfoot said "it is never justifiable to take what is not yours."
"We teach that basic tenet of our democracy to our children and any thinking, any speech, any action that suggests that somehow the taking and looting is justifiable is simply wrong and I reject it in the strongest words possible," Lightfoot said.
Newsweek reached out to Black Lives Matter for comment, but did not receive a response in time for publication.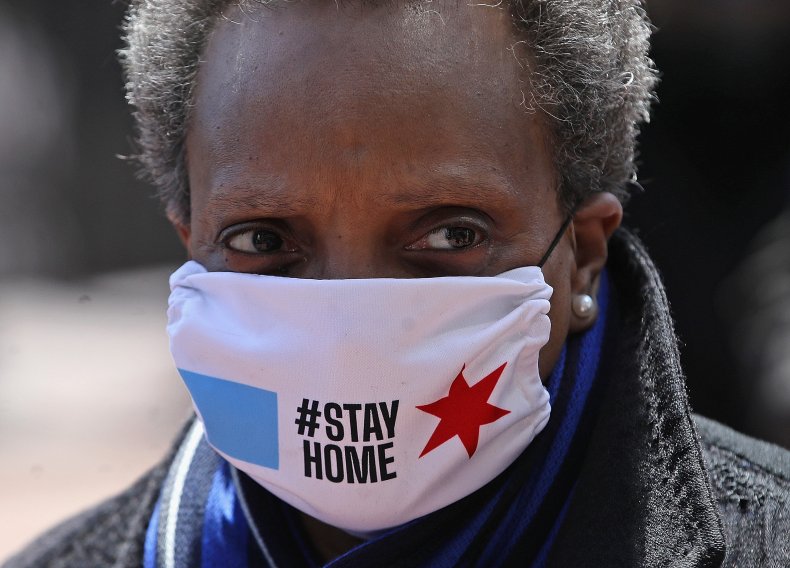 At least 13 officers were injured during the looting that carried into Monday morning. Having reviewed video footage and other evidence from the looting, officers were able to identify some of the people involved. They presented 44 cases involving felony charges to the Cook County State Attorney Office, which approved 43 of the cases, according to the State's Attorney for Cook County Kim Foxx. Of those cases, 28 are for what Foxx's office considers burglary or looting.
"The message for this weekend is simple: Chicago does not belong to looters and thieves. Chicago belongs to the good people who work hard to earn an honest living," Chicago Police Superintendent David Brown said on Friday.
Chicago, like several other cities nationwide, experienced looting and property destruction in the aftermath of George Floyd's death on May 25. Footage of Minneapolis police officer Derek Chauvin kneeling on Floyd's neck before his death sparked widespread protests that often turned violent at night, resulting in hundreds of people in Chicago being charged with felonies.
Brown and Lightfoot criticized prosecutors and judges for failing to show through the legal system that looting won't be tolerated, a charge Foxx defended her office against. Appearing together at Friday's briefing, the three parties committed to taking a collective approach to holding people accountable for looting.
Part of that strategy is to be proactive and Lightfoot announced the city created a social media task force, a 20-person unit tasked with reviewing social media for looting plans around the clock. If officers aren't able to stop looting before it happens, the detective task force on looting, formed in partnership with the FBI, will help ensure people don't "get away with it," according to Lightfoot.
"I want to be crystal clear: if you are breaking windows, going in and out of stores with broken windows or transporting merchandise from a looted store, Chicago police will arrest you," Brown said. "If you get away from us, we will work with state and federal partners to find you and we will arrest you."