Chicago Mayor Threatens Looters After 13 Cops Injured, More Than 100 Arrested: 'We Are Coming for You'
Chicago Mayor Lori Lightfoot sent a strong message to Chicagoans during a news conference Monday morning after more than a dozen officers were injured during violent looting that took place in the downtown area Sunday night.
"Let's be clear: We are coming for you. We are already at work on finding you, and we intend to hold you accountable for your actions," Lightfoot said, addressing the looting participants. "There is no justification for criminal behavior ever."
More than 100 people were arrested Sunday night for disorderly conduct, battery against police officers and other charges, according to Police Superintendent David Brown. Thirteen officers were injured during the looting, one of whom suffered a broken nose, he said, while another was struck by a bottle. A security guard and a civilian were also shot and were transported to a hospital in critical condition, Brown said.
Police are investigating to determine the cause of the violence, which Brown said began after officers responded to a shooting nearby.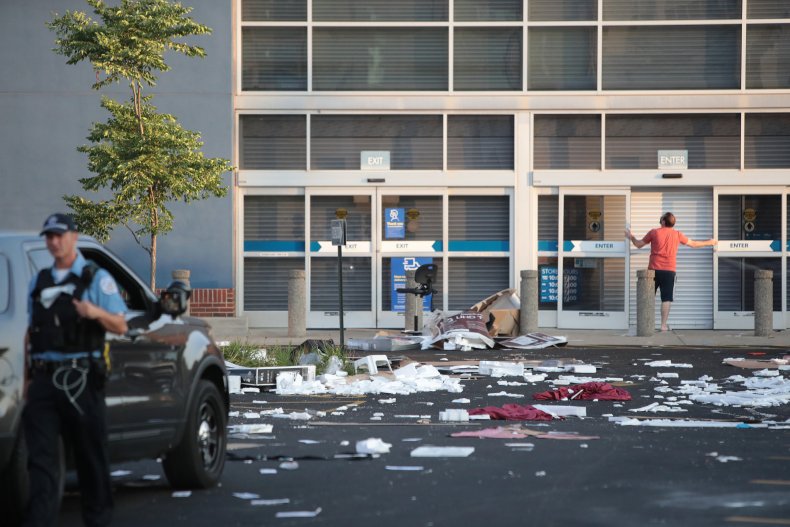 "Tempers flared, fueled by misinformation," he said. What resulted was not an organized protest, he added, but an "incident of pure criminality" and an "act of violence against our officers and against our city."
"Criminals took to the street with the confidence that there would be no consequences for their actions. And I for one refuse to allow these cowardly acts to hold our city hostage," Brown said.
Lightfoot described the events as "straight-up felony criminal conduct" and reiterated Brown's point that the gatherings did not begin as organized protests. The mayor encouraged anyone with information on those who were involved to speak up and said she wanted every participant to be punished.
"I call upon our state's attorney and our courts to make sure that these individuals who were arrested and those to come are held accountable. Put your best people on this," Lightfoot said.
The state's attorney for Cook County, Kimberly Foxx, had not issued a statement about the looting and violence as of Monday morning. Newsweek reached out to Foxx's office for comment but did not receive a response in time for publication.
In addition to Sunday night's violence, Brown said, nine officers were targeted by gunfire within the past week. Thirty-one shootings took place between Friday evening and late Sunday night, he said.
The superintendent said Chicago police recovered five guns overnight and a total of 149 guns over the weekend. Gun arrests in Chicago have increased by 15 percent over those reported in 2019, he noted.
Lightfoot said that the violence is "deeply painful" for all Chicago residents and that she will not allow it to continue. "We are not going to let our city be taken over by criminals and vigilantes, no matter who they are, what they're doing," the mayor said. "This is a time for us all to step up, and we will do just that."