Chicago Mayor Vows to 'Take Action' Against Defiant Churches That Continue to Hold Services Despite Lockdown Orders
Chicago Mayor Lori Lightfoot on Tuesday said the city will enforce the stay-at-home orders against churches that continue to hold services in defiance of Democratic Illinois Governor J.B. Pritzker's shelter-in-place order.
Pritzker's order remains in effect through May 30, though state Republicans have challenged it in court.
Lightfoot has said that she doesn't intend to arrest parishioners nor has she mentioned what specific actions she plans to take against defiant churches.
"We don't want to see a cluster break out because faith leaders believe they have only one way of showing their reverence to the God that they worship," Lightfoot said. "The Bible tells us, where two or more are gathered in my name, there will I be also. There's lots of ways in which we show our devotion to our faith that don't include physically putting people at risk."
Newsweek reached out to Lightfoot's office for further information. This story will be updated with any response.
But move may set up a potential church-versus-state battle over the First Amendment's promise to free exercise of religion and the state's power to reduce possible coronavirus transmissions during the ongoing epidemic.
Lightfoot spoke out in response after two local churches held in-person services on Sunday despite the Pritzker's order: Metro Praise International Church and Elim Romanian Pentecostal Church.
"It doesn't matter who you are or what you're doing," Lightfoot said in a tweet linked to a news story about Metro Praise holding services. "When you gather like this, you are putting yourself and your loved ones in serious danger."
While the leaders of both churches have said that they expect to talk with Lightfoot later this week, both intend to hold in-person services this coming Sunday.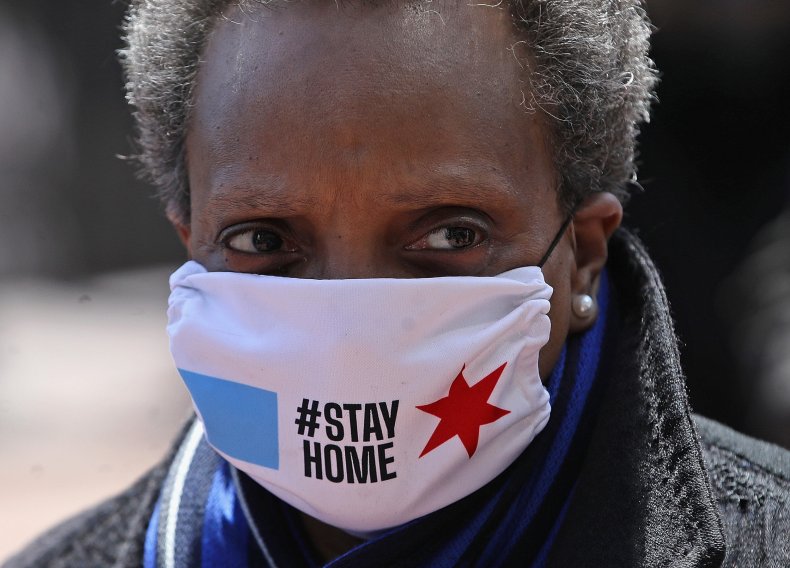 "I refuse to keep people at home when they want to come to the service if we apply all those restrictions and precautions," said Cristian Lonescu, pastor of Elim Romanian Pentecostal Church.
Ionescu said his services only host 110 people, 15 percent of the church's seating capacity. He also said his church checked people's temperatures before allowing them inside, disallowing recent users of public transportation, anyone with underlying medical conditions and people younger than age 10 and older than age 60. Futhermore, congregants were given gloves and masks and encouraged to use sanitizer dispensers stations in the building.
"I just feel like [religious leaders] were put at the back of the bus," said Joe Wyrostek, pastor of Metro Praise International Church. "We were not in any of the discussions."
"We have to stand up for ourselves at some point," he continued. "We've lost trust in what they're doing. We have to peacefully resist and see where it goes."
Republican State Representative Darren Bailey successfully challenged Pritzker's extended shelter-in-place order in Clay County Circuit, asserting that state law doesn't explicitly allow the governor can extend such an order.
Pritzker asserts that precedent allows for governors to do this, but the judge agreed with Bailey, saying that Pritzker's extension was unconstitutional. The ruling now allows other Illinois residents to either join Bailey's lawsuit or file their own.
As of May 12, Cook County, which contains Chicago, has 38,668 confirmed coronavirus cases and 1,673 deaths. On May 11, Illinois reported its highest ever number of new cases--4,014.