'Chicago Med' Spoilers: Connor Stays to Run a New Program Colin Donnell Says 'reinvigorates Him'
Dr. Connor Rhodes took the job at the Mayo Clinic between seasons on Chicago Med, but he couldn't say no to an opportunity that presented itself in the Season 4 premiere. Connor's staying in Chicago, and he'll be heading a program that could be a big deal.
"The way they decided he would stay is very, very creative. It was exciting because it puts Connor in a new position at the hospital. I think it reinvigorates him professionally because he's the type of person who's always looking for the next challenge, especially with work," Colin Donnell told Newsweek. "Now he's in a position where he's potentially running a department that could have an impact in emergency medicine all across the world if it works out."
A patient's aorta ruptured while Connor and Ava (Norma Kuhling) were transporting him from the emergency department (ED). If they'd been able to repair his injury without moving him, he'd still be alive, Connor argued. He proposed a hybrid operating room in the ED, fully equipped to perform emergency cardiac surgery. The board passed off Chief Operating Officer (COO) Gwen Garrett's recommendation because it would cost too much money.
Ava went to Connor's rich father, Cornelius (D.W. Moffett), to earmark a contribution—and get other private donors to do the same—for the project. She thought Connor would stay in Chicago if the board approved his proposal. Ava agreed to keep Cornelius' involvement from his son and suggested they grab dinner when he wanted time to think about it.
After the hospital received donations for the program, the board agreed to provide matching funds—but Connor had to stay and run it. He agreed.
"It gets Connor back from the OR floor where was the past two seasons," Donnell said of his new position. "He's been away from Dr. Halstead and Dr. Choi, and Maggie and April and the whole team we got to know in Season 1, and it's been amazing, but I think that connection down to the emergency department is really exciting."
"It's exciting for me personally playing it. I get to be in the mix with everybody again. And I think it opens up a whole world of possibilities for whom he gets to interact with," he continued. "There's potential conflict with the new doctors. There's plenty of opportunity for him and Dr. Choi and Maggie. It's that feeling of being really in the thick of things again, which I think for Connor is the most exciting."
Gwen (Heather Headley) wasn't pleased Sharon Goodwin (S. Epatha Merkerson) the hospital's Chief of Services, seemingly went behind her back to get the proposal approved. She decided the hospital wouldn't renew Dr. Stohl's contract because she saw Eddie Jemison's character as Sharon's man.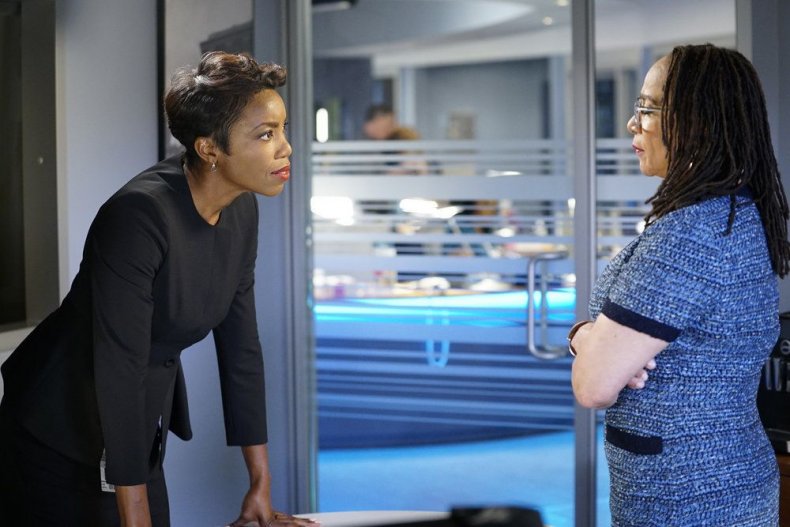 Gwen's presence will affect Connor "100 percent," Donnell told Newsweek. "I think one of the great things about that character is it's helping us to explore the inner workings of a hospital that people don't necessarily see, but everybody's kind of aware of in today's society, which is, what happens at the intersection of patient care and a hospital that needs to take care of its bottom line as well."
"There's an opportunity for her to be a foil for every single one of us, particularly Ms. Goodwin, but her decisions ultimately impact everybody who's working at the hospital," he continued.
Chicago Med Season 4 airs Tuesdays at 8 p.m. ET on NBC.