'Chicago Med' Spoilers: Colin Donnell on Connor Being 'Doomed' in Love and That Job Offer
Dr. Connor Rhodes received a job offer at the Mayo Clinic in the Chicago Med Season 3 finale, but could he really be leaving Chicago behind? His love life wouldn't be a reason for him to stay and Colin Donnell agreed his character may be doomed when it comes to relationships.
"The very first episode deals with the back and forth of Connor trying to figure out whether or not he's going to stay at Chicago Med," Donnell told Newsweek. "He's the type of person who's always looking for the next challenge, especially with work."
Connor has faced several challenges professionally, including multiple mentors and competition with colleagues, since fans first met him in the middle of a train accident in the series premiere. "He's maintained that sense of 'I can do anything,' but has grown enough to realize sometimes he needs help and there are actual consequences for his actions," the actor said.
His character has also grown personally, though he hasn't had the best of luck with relationships. "He's starting to realize what he wants out of a relationship and he's capable of being in one if the right person is there," Donnell said.
"I think he was ready for something with Robin, but ultimately because of what she was going through, it was her decision to be the one to end it," he continued. "I think Connor was ready to be there for her, whether or not it was the best thing for him. I think he's ready for love, but he might be doomed." Robin (Mekia Cox) was diagnosed with a brain tumor, which led to odd behavior and left Chicago.
Robin is Connor's past, but he's hoping for a relationship with fellow cardiothoracic surgeon Dr. Ava Bekker (Norma Kuhling) to work out. "There's going to be a lot of figuring out whether or not Connor and Ava actually have a future," Donnell said to Newsweek. "When he asked Ava if she would take the job at Mayo, the answer he was hoping for was no because she wanted to stay there with him." He described their brief relationship in Season 3 as "very, very real and very promising."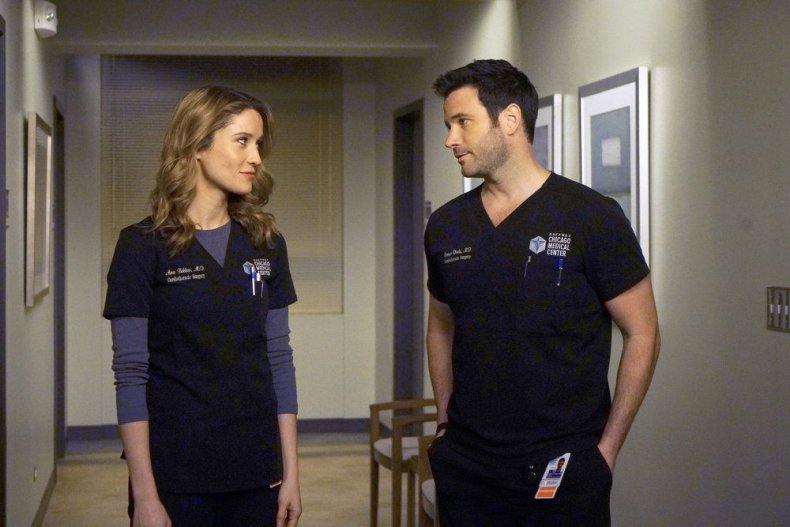 Also looking ahead to Season 4, Connor will be "working more with … somebody who's part of the core group of actors [and] someone you've seen Connor interact with before," Donnell teased, but wouldn't name the person.
He was also vague about the identity of the person whose life is in danger during the One Chicago crossover airing October 3. While Med usually leads off the night into Fire then P.D., for that one night, Fire and Med are switching time slots. "There is a member of the Chicago Fire family that gets injured in the big fire and it's up to Connor and Ava to try and save her or him in a way that will hopefully allow them to live a full and healthy, happy life," the actor previewed.
There will also be more of the mini-crossovers, in which one character from one show appears on another, with the three Chicago series airing the same night this season. "You'll regularly see some characters from P.D. popping up with us and us going over to Fire and P.D.," he said.
Donnell even has an idea that would allow his character to do that more often. "One of our medical advisors on the show, who's a trauma surgeon here in Chicago, also happens to be a medic for the SWAT team," he said. "I always thought that would be a really cool idea, for Connor to expand his work and maybe take some shifts over on P.D. as this SWAT medic for them."
Chicago Med Season 4 premieres Wednesday, September 26 at 8 p.m. ET on NBC. It leads into Chicago Fire at 9 p.m. and Chicago P.D. at 10 p.m.