Are 'Chicago Fire,' 'Med' and 'P.D.' on Tonight? NBC-TV Schedule Explained
On Wednesday evenings, NBC-TV viewers typically enjoy the One Chicago franchise, which consists of three shows: Chicago Med, Chicago Fire and Chicago P.D. But none of them will be on tonight because of a schedule change.
Here is everything that fans of the shows need to know about the three programs and when they can be seen again.
The 'Chicago' Shows' Going on a Break
Chicago Fire is in its 11th season, Chicago P.D. is in its 10th, and Chicago Med is in its eighth.
The three Chicago shows are usually broadcast Wednesdays from 8 to 11 p.m. ET, but they will be taking a two-week break for Thanksgiving. The shows will then return for one episode each before going on a midseason break, which is the norm for network shows during the holidays this time of year.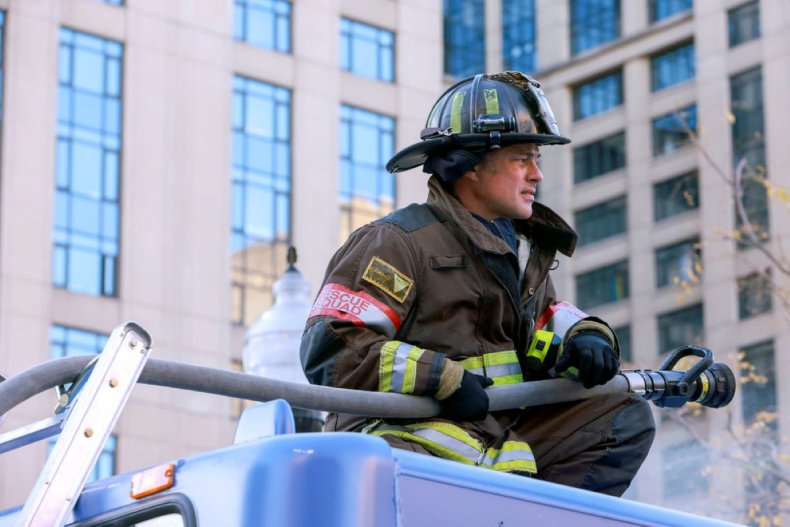 Chicago Med, Chicago Fire and Chicago P.D. last aired their respective episodes on November 16, before this week's holiday break. All three shows will return for their midseason finales on December 7.
Chicago Fire's most recent episode was titled "A Beautiful Life," while Chicago Med aired an episode called "Everyone's Fighting a Battle You Know Nothing About" and Chicago P.D. aired "Under the Skin."
The One Chicago franchise has seen its ratings rise and received its largest audience this season with the most recent episodes, according to TVLine. Chicago Med drew 6.6 million viewers, while Chicago Fire got 6.8 million and Chicago P.D. drew 5.3 million.
The December 7 midseason finales for Chicago Med, Chicago Fire and Chicago P.D. will air from 8 p.m. to 11 p.m. The three episodes are titled "Could Be the Start of Something New," "Nemesis" and "Proof of Burden," respectively.
When Will the 'Chicago' Shows Return in 2023?
On November 7, NBC confirmed its midseason schedule and said the three Chicago shows will return next year, on January 4.
As usual, the Chicago Wednesdays schedule will begin at 8 p.m. with Chicago Med, followed by Chicago Fire and then Chicago P.D.
How 'Chicago Med' Is Preparing for Brian Tee's Exit
The midseason finale for Chicago Med on December 7 will pave the way for Brian Tee's departure from the show. He has played Dr. Ethan Choi for eight seasons. In the Chicago Med episode before Thanksgiving, the staff at the hospital received invitations to Ethan's wedding to April Sexton (Yaya DaCosta).
How exactly the doctor's exit will take place will be revealed in the December 7 episode, "Could Be the Start of Something New."