Chicago Photos and Videos Show Widespread Looting After Police Shooting
Looting broke out in downtown Chicago overnight and continued into the early hours of Monday morning, following a shootout between police and an unidentified man in the city's Englewood neighborhood.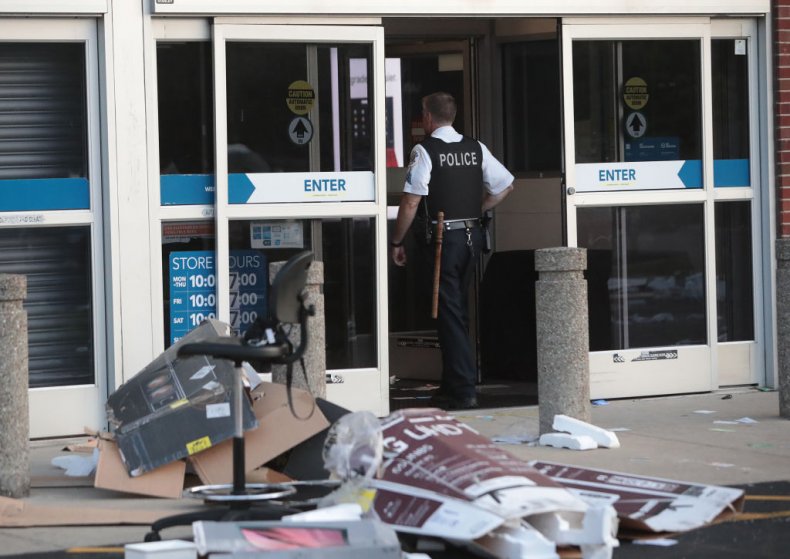 The unidentified man involved in the Sunday afternoon shooting has been hospitalized. In a preliminary statement to the media, Chicago police said they had responded to reports of a man with a gun. When they arrived, they attempted to confront the suspect, who they said ran and shot at the officers. Police said their officers returned fire, injuring the man, who has been described as in his late teens or early 20s.
Photos and videos shared to social media showed numerous people calmly carrying clothing and other items out of downtown stores with their glass doors and windows broken, including along Chicago's iconic Magnificent Mile on Michigan Avenue. A large police presence was also on the scene. In one clip, the sound of gunshots can be heard in the streets.
According to NBC 5 Chicago, the unrest started shortly after midnight when large crowds gathered outside of Saks Fifth Avenue and Coach on Michigan Avenue. Police responded to the scene and were confronted by the crowds, who threw objects at the officers. Looting followed throughout the night.
Tom Ahren, the Chicago Police Department's deputy director for news affairs and communications, tweeted just before 5 a.m. local time that shots had been fired amid the looting.
"Police involved shooting Michigan and Lake. Shots fired at police who returned fire. No officers injured. Unknown at this time if offenders were shot," Ahren tweeted. He later said in a separate post that Mayor Lori Lightfoot and Police Superintendent David Brown would address the media about the situation at 8 a.m. local time (9 a.m. ET).
When reached for comment, Sally Bown, a public information officer for the police, referred Newsweek to the press conference.
At the press conference, Brown described the looting as an act of "pure criminality." He said that police had seen multiple social media posts urging people to participate in the looting. Brown said the man involved in the Sunday shooting was 24 years old and is expected to survive his injuries. He added that the man had a criminal record, outlining charges he has faced.
"I pledge to pursue these offenders to the full extent of the law," Brown said.
One video shared by Bernie Tafoya, a reporter with Chicago station WBBM, showed looters around 5:45 a.m. at the Block 37 mall on Randolph Street to the west of State Street. The looters were exiting the mall calmly, carrying clothing items in their arms. Another video showed a large crowd outside of a downtown Tesla shop.
CBS Chicago reporter Vi Nguyen shared a clip of a crowd standing on the corner of State and Lake streets. Other clips showed police officers confronting people in the streets downtown, waving batons and wearing riot gear.
Chicago Photos and Videos Show Widespread Looting After Police Shooting | U.S.