Chicago Police Crack Down on Big Gatherings That Violate Coronavirus Stay-at-Home Orders
Over the weekend, police in Chicago were forced to crack down a number of large public gatherings that violated the state's coronavirus stay-at-home order.
On Saturday, there was a large gathering in the streets of the Lawndale neighborhood, where police found five teenagers injured after a drive-by shooting. According to WGN 9 News in Chicago, police said the teens, ages 15, 17, 18, 18 and 19, were found with gunshot wounds in their legs, but they were transported to the hospital in fair condition.
Police in the city also shut down another large public gathering on the city's west side, where people were spotted hugging and not wearing masks, according to WGN 9 News, while police in downtown Chicago broke up a group of residents who gathered to watch a drag race.
The different large public gatherings come shortly after Chicago Mayor Lori Lightfoot warned residents about the potential consequences that could come for those violating the state's stay-at-home order.
"Going to a party now during this pandemic while Chicagoans are still dying every day is height of foolishness," Lightfoot said at a recent press conference. "And this is how it's going to be, we will shut you down, we will cite you and if we need to, we will arrest you and we will take you to jail."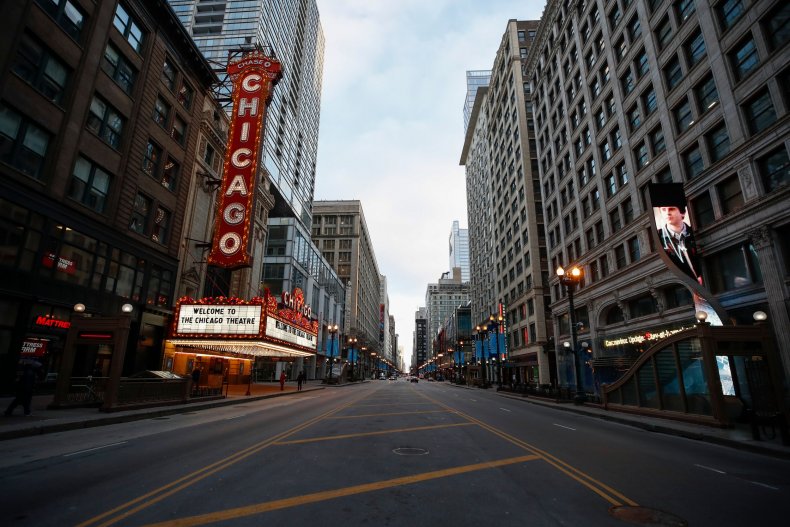 Lightfoot also said that property owners that are caught holding a party can be fined $5,000 by the city.
"We lost officers to the COVID-19. For a silly party, you are risking first responders' lives," said Chicago Police Department Superintendent David Brown. "Think about that."
The large public gatherings over the past weekend occurred just a few days after the state experienced mass protests urging Illinois Governor J.B. Pritzker to lift his coronavirus restrictions and to reopen the economy.
On May 1, a group called Freedom Movement U.S.A. orchestrated a protest against the state's coronavirus lockdown measures, the same day Pritzker extended the stay-at-home order till the end of the month. Just a week prior, the same group held a similar protest urging the full reopening of Illinois' economy.
The extension of the order continues to urge residents to stay home for all nonessential activities, but it allows some places, such as golf courses, state parks and retail stores, to reopen.
The new coronavirus, which causes the respiratory disease COVID-19, continues to spread across the U.S. In Illinois, there are currently over 61,000 confirmed cases, according to a tracker provided by Johns Hopkins University. The state has also experienced at least 2,618 deaths stemming from the virus.