Chicago Police Exchange Fire With Armed Civilians Amid Unrest
After hours of unrest in Chicago, the police department confirmed officers were involved in a shooting with civilians early Monday morning.
The shooting occurred at Michigan Avenue and Lake Street, according to a tweet from Tom Ahern, a spokesman for the Chicago Police Department. Officers reportedly returned fire with civilians who shot at them.
No officers were injured, and as of Ahern's 5 a.m. tweet, it was unknown if civilians involved in the shooting were injured. Newsweek reached out to Ahern for comment but did not receive a response in time for publication.
Overnight, looters in Chicago smashed business windows and robbed stores along the Magnificent Mile, a well-known shopping district. Unrest began shorting after midnight, according to the Associated Press, and police told the Chicago Sun-Times it was still occurring on Monday morning.
Newsweek subscription offers >
Neiman Marcus, Nordstrom Rack and a Tesla dealership were broken into, The Washington Post reported. The Chicago Transit Authority suspended bus and train service to the Loop, and news station WMAQ reported all bridges along the river throughout the Loop were being raised.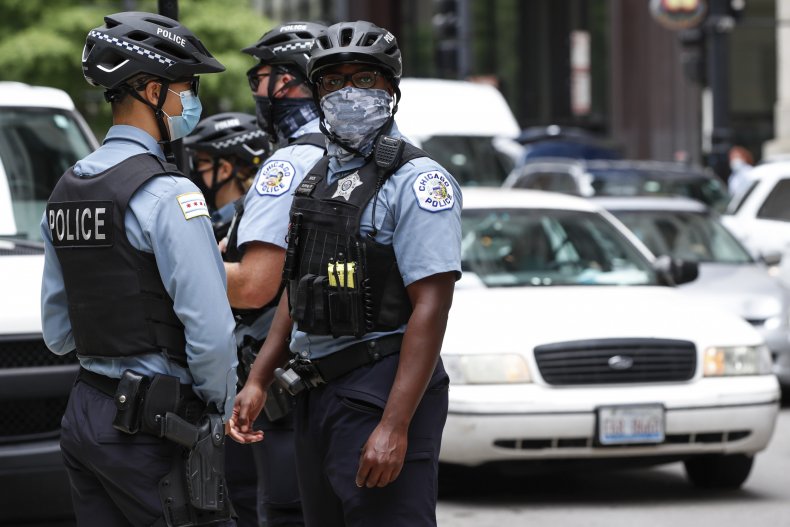 It's unclear what prompted the looting, but emotions were tense between Chicago residents and officers over a Sunday afternoon shooting. Officers said they responded to a call about a person with a gun and attempted to confront a person who met the description of the suspect in a nearby alley.
During a foot pursuit, the suspect fired at the officers, according to the police department, and officers returned fire, injuring the suspect. The suspect was transported to a nearby hospital, and officers recovered a firearm at the scene.
Newsweek subscription offers >
The shooting prompted protests in the area, and residents offered a different narrative of what occurred that afternoon. Earl Allen, who said he was the brother of the victim, told the Sun-Times he and his brother got into a "little altercation" while they were hanging out at Moran Park and left. While walking away, Allen said, someone made a comment to officers sitting in a police vehicle, prompting a pursuit.
Allen denied that the firearm police recovered belonged to his brother. Deputy Chief Yolanda Talley told WMAQ that protesters were reacting to "misinformation" and that the "very hostile" confrontation between civilians and officers was the "direct response" by a person on the scene working people up "without having the full story."
Talley said officers want to hear what people have to say but added that the current climate is "really unfair to us."
Chicago Police Exchange Fire With Armed Civilians Amid Unrest | U.S.