Before Van Dyke Guilty Verdict, Police Were Investigating Threats to Cop Who Fatally Shot Laquan McDonald
As Chicago police officer Jason Van Dyke awaited his fate by a jury of his peers who convicted him of second-degree murder for shooting 17-year-old Laquan McDonald—threats against the cop and his kin were being investigated and city schools were readying for potential civil unrest.
On Thursday, the murder case against Van Dyke was decided by a jury. A day before the verdict, the Chicago Police Department confirmed they took a man into custody whom they called a person-of-interest.
The unidentified man allegedly threatened Van Dyke in open court as well as on social media.
A Chicago Police Department spokeswoman confirmed to Newsweek its investigators were working with the FBI and Cook County Sheriff's to question a man over threats "made to public officials within a courtroom and on social media" from Thursday evening. She added that charges in the matter were pending.
It remained unclear as to the nature of the threats and when they were allegedly directed against Van Dyke in the gallery of the courtroom and also online.
In a separate incident this week, the police stated they were following up on a reported threat made at around 1 p.m. on Thursday against the accused cop's daughter at her school.
In a statement on Friday, police didn't identify the victim as Van Dyke's daughter, but verified that a "16-year-old girl" was "the victim of harassment by electronic means whereby an electronic photograph of her was being distributed between students that said, "We need to get her."
Van Dyke was accused of shooting McDonald 16 times on October 20, 2014.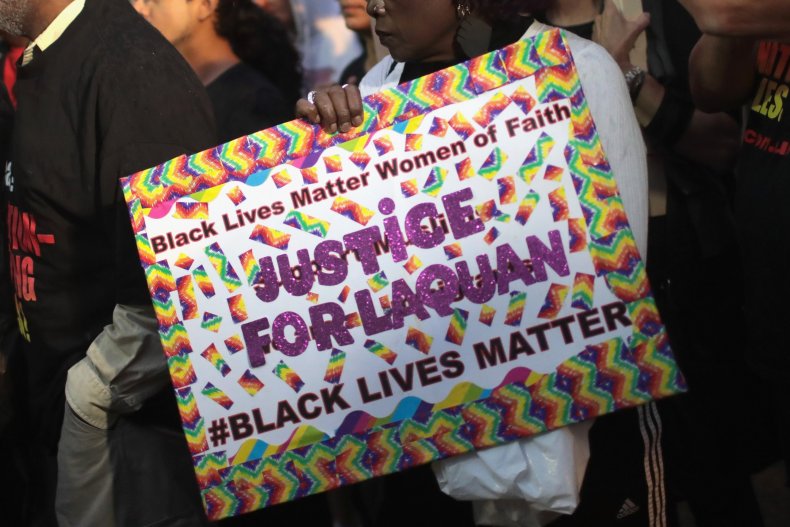 The cop, who is white, had been responding to a report of a young black teen trying to break into vehicles and was allegedly armed with a pocketknife.
Upon arrival to the location on 41st Street and Pulaski Road, Van Dyke, stepped out of his vehicle and in only a few seconds fired 16 shots, killing McDonald.
Van Dyke, buttressed by fellow officers, believed the teen was wielding the knife in an "aggressive exaggerated manner."
But dashcam video of the deadly encounter released more than one year after the shooting unraveled that account.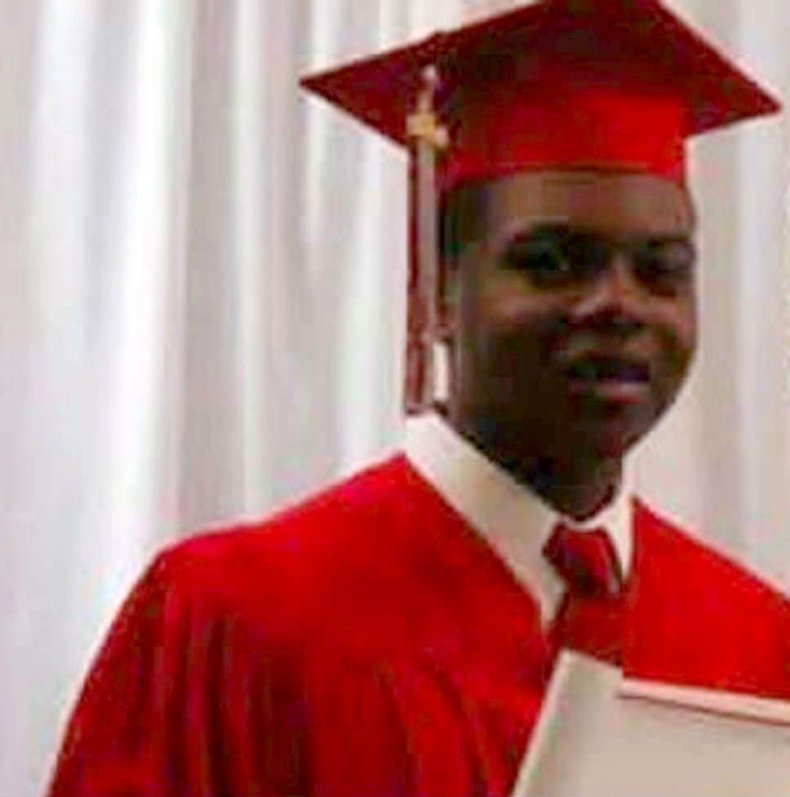 The dashcam footage showed McDonald running away as police officers and the camera catch up to him.
When police officers, including Van Dyke move closer on foot toward McDonald—he is seen pacing away from officers and is then shot down.
Van Dyke pleaded not guilty to two first-degree murder charges, 16 aggravated battery charges and one count of official misconduct.
On Friday afternoon, the jury found him guilty of second-degree murder.
Meanwhile, across Chicago, school administrators have been bracing for what could be a boundless display of civil unrest.
Citing safety as Chicago Public Schools' "top priority" spokesman Michael Passman in a written statement to Newsweek confirmed that its district has put in place contingency plans "to protect students and staff in the event of external safety threats."
"CPS has been in regular contact with law enforcement and emergency planning organizations to ensure schools have the strongest possible safety plans," he wrote.
As a proactive measure, officials are encouraging teachers and administrators "to engage student organizers and support nonviolent forms of expression" as the Van Dyke trial draws to an end, according to a set of parameters and suggestions sent out by the district titled: "Responding to Officer Van Dyke Trial: A Guide to Support Student Safety in Civic Engagement."
In it, planned walkouts or group chanting or singing and other "non-disruptive" protests are encouraged to be coordinated with school leadership.
Officials also encourged safe spaces to be put in place and designated for not only those wishing to vent their emotions to the verdict, but also for some students "who do not wish to participate, or whose views are counter to those of the walkout/protest organizers.…"