Chicago Investigates Police Officers Seen Eating Popcorn, Sleeping on Video During Looting
An internal investigation into the conduct of some Chicago police officers was announced Thursday after security camera footage revealed officers inside the office of Illinois Congressman Bobby Rush during protests against the death of George Floyd. The officers allegedly sat behind Rush's desk, used his couch and made coffee and popcorn.
Approximately 8 to 13 officers were filmed inside Rush's office between May 31 and June 1 as protests in the city turned violent and businesses were looted. Over a dozen people were killed that night. The identity of the officers has not been established, causing Chicago Police Superintendent David O. Brown to begin the investigation.
"Confirmation of the timeline, responding units and officers will be included as part of the investigation," read the statement from the Chicago Police Department on Thursday.
"I'm not playing with you that I mean what I say when I say, 'We'll hold you accountable,'" Brown said at a Thursday news briefing alongside Chicago Mayor Lori Lightfoot and Congressman Rush. "Move, get out of the way, but we are going to uphold the nobility of this profession. This conduct is not representative, but if it's not, let's do something about it."
Newsweek subscription offers >
Rush said the officers exhibited "a non-caring attitude in my own personal space while looting was occurring all around them. They didn't care."
Newsweek reached out to Congressman Rush's office for further comment. This story will be updated with any response.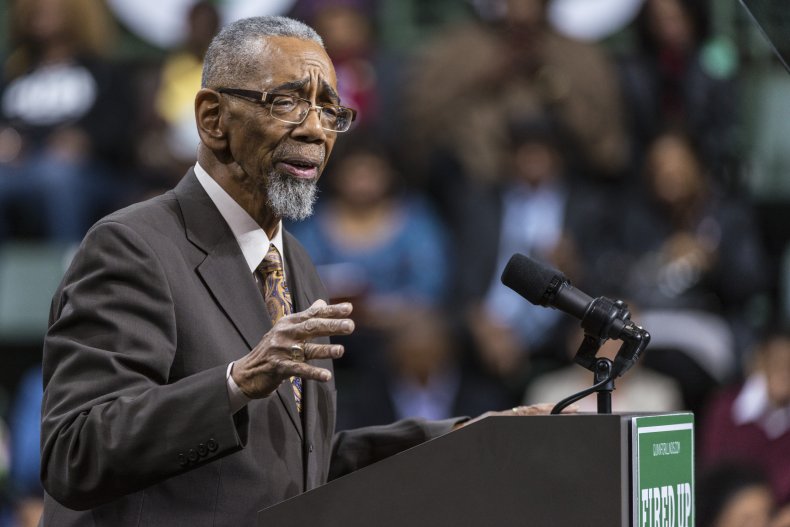 Lightfoot said the officers' actions would only serve to solidify the belief that "police don't care that black and brown communities were looted and burned."
Newsweek subscription offers >
Police in Chicago have come under criticism by residents of both the South and West side of the city for ignoring their communities and focusing their policing efforts on the downtown area.
In June, the Chicago Aldermanic Black Caucus said in a statement that they asked for extra police reinforcements during the protests but "unfortunately, those pleas went unanswered." Businesses in the areas were looted leaving food and medicine in short supply and communities in those areas "simply ravished."
Lightfoot denied the claims in June, telling reporters in June that officials "did not stand by to watch the South and West sides burn" but shifted more personnel and resources to those areas.
Demonstrations against police brutality and racism erupted across the U.S. in May after a video taken by a bystander surfaced on social media of Minneapolis police officers attempting to arrest George Floyd. Former officer Derek Chauvin placed his knee against Floyd's neck for nearly nine minutes. In the video, Floyd could be heard to say, "I can't breathe."
Chauvin and the other three officers involved in the incident were fired from the Minneapolis Police Department and charged in connection with Floyd's death. Chauvin was charged with second-degree murder and second-degree manslaughter. His bail was set at $1.25 million.
Protests have caused lawmakers to call for national police reform, including the ban of certain tactics used in restraining suspects and the creation of a national database keeping track of officers who have been accused of misconduct.
Chicago Investigates Police Officers Seen Eating Popcorn, Sleeping on Video During Looting | U.S.