Chicago Police Officer Body-Slams Man Who Spat on Him in 'Concerning' Incident Caught on Video
Chicago Police said they are investigating a video in which an officer is seen body-slamming a man to the ground after he allegedly spat in his face.
The incident, which is filmed on Thanksgiving afternoon on the 700 block of East 79th Street, shows the suspect with his hands on an SUV and the officer holding onto him from behind.
The officer then picks the man up and throws him down onto the side of the road. The man then lies motionless on the ground for the rest of the video.
"Look what the f*** they just did to this boy," the woman who recorded the clip, Jovonna Alexiss Jamison, says in the clip.
Jamison posted the video onto Facebook, where it has since been shared more than 13,000 times.
"Look At What The F*** The Police Just Did To This Boy On 79th And Cottage Grove," Jamison wrote while sharing the clip.
"He Wasn't Doing S***, I Pray To God That Boy Not Dead, Check On Yaw People Mann Forreal. Another Innocent Young Man Smfh."
According to the Chicago Tribune, the 29-year-old man was taken to University of Chicago Medical Center after being stabilized.
Police said the man was drinking on the streets when he was approached by the officer around 4 p.m. He is then alleged to have licked the officer's face while resisting arrest, before spitting in his face.
The body-slam seen in the video—which police described as an "emergency withdrawal"—is believed to have taken place moments after the man allegedly spat in the officer's face.
Chicago Police confirmed they are looking into the incident. "This incident is under investigation as the actions in the video are concerning," the department said in a statement.
"The specifics of what transpired before the officers executing an emergency withdrawal will be scrutinized closely by us and the Civilian Bureau of Police Liability (COPA).
"If wrongdoing is discovered, the officers will be held responsible."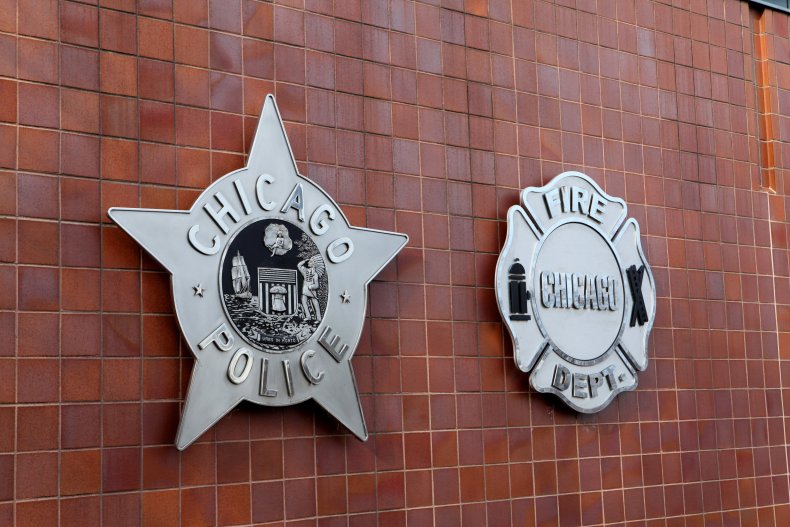 Local Civil rights activist and radio host Ja'Mal Green tweeted while sharing a clip of the video: "I've talked to authorities about this situation the last few hours. This was excessive force and they've said since it wasn't a shooting he's not on administrative leave.
"Excessive force should be enough to shelf him until we decide his punishment, he could've KILLED this man!"
Speaking to the Chicago Tribune, Jamison said the officer's actions left her "hysterical."
"I'm not really surprised because it happens so much in Chicago, but I didn't think I would ever see it front and center," Jamison added.
Chicago Police Officer Body-Slams Man Who Spat on Him in 'Concerning' Incident Caught on Video | U.S.