Chicago Police Officer Filmed Hitting Teenage Suspect With Handcuffs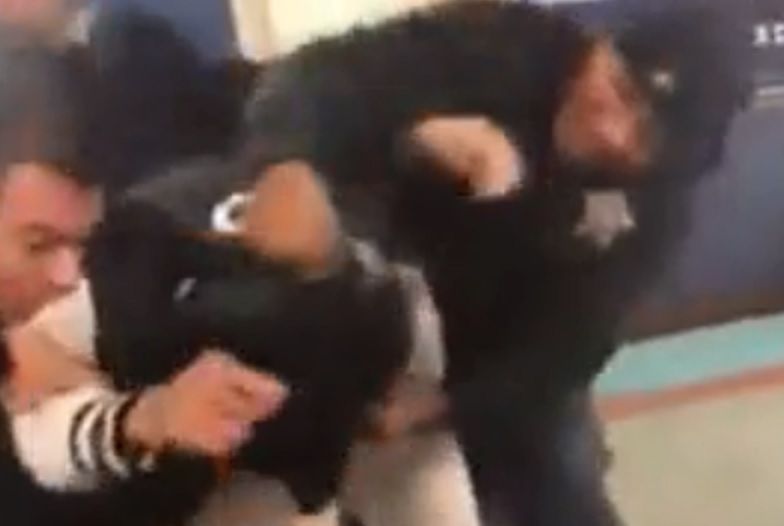 An investigation has been launched after a video emerged apparently showing a Chicago police office repeatably striking a teenage boy with handcuffs during an arrest.
The Civilian Office of Police Accountability is looking into the officer's use of force, which took place while police were trying to detain the 16-year-old at a train station on November 25.
The clip, recorded on a cell phone, shows several officers struggling to arrest the boy, later identified by the Chicago Sun-Times as Skyler Miller, while he flails his arms and refuses to be put in handcuffs. At one point, the 16-year-old appears to clench his fists before being told to calm down by the officers and others watching the incident.
Throughout the clip, Miller repeatedly claims he hasn't done anything and asks why he is being detained. According to the Chicago Sun-Times, officers were arresting the 16-year-old as he matched the description of a robbery suspect.
Miller, who attends Sarah E. Goode STEM Academy, claims this information was never given to him.
"Two officers came up and one threw me against the wall and they tried to put the cuffs on me," he told the Chicago Sun-Times. "They didn't tell me why. They didn't tell me what I was arrested for."
Later in the footage, an officer can be seen hitting the suspect at least five times with his fist, holding the handcuffs, before he is forced onto the ground.
A large group of youths was also present at the train station then start shouting: "Why you hitting him?" The same officer striking the teen appears to then threaten the youths, also while holding a pair of handcuffs in his hand.
Police said Miller was arrested but later released without charge after officers failed to get statements from the victims of the alleged robbery, reports NBC Chicago.
Chicago Police have confirmed that the Civilian Office of Police Accountability is now investigating the officer, who has not been identified.
"This was an incident where an individual was resisting arrest," the force said in a statement. "A use of force investigation has been opened into the Officers' actions by the Civilian Office of Police Accountability (COPA) to establish if policies were violated and CPD will fully cooperate with COPAs investigation."
Miller is also reportedly looking to file a lawsuit against the Chicago Police Department in relation to the incident.