Chicago Police Release Video of Jussie Smollett Wearing Rope Around His Neck
Chicago Police released investigative files and nearly 70 hours of video Monday related to the case of Empire actor Jussie Smollett. Included is a video that shows an encounter with police where Smollett is still wearing a white rope around his neck.
In the video, recorded through a police body cam, it shows the cops showing up at Smollett's home in Streeterville. It shows Smollett greeting police while he's wearing a white rope coiled around his neck. Smollett then claimed two men wearing "Make America Great Again" ballcaps had poured bleach on him and then placed a noose around his neck in a racial and homophobic attack.
Since he was considered a victim during the time of this video, which was obtained by ABC 7 in Chicago, Smollett's face is blurred. In the video, Smollett's manager chats with the police.
"He doesn't want this to be a big deal, you understand what I'm saying," Smollett's manager said to the police. "The thing that makes me emotional is they put this makeshift loop, what do you call that thing, a noose around his (expletive) neck. I'm sorry, you know. And that is what bothers me, the cut thing doesn't bother me at all. If that makes any sense."
The video shows Smollett wearing a sweater, and the rope dangles near his chest. The officers asked if Smollett wanted to remove the rope.
"Do you want to take it off or anything?" one officer is heard asking Smollett on the recording.
"I do," Smollett responded. "I just wanted y'all to see."
He removed the rope from around his neck. After a brief pause with minor police radio jargon heard in the background, Smollett's manager asks if police are filming inside the actor's apartment.
"Yes, this is all data," an officer said. "It's his house."
The manager then tells the actor that police are filming, and then turns to police, "Can we turn it off?"
"Yeah," the officer said. "You are giving us permission to shut it off?"
At that point, the video ended as Smollett was taking a seat.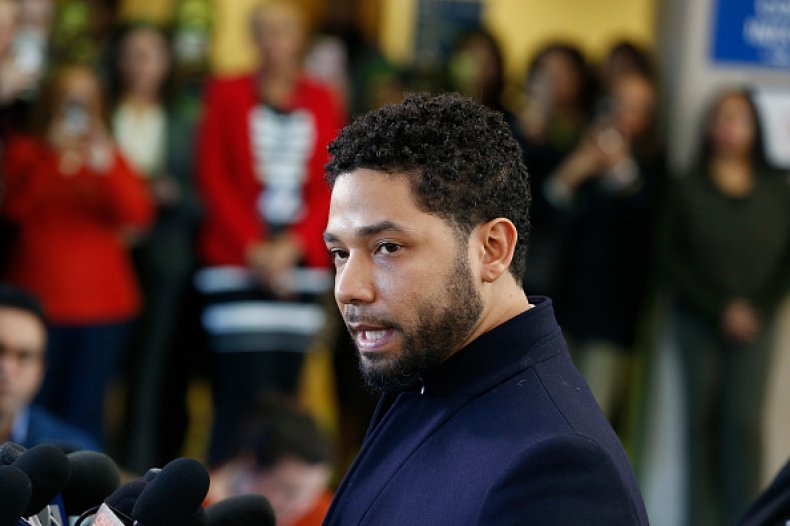 Smollett claimed he was attacked by two men late at night on Jan. 29 in Streeterville, and that the men doused him with a chemical and wrapped a noose around his neck while they yelled racial and homophobic slurs.
As police got into their investigation, signs began pointing toward Smollett as a choreographed hoax. Smollett was indicted by a Cook County grand jury on 16 counts of felony misconduct.
The two men arrested in conjunction with the hoax — Olabinjo and Abimbola "Abel" Sundairo — both told police about their involvement, and that they had been paid to carry out the faux attack.
Prior to that, Smollett went on ABC's Good Morning America to try and validate his claims.
"I could only go off their words. I mean, who says 'faggot Empire n*****,' 'This is MAGA country, n*****,' ties a noose around your neck, and pours bleach on you? And this is just a friendly fight?" Smollett said on ABC. "It's unbelievable to me that any of this has come to this. That every single thing that I have done, every single thing that I have cooperated with, somehow has gotten twisted into being some bull that it's not."
Smollett had all charges against him dropped in late February, but a special prosecutor will soon investigate why the charges were abruptly dropped and determine if the actor should be re-charged.