Chicago Police Seize Handgun With Trump's Image Emblazoned on the Side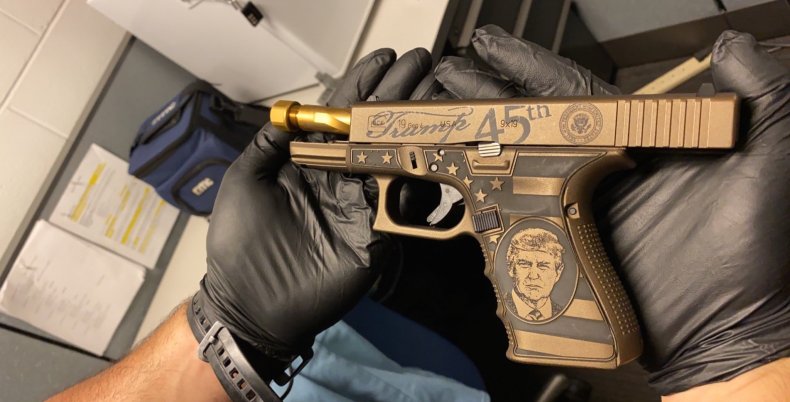 The Chicago Police Department this weekend confiscated a handgun that had the image of President Donald Trump etched into the side. The Glock 19 was one of 17 guns seized by police over the holiday weekend in Chicago's South Side.
The confiscated Trump gun had the president's image emblazoned upon stars and stripes along the gun's frame (grip handle) and rail. The slide that moves back and forth on the top part of the gun had the words "Trump 45th."
Chicago PD officers made a traffic stop Friday night in the 7300 block of South Vincennes in the Englewood area, according to the Chicago Tribune. Four people were in the car, but none of them were carrying the gun, the report stated.
The police department tweeted a photo of the gun, along with other seized weapons, Saturday night.
Eight people were shot in Englewood on Saturday, among them four fatalities. In all, 17 people were killed by gunfire in Chicago over the weekend, including two children. Dozens more were wounded by gunfire, the Tribune reported.
The president has often been a vocal critic of Chicago's gun violence. Two weeks ago, Trump criticized Chicago Mayor Lori Lightfoot and Illinois Governor J.B. Pritzker for allowing so much gun violence in the nation's third-largest city.
"Your lack of leadership on this important issue continues to fail the people you have sworn to protect," Trump wrote to the leaders. "I am concerned it is another example of your lack of commitment to the vulnerable citizens who are victims of this violence and a lack of respect for the men and women in law enforcement."
Trump said the federal government has sent millions of dollars to Chicago in an effort to curb the city's high crime rate, and said the feds are still willing to help public safety in the region.
"If you are willing to put partisanship aside, we can revitalize distressed neighborhoods in Chicago, together," Trump wrote late last month after there were 105 people shot on Father's Day weekend, including 15 fatalities. "But to succeed, you must establish law and order."
The mayor and the governor's office both sniped back at the president, with one saying the letter to them was a political stunt.
"The people of this state and this nation have unfortunately come to expect his unhinged attempts to politicize tragedy with his predictable and worn-out strategy to distract, distract, distract," said Jordan Abudayyeh, a press secretary for Pritzker.
Abudayyeh said Trump's letter was a distraction "from his long list of failures, especially his response to the deadly coronavirus and nationwide calls for racial justice."
Lightfoot tweeted that she didn't want to hear from the White House on leadership.
"I don't need leadership lessons from Donald Trump," she wrote.
Chicago Police Seize Handgun With Trump's Image Emblazoned on the Side | U.S.