Chicago Police Superintendent Rebukes Trump's Criticism: We 'Spent All Day Protecting Him'
After President Donald J. Trump criticized the city of Chicago and their police department during a speech before the annual conference of the International Association of Chiefs of Police, Chicago Police Superintendent Eddie Johnson clapped back at Trump's remarks during a press conference, according to The Hill.
"Today, the same police officers the president criticized for their inability to protect this city spent all day protecting him," Johnson said. "They have devoted their lives to keeping us safe."
Johnson had previously announced that he would not attend Trump's speech.
"I have to take into account not just my personal feelings about it, but our core values as a city," said Johnson. "We are nothing without trust and with some of our communities under siege, it just doesn't line up with our city's core values along with my personal values."
Trump noted Johnson's absence, eliciting laughter from some in the crowd.
"I said, 'Where is he? I want to talk to him,'" Trump said. "In fact, more than anyone else, that person should be here because maybe he could learn something. And that's the superintendent of Chicago police, Eddie Johnson."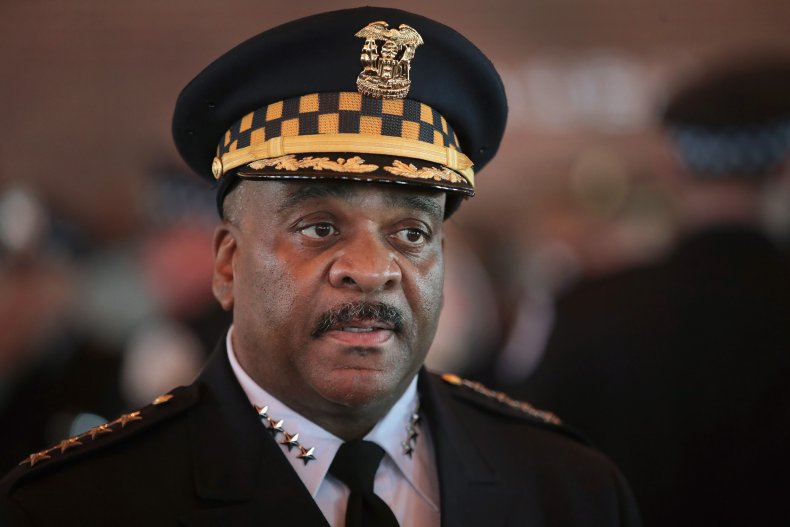 Trump disagreed with Johnson's statement that the values of the people of Chicago superseded anything Trump would have to say.
"Here's a man that could not be bothered to show up for a meeting of police chiefs, the most respected people in the country, in his hometown and with the President of the United States," Trump continued. "And you know why, it's because he's not doing his job."
Chicago Mayor Lori Lightfoot defended Johnson's decision in a Twitter post.
"President Trump knows as much about policing as he does running a fair and transparent government," Lightfoot tweeted. "I stand by the Superintendent for living up to the values of this great city and its residents."
Mayor Lightfoot declined to meet with Trump during his visit.
Johnson's decision not to meet with the president also drew criticism from the Fraternal Order of Police, which said in a Facebook post, "Such a gesture would be an insult to both President Trump and the office of the presidency itself and would be a mark of disgrace upon the city throughout the entire nation, including Mayor Lori Lightfoot."
According to a statement from the White House, Trump is establishing the first commission on law enforcement in 50 years, which will study issues such as substance abuse, mental illness and homelessness. The statement also says Trump has "made hundreds of millions of dollars' worth of surplus military equipment available to local law enforcement."