Chicago Police Union Boss Tells Cops to Defy City's Vaccine Mandate
The president of Chicago's police union on Wednesday called on officers to defy the city's COVID-19 vaccine mandate, which goes into effect Friday.
Speaking during a meeting with hundreds of union members present, Chicago's Fraternal Order of Police (FOP) president, John Catanzara, told officers to file for exemptions to receiving the vaccine, according to local NBC station WMAQ-TV. He also instructed them to not provide that information in the city's vaccine portal.
"'Hell no' is the best way I can put it, across the board," Catanzara said about officers providing their information, according to a video of the meeting and WMAQ's reporting.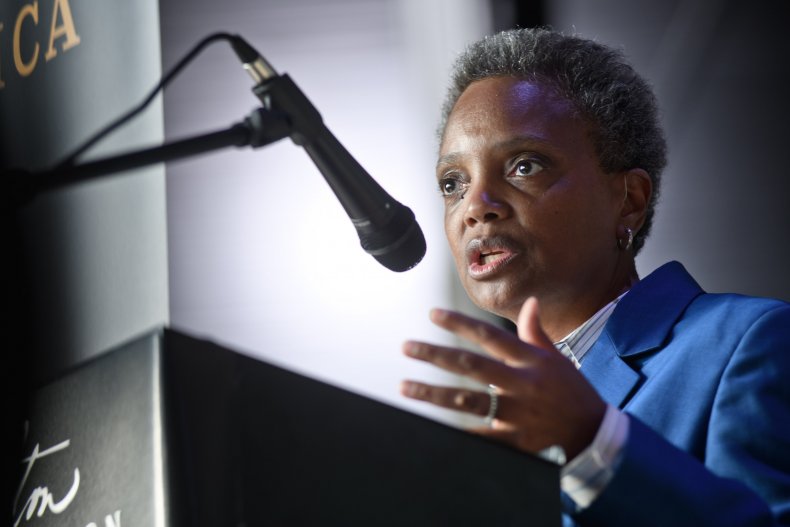 Catanzara made similar comments in a video posted Tuesday on the FOP Chicago's YouTube page. In that clip, he promised to fight Chicago Mayor Lori Lightfoot's administration in court should the city try to enforce mandates.
"I do not believe the city has the authority to mandate that to anybody, let alone that information about your medical history," he said in the video.
Catanzara also said in the Tuesday video that if officers do not comply with the city's order for them to report their vaccination status by Friday, there could be a large shortage of police going into the weekend.
"It's safe to say that the city of Chicago will have a police force at 50 percent or less for this weekend coming up," he said.
The city has said those who do not meet the vaccine requirements will be placed on unpaid leave. However, workers who remain unvaccinated can stay on the job through December 31 if they agree to be tested twice a week.
Lightfoot criticized Catanzara during a Wednesday press conference, saying he was spreading information about vaccines that was "untrue or patently false." She emphasized that the vaccine mandate's purpose is to keep city workers and their families healthy.
"What we're focused on is making sure that we maximize the opportunity to create a very safe workplace," the mayor said. "The data is very clear. It is unfortunate that the FOP leadership has chosen to put out a counternarrative. But the fact of the matter is, if you are not vaccinated, you are playing with your life, the life of your family, the life of your colleagues and members of the public."
Lightfoot also said the city is prepared should any personnel issues arise this weekend, but she added that she believes police and city workers will not follow Catanzara's advice.
"I don't expect that to happen," she said of a possible worker shortage. "And again, I'm going to be focused on the positive, which is the whole point that all of our city employees, whether they are sworn or civilian, do their duty and make sure they get vaccinated."
Catanzara came under fire in August when the vaccine mandate was first announced. Catanzara said, "This ain't Nazi...Germany [saying,] 'Step into the...showers, the pills won't hurt you,'" according to the Chicago Sun-Times.
He later apologized for those remarks, although not before Lightfoot characterized his comments as an "offensive outburst."
Chicago has seen a drastic increase in violent crime this year, with 629 homicides through early October, compared with 605 at the same point last year and 402 in the same period in 2019.
Newsweek contacted Catanzara and Lightfoot for comment but did not hear back in time for publication.