Chicago Postal Worker Dies of Coronavirus After Being Sent Home From Hospital Days After Giving Birth
The family of a Chicago postal worker is demanding answers following her death from COVID-19 days after she was released from hospital, despite testing for positive for the virus while giving birth.
Unique Clay, 31, started running a fever while in labor at the University of Chicago Hospital on April 30, her father Alan Brown told Fox 32 Chicago.
Brown said his daughter was sent home with ibuprofen after giving birth and testing positive for COVID-19, the disease caused by the novel coronavirus.
"When they did let her go home, they gave her ibuprofen and we were told from watching the news that that feeds the virus itself, you're supposed to give them Tylenol," he said.
The mother-of-three's newborn baby daughter appears to be healthy, her family told the station.
Clay, who lived in the Englewood neighborhood of Chicago, was pronounced dead at 8.47 a.m. on May 5, a spokesperson for the Cook County medical examiner's officer said. An autopsy found she died of COVID-19.
But Clay's sister Dajah Brown said her family can't understand why the hospital sent her home knowing she would find it difficult to recover from the virus while caring for a newborn baby.
"I don't understand why she was sent home that quick, then being instructed to take medication that feeds into the disease. It was just not handled at all. Someone needs to be held accountable," she told Fox 32 Chicago.
In a statement to Newsweek, a spokesperson for the University of Chicago Medicine organization said: "The University of Chicago Medicine community extends the deepest sympathy to the family. We cannot comment on individual cases due to patient privacy laws."
Clay had worked for the U.S. Postal Service for two years and worked at the Irving park station.
"We are deeply saddened to learn of the death of one of our own employees and coworkers," a U.S. Postal Service spokesperson told Newsweek.
"Our thoughts and deepest sympathies go out to her family and friends, including the many people she worked with at the Postal Service. Employee assistance services are being offered to the family and co-workers."
The National Association of Letter Carriers told Chicago Sun-Times that she is the first letter carrier to die of COVID-19 in Chicago, but more than 30 others in the city have tested positive for the virus.
Her colleagues and representatives of the union held a balloon release in her honor at Kilbourn Park on Saturday morning, the newspaper reported.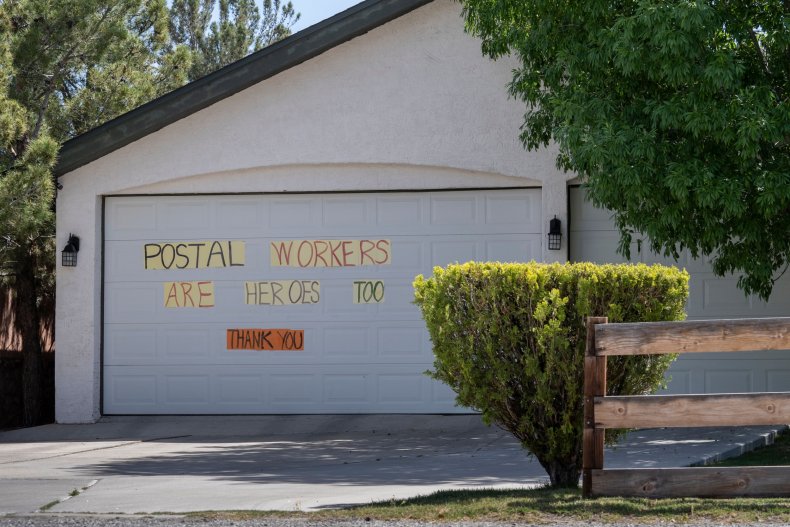 Mack Julion, the president of the union's local chapter, told the Sun-Times that the U.S. Postal Service at first struggled to obtain the necessary personal protective equipment (PPE) for its workers, but has been "pretty good" at providing it recently.
He added that letter carriers were taking huge risks to do their jobs during the pandemic. "We may be not be first responders or health care workers, but we need this equipment in order to do our job as well and for our members to be safe," he said.
Chicago has more than 30,000 confirmed cases of COVID-19 and 1,356 deaths, according to the latest figures from the city's health department. Illinois has more than 77,000 confirmed cases and more than 3,400 deaths.
This article has been updated with statements from the University of Chicago Medicine organization and the U.S. Postal Service and information from the Cook County medical examiner's office.