Chicago Priests Charged in Miami Beach After Allegedly Performing Sex Act in Car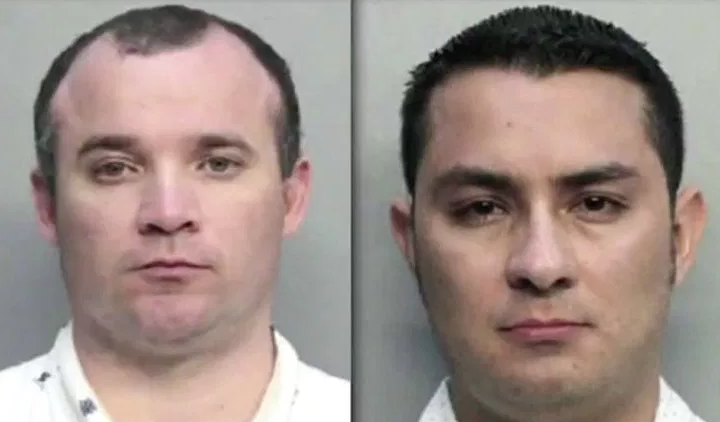 Two priests from Chicago have been arrested by police after allegedly performing a sexual act inside a parked car at a Miami beach.
Miami Beach Police say they caught Diego Berrio, 39, and Edwin Giraldo Cortez, 30, in the front seat of the car after responding to a 911 call.
Police say that officers arrived to find the pair performing sex acts in full view of the public at 3:20 p.m. on Monday afternoon on Ocean Drive, CBS reported.
Miami Beach Police spokesman Ernesto Rodriguez said that the pair did not even notice that officers had arrived.
"We observed the two males performing the sex act, the officer had to tap on the window to get their attention," he said.
Berrio was charged with lewd and lascivious behavior and GiraldoCortez got the same charge, plus one of indecent exposure.
"Their profession is irrelevant, in fact our trouble with this is that this is broad daylight, for anyone to see including children. There's a time and a place for everything and this certainly was not the time and place," Rodriguez added.
Berrio was ordained a priest in the Archdiocese of Chicago where he came to from Columbia via the Casa Jesus program, which brought in priests from Latin America.
The Casa Jesus program was suspended in 2016 after reports of homosexual activity among Casa Jesus participants. In 2015 three participants had been dismissed after visiting a gay bar, the Catholic News Agency reported.
Candice Parker, who was with her son at the scene, told CBS: "The fact that they are priests is above and beyond shocking.
"I don't understand this kind of behavior. They're supposed to be leading a good example and they're doing exactly the opposite."
In a statement, the Archdiocese of Chicago said that Berrio had been removed from his ministry.
"Archdiocese representatives have been in contact with Fr. Cortes' home diocese of Soacha, Colombia and informed them that Fr. Cortes will not be granted additional faculties to minister in the Archdiocese of Chicago."
"It is our responsibility to ensure those who serve our people are fit for ministry. We take this matter very seriously and will provide updates as they become available," the statement said.