Chicago Prosecutor Says Office Charged 90% of George Floyd Felony Arrests After Being Blamed for Looting
Cook County Prosecutor Kim Foxx pushed back against criticism that leniency in her office in the past empowered people to loot and destroy businesses in Chicago overnight on Sunday.
The city's Magnificent Mile, a commercial shopping district, suffered widespread damage hours after misinformation fueled backlash to an officer-involved shooting. At least 13 officers were injured and Mayor Lori Lightfoot and Police Superintendent David Brown urged prosecutors and judges to hold the 100 people arrested accountable to the fullest extent of the law.
Foxx, Brown and Lightfoot agreed that the behavior displayed on Monday was not an act of peaceful protest, but was clearly defined criminal behavior and must have consequences. However, Foxx disagreed with the local officials that her office failed to hold people accountable in the past.
About 29 percent of the cases the Chicago Police Department presented to Foxx's office during the civil unrest that followed George Floyd's death were felony cases, according to the prosecutor. About 20 percent were misdemeanors and 50 percent were municipal ordinance violations, meaning they weren't criminal code violations.
"Of those cases that came to us as a result of what we would classify as looting—what you saw last night, people breaking windows and going into places and taking things out using force—those cases where the facts and evidence supported it, charges were filed and those cases are pending to this day," Foxx said.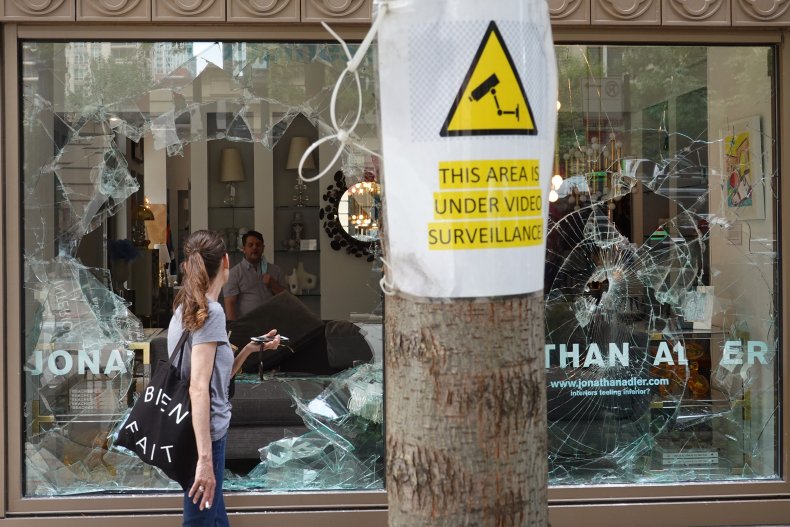 Ninety percent of the 325 felony arrests are pending in court and three-fourths of were burglary or looting cases, according to Foxx. Of the cases that are pending, "none of them have been dropped," Foxx said. Due to the pandemic, courts were largely closed until July 1 so status hearings and court dates for those who were arrested in May and June are being set for August.
Six percent of the 325 felony arrests are pending investigation. Newsweek reached out to the State's Attorney's office for clarification as to the status of the remaining four percent, but did not hear back before publication.
Foxx defended her office for not wasting "resources on nonviolent offenders" and instead pursuing prosecution of "drivers of violence." But, Brown criticized the approach to the looting that occurred after Floyd's death as being a confidence boost to people engaging in criminal behavior.
Having seen cases not be prosecuted to the "fullest extent," Brown said looters were "emboldened" to act as if there are "no consequences for their behavior."
"I think that's my point and the mayor's point: We have to have consequences for the arrests that Chicago police officers make through great threat to their own safety," Brown said. "We would argue that, let's have the criminal justice system here deliver a strong message to these criminals, that there will be consequences for your behavior."
Lightfoot issued a stern warning to looters that "we are coming for you," and urged prosecutors and judges to "put your best people on this" so those arrested are held accountable. She added that judges who are holding similar cases need to "step up and be responsible."
"No one wants to hold people in jail because they are poor but people who engage in this kind of criminal activity, they need to be held accountable and we can't do it alone. We need the prosecution and we need the court to step up and do their part as well," Lightfoot said.
Answering questions as to what drove the looting seen on Sunday night and Monday morning can continue. But, Foxx said the question as to how we got there won't be answered with "people for whom we've chosen not to use our resources to prosecute."
"We don't make arrests. When the cases are brought to us and the facts and evidence support it, we will charge those cases and that's what we've done in the cases that we've talked about previously," Foxx said.