Chicago Records Most Shootings in Single Weekend in 8 Years
The city of Chicago had at least 106 people shot, 13 of them fatally, over Father's Day weekend.
Chicago recorded more shootings over the weekend, counted by police and crime statisticians as the hours between mid-afternoon Friday and early Monday, in at least eight years. The Austin District on Chicago's westside had 18 shooting victims. Twelve of the shooting victims citywide were under the age of eighteen. Shooting incident data collected by the Chicago Tribune found that although this past weekend had the most shooting victims since 2012, it's not close to being the most deadly weekend of 2020 - twenty people were killed by gunfire during the last weekend of May.
At least three teenagers and a 3-year-old child, Mekhi James, were among those killed over the past few days. Police data reveals that five of those shot under the age of 18 died this past weekend. Distraught neighbors and relatives relayed stories of laughing and smiling with their loved ones, only to find out they were shot dead minutes later outside their homes.
"A line was crossed," said Reverend Ira Acree of Greater St. John Bible Church, in an interview with the Tribune Sunday afternoon. "This is a horrific Father's Day. This 3-year-old baby lost his life. ... I could not pastor this community and not say something."
Six of the shootings recorded between mid-Friday and early Monday included three or more victims. A drive-by shooting in East Garfield Park left five injured, including a 16-year-old girl who remains in critical condition. Such shootings often involve perpetrators who fire multiple rounds at groups of several people and frequently hit bystanders or people in the surrounding area, a Chicago Police spokesman told Newsweek in April. At that time, Chicago had already recorded 500 shooting victims through March 31. Twenty of those people were shot the first weekend of April, despite Illinois' statewide stay-at-home order amid the coronavirus pandemic.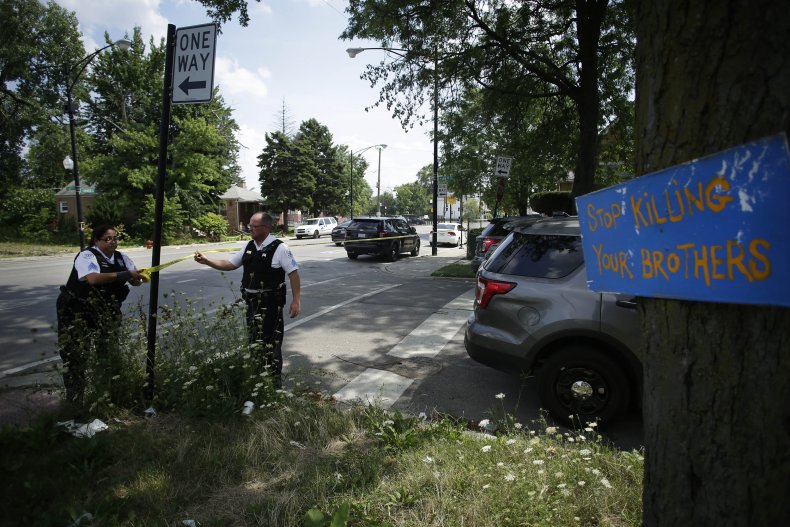 This year Chicago is on track to far surpass its number of shootings in 2019, with 1,290 people having been shot across the city since January 1, according to the Tribune's data tracking team. As of Thursday, June 11, there were 227 more shootings in Chicago than in 2019.
The last weekend of May included the most violent single day in one of the most violent weekends in the Greater Chicago area's recent history. At least 20 people were killed and 80 were shot that weekend, which required the Cook County examiner's office to bring in more pathologists to handle the body count. At least three of those homicides occurred in "unknown locations," according to police records.
Chicago's Memorial Day weekend last month was its deadliest in five years, with a majority of the shootings occurring on the city's south and west sides. The shooting farthest shooting to the north side of the city this past weekend occurred at 6:20 p.m. Sunday in West Rogers Park.