Chicago Residents Push Officials for Answers After Video Shows Police Standing By As White 'Vigilantes' Patrol During Protests
A group of Chicago residents are pressuring authorities for answers after a video appears to show white vigilantes patrolling the streets of the Bridgeport neighborhood with weapons, including baseball bats and golf clubs, while police officers watched.
On Wednesday night, a Black Lives Matter protest led by several religious organizations gathered near the police precinct in Bronzeville, the neighborhood immediately east of Bridgeport. Police began progressively blocking off the viaducts, the main route between the two areas that is separated by an interstate, between the two neighborhoods, area residents told Newsweek.
Police were blocking off streets in an effort to control traffic during the protest and asking individuals for identification at multiple checkpoints to ensure they were residents in the area.
Around 8 p.m., residents said reports emerged that a crowd of plain-clothed civilians wielding baseball bats as weapons were confronting people coming into the neighborhood. Shortly after, videos began popping up on social media.
"That was what really started concerning us, that this appeared to be a vigilante group," Bridgeport resident Michael Cummings told Newsweek.
Several onlookers reported the situation to 911 but police officers stationed to block off the area looked on with no interference into the vigilante activity, residents said.
Another resident of Bridgeport, who asked to remain nameless due to fear of retribution, said he was harassed by the same group of bat-carrying vigilantes when he stopped to put his mask on while biking home Thursday night. After the men approached him demanding identification and proof that he lived in the area, the resident said they cautioned him not to wear all black.
"It looked like they were ready to target whoever they perceived as a threat to the neighborhood. It was really scary," the white resident told Newsweek, "I thought it was scary but I can't imagine to be a person of color trying to get through the neighborhood."
Cummings said the group continued to flood the streets after the city's 9 p.m. curfew and he saw some of them socializing with nearby police officers.
"Most importantly and most disturbingly was that a bunch of these people, who were just walking around armed, were just doing so in full view of the police with officers standing right next to them, officers in conversation with them and officers very clearly not doing anything about it," Cummings said.
Newsweek reached out to the Chicago Police Department for comment but did not hear back before publication.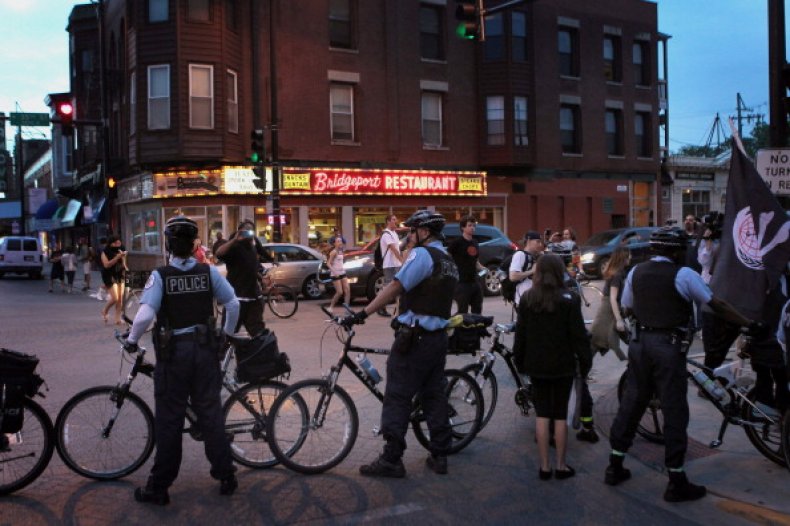 This morning, a group of residents led by Ambria Taylor, including Cummings, went to Alderman Patrick Thompson's office to deliver a letter describing their concerns and frustration over lack of police intervention.
Taylor read the letter outside due to the social distancing measures in place and also left a copy taped to the door.
"We have heard from many people who have not only felt generally threatened by the presence of what can only be described as a vigilante group, but who were also actively harassed by them," the letter read. "We are disturbed to see that the police are openly fraternizing with a group of anonymous men, who are claiming to protect the neighborhood, but wear no badge number, report to no authority, and have no training for the job they appointed themselves to."
The letter called on Thompson, who represents the city's 11th Ward, to publicly condemn vigilante justice and reiterate the message to the police department.
"You have made multiple public statements recently vowing to keep Bridgeport safe. And now we are asking you to keep us safe from gangs of men, marching our streets with weapons," residents wrote. "Let me ask you — who are you keeping Bridgeport safe for? We hope it is for all of us, and I thereby hope that it is for our Black neighbors as well."
As the group was leaving, Thompson returned to his office and spoke with Taylor and some others in a lengthy conversation. He promised the group he would make a public statement.
Thompson repeatedly told the group to refer to the police and report instances of vigilantism, to which residents told him they had made multiple calls the night before. He said he would ensure curfew is enforced for everyone, including the vigilantes.
In a statement made Thursday, Thompson said he supported the protests but has not and "will not condone vigilante violence and intimidation."
"The few residents, who took it upon themselves to carry bats, sticks, and canes, were wrong! I ask all of our residents to please call the police if you see something happening," Thompson said.
Newsweek reached out to the alderman's office for comment but did not hear back in time for publication.
Chicago mayor Lori Lightfoot condemned the vigilantism on Thursday saying, "It is absolutely not appropriate for people to take up arms, bats, pipes, whatever in patrolling neighborhoods."
"I absolutely support neighbors being vigilant as to what's going on on the streets and in their blocks but taking up arms, that leads to chaos and we're not supporting vigilantism in the city of Chicago under any circumstances," Lightfoot added.
The two neighborhoods have had long-standing deep racial tensions as Bronzeville is predominately black and Bridgeport predominately white. Bridgeport's history of patrolling the area from African Americans goes back to the Chicago race riots of 1919.
One Facebook community group for Bridgeport viewed by Newsweek included racist comments on multiple posts. Many other members commented on the posts and posted individually to say they wanted to leave the group because of the hate-filled messages.
The letter to Thompson also addressed the social media posts "calling people to arm themselves and take to the streets to 'protect the neighborhood' and 'patrol.'"
"I want to be empathetic because people are scared," Taylor said. "The way that they are acting out in fear is deplorable because they are making other people scared."
"People shouldn't be afraid of some group the police are turning a blind eye to," she added.
A Facebook event planned for this Sunday invites residents to join the peaceful demonstration in response to vigilantes who intimidated protesters demanding justice for George Floyd.
Michael Wagner, who was stationed on the corner of 31st street with friends and other residents of the neighborhood, told Newsweek that the group was not targeting people of color but were reacting to rumors of threats that violent looters were planning to target the area.
"I understand the way it looked to the people who didn't know us. They're trying to walk home and they're thinking who are all the white guys on the corner with bats," Wagner said. "We reacted out of our own fear in a horrible way. I understand that now."
"We weren't out to attack peaceful protestors," Wagner added. "I'm a big Black Lives Matter advocate. I know everyone on that corner with me is a Black Lives Matter advocate."
Although Wagner said no one in the group had harassed or attacked anyone, he believes people who claim they were. Wagner thinks that there may have been other people in the neighborhood who used the increasing tensions as an excuse to patrol the streets and hurt others.
Update (06/04/20, 7:48 p.m. ET): This story has been updated with comments from Taylor and Lightfoot.

Update (06/09/20, TK p.m. ET): This story has been updated with comments from Thompson and Wagner.