Chicago School Board Votes To Keep Police in Schools as Other Areas Cut Them
The Chicago Board of Education on Wednesday voted to renew a contract that will keep police officers in 55 high schools for another year, while school districts in other areas have banished police.
The vote came amid calls to end the School Resource Officer, or SRO, program, which is administered by the Chicago Police Department. The program was instead renewed with the approval of a one-year $12 million intergovernmental agreement by a 4-2 vote, with one board member abstaining.
Chicago Public Schools CEO Janice Jackson and Chicago Mayor Lori Lightfoot allowed individual school councils to decide whether they would continue the SRO program. While 55 high schools will retain the officers for at least one more year, it was announced last week that 17 others had opted to eliminate them. The budget of the program was significantly reduced from the $33 million that was approved last year.
"Local school communities have spent countless hours engaging parents, staff, and students in critical conversations and Chicago Public Schools is grateful that the Board has honored their decisions regarding School Resource Officers for the upcoming school year," Chicago Public Schools Director of Media Communications & Strategy Emily Bolton said in a statement to Newsweek.
"Looking ahead, the district remains committed to working with school communities to preserve their autonomy while working with them to promote best interests of the safety of students," Bolton added.
Other school districts have eliminated programs that place police in schools as protests against police brutality and racial injustice continue to rage throughout the country. Advocates warn that although the programs are intended to prevent violence in schools, they can also result in additional violence coming from officers who target minorities.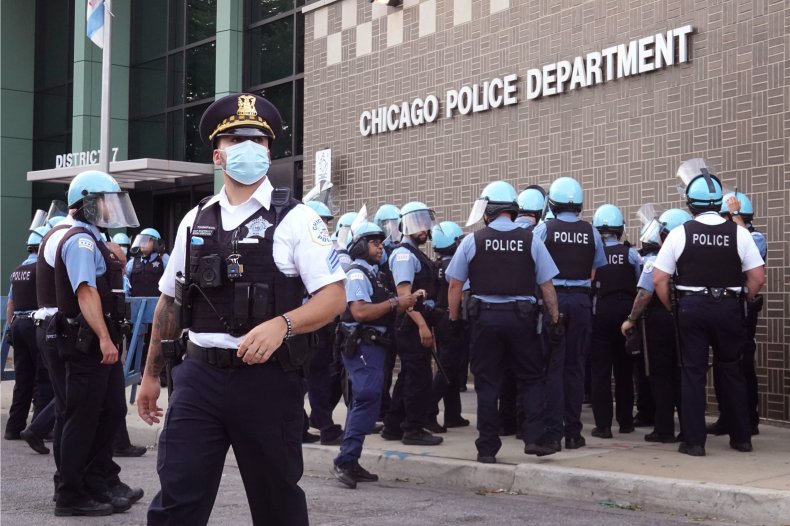 In June, the school board in Oakland, California voted unanimously to remove police from schools, citing Black students being disproportionately arrested by officers. Denver, Colorado's school board also voted unanimously in June to approve a plan that entirely phases out police presence in schools by 2021. Similar decisions have been made in cities including Portland, Oregon and Milwaukee, Wisconsin.
Calls to end the Chicago SRO program were championed by Chicago Board of Education members Elizabeth Todd-Breland and Amy Rome. The decision to renew the program came after the board had voted 4-3 against a resolution to remove police from schools in June.
"I cannot vote for a measure that keeps armed police in our schools, who in my view are systemically criminalizing our children, and particularly Black children," Todd-Breland said during Wednesday's board meeting. "What's changed since June? Research and evidence that police exact harm on students, particularly Black students... that hasn't changed since June."
Chicago students attending schools that include SROs are four times more likely to have the police called on them than those who attend schools without them, while police interventions are more frequent at schools with Black majority student bodies, according to a recent report from The Chicago Sun-Times.
"The ways that SROs enter students into the school-to-prison pipeline, that has not changed since June," Todd-Breland said. "The police have not stopped killing Black people. ... When do we decide that the historic and ongoing racism of an institution, policing, that has proven itself incapable of reform... at least has no place in our schools, with our children?"
Students have also insisted that the presence of the officers has made them feel less safe, while complaining that some officers have also targeted them directly. Sendhil Revuluri, the board's vice president who voted in favor of renewing the contract, said during the meeting the officers are not "involved in disciplinary solutions" and that "their purpose is to protect students, not to police them."
Chicago School Board Votes To Keep Police in Schools as Other Areas Cut Them | News