Chicago School Lunchrooms Stayed Open During Standoff Despite Massive Drop In Food Demand
Lunchrooms at Chicago Public Schools (CPS) remained open during the week-long standoff between the district and teachers' union but there was a massive decline in the demand for food.
While teachers and other school staff stayed home over the five days classes were canceled, lunchroom attendants continued to return to in-person work to keep nutritional support services operational.
The district served more than 48,000 meal kits last week, averaging 9,600 meals a day, according to CPS Press Secretary Sylvia Barragan.
"Take-home breakfasts and lunches were made available daily at schools from 9 a.m. to 12 p.m. for any community member under the age of 18 who needed a meal," she told Newsweek. "Meals are free and offered to all students every day, so there is no need to enroll."
But despite the continued supply of meal kits made available during the remote work action, figures suggest there was a significant decline in demand for food.
Compared to last week's numbers, the average daily participation for CPS' breakfast and lunch meals is around 240,000 meals per day—meaning the meals served during the labor dispute was only four percent of what the district's Nutritional Support Services (NSS) typically distributes.
NSS, which is the nation's third-largest K-12 foodservice, has distributed over 22 million meals over the course of the pandemic.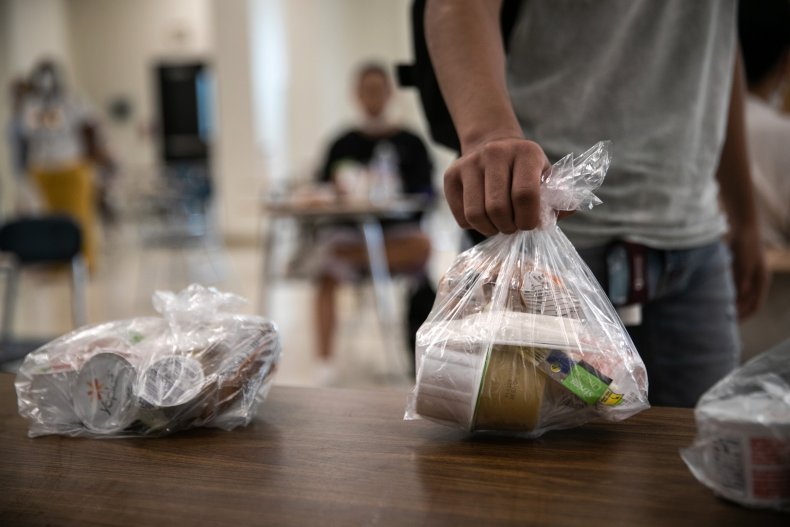 While the district and its food programs remain committed to continue nutritionally supporting its students, CPS' lunchrooms are not unlike other workforces that have been struggling with COVID-driven staffing shortages.
Staffing shortages in lunchrooms is a particularly important concern for districts serving more than 25,000 students.
Nearly 90 percent of large school districts reported a "significant challenge" to staff school meal programs, according to a survey conducted by School Nutrition Association (SNA) in December. CPS serves more than 340,000 students.
Barragan told Newsweek that roughly 10 percent NSS' lunchroom positions are currently vacant and need to be filled.
"CPS, like other industries, has been impacted by a national labor shortage amid the pandemic. Staffing naturally fluctuates from day to day as employees take time off, call in sick, or choose to leave CPS," Barragan said. "The district has worked to improve staffing through aggressive recruitment like job fairs."
Lunchrooms have not only been impacted by a reduced workforce but also supply chain issues that, until last week's demand fell, were forcing many to make supplies last.
Lunchroom managers told Block Club Chicago about having to make "last-minute food substitutions, navigat[ing] a breakfast food shortage and wrangl[eing] half-empty delivery trucks during the first months of the school year."
"Our distributors are consistently receiving shipments of food supplies," Barragan said. "Manufacturers are struggling to keep up with increasing demand given the challenges they are having with labor and or raw materials."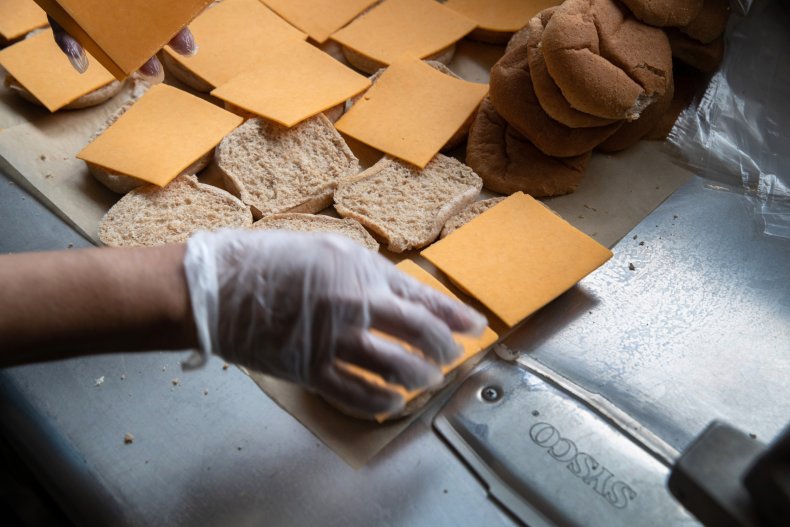 The food shortages Chicago lunchrooms have experienced are also being felt in school districts across the U.S.
A recent survey from the SNA found that more than 98 percent of school meal program directors say menu items have not been available in sufficient quantities.
"Supply chain disruptions are making it infinitely more difficult to plan and serve nutritious meals, critical to student health and success," SNA President Beth Wallace said in a statement. "School nutrition professionals continue to ensure healthy meals are available for students, but perpetually difficult conditions have forced many last-minute menu changes and limited the number of choices in school cafeterias."
To address food shortages, the Department of Agriculture has increased funding for these programs. On Friday, the federal department will provide an additional $730 million on top of last month's $1 billion.
Illinois is expected to receive the seventh-highest amount of funds, behind California, Florida, Georgia, New York, Pennsylvania and Texas, with over $377 million.
Texas will receive the most with $1.3 billion. Texas is home to the seventh-largest school district in the U.S., the Houston Independent School District.