Chicago School Nurses May Get Short End Of The Stick as Union Leaders Strike a Deal
The agreement reached between the Chicago Teacher Union (CTU) and Chicago Public Schools (CPS) is expected to finally bring more COVID-19 resources to schools amid the raging Omicron variant, but the execution of those protocols will be the responsibility of an extremely fatigued workforce of school nurses.
On Wednesday, the CTU officially ended its third major labor dispute with the district in the last 27 months after a simple majority voted to approve a deal that would expand testing, contact tracing and mask distribution.
But the slim margin of the vote—only 56 percent of members voted in favor of the proposal—signals what CTU President Jesse Sharkey called a "clear show of dissatisfaction with the boss." This disapproval may be even more pronounced among the 472 school nurses that make up 1.8 percent of the union's members.
"I voted against it because I won't put my personal name and my professional license in endorsing things in that agreement," CPS nurse Dennis Kosuth told Newsweek.
The main issue school nurses have with the deal has less to do with the greater objective—which is to seek more COVID protection for teachers, school staff and students—and more to do with the fact that all the new protocols and procedures will add yet another weight onto the growing pile of work school nurses have had to take on over the pandemic.
Their duties have already grown exponentially since the return to in-person instruction, having to monitor students under ever-changing quarantine times, to conduct testing in school populations and to run vaccination clinics.
In Chicago, those new tasks have been particularly challenging because almost all nurses have not one, but several schools under their care.
"The culture of the CPS administration is that they want to give more than just one school to the nurses," CPS nurse Betsy Rubio told Newsweek. "Right now, I have three schools. The district wants to give any certified school nurse more schools so the nurses can go [to each school on] different days. The problem with that during a pandemic is you're servicing high volumes of contact tracing, high volumes of direct service."
"We did a survey of nurses at the beginning of the year to get a temperature check of where they were at—80 percent of nurses have multiple schools, 40 percent of us have three schools and 7 percent of us have six or more schools," Kosuth said. "How does that make any sense during a pandemic?"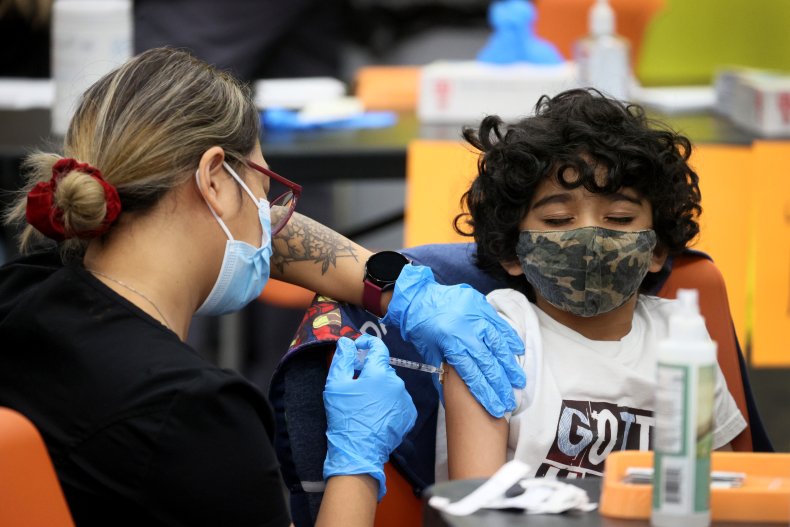 While the deal reached this week could provide relief for school nurses if infection rates reach the new threshold for flipping to remote learning, many of the other provisions will only put more on their plate.
School nurses say they are happy to help mitigate spread by having a greater supply of testing and KN-95 masks, but many have been left wondering who but them will be tasked with the distribution of these resources.
"I was at a school the first couple weeks back after the break. I literally had a syringe in my hand and was pushing fluids through a tube to when the office overhead-paged me saying they need a nurse in the main office immediately because a student was having an allergic reaction," Kosuth recalled. "This is what my day looks like. How am I going to be able to be testing or contact tracing when we're so short-staffed?"
"Let's say I'm in one school," Rubio explained. "I have two other schools where they need direct service, meaning we have children that need continuous medical care. I'm going into all three schools and all of them need direct-service nurses and we don't have them."
In the union deal, the ramped-up contact tracing has been a particularly upsetting provision for the nurses.
"One of the things in agreement is nurses may be tasked to do more testing. And my question is, when are we going to do that?" Kosuth asked.
"The agreement states that the contact tracing is going to fall into the hands of nurses," Rubio said. "Any more work for is impossible."
"I know that some of our principals need that extra support, but it is very heavy," she added. "You also have to have to do your reports, you have to do your direct service and then you're also dealing with concerns around COVID. It's nonstop. It just keeps going."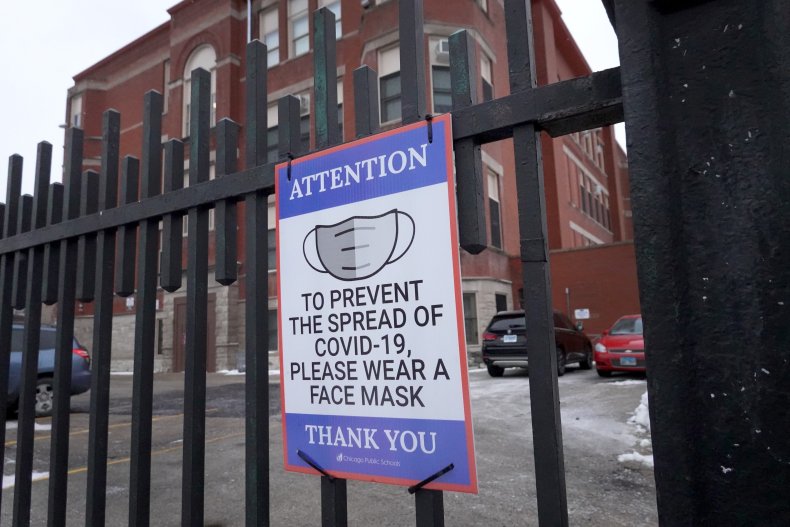 Due to the immense list of students each school nurse has to oversee, some of Rubio's colleagues have strictly stuck to their caseload, meaning that if a child who is not on their list seeks them out for help, they've been turned away.
"[Those nurses] only want to do the positions that they were hired for under the nurse description and I personally am not in agreement with that because I feel that I'm able and capable to have the capacity to be able to triage any student that walks into my office," she said.
"I would say 'No, if a child comes to you and they have a fever, you can assess if they need to go home,'" she added.
The refusal of some school nurses to treat minor incidents among students is largely being caused by the staff shortages, which have burnt out many and stretched them thin.
Rubio, who currently serves over 1,500 students, said every school should, at all times, have at least one school nurse in the building in order to cater to the various needs of the school, whether it be medical emergencies, direct service for kids that need ongoing care, daily operations or communications with staff.
She worries that many Chicago parents aren't aware that when they send their kids to school, there may not be a school nurse in the building at the time that a child says they need medical attention.
Another dilemma nurses have had to face is whether to go into the schools to continue providing care to thousands of students if they have been exposed to COVID or risk infecting the children.
"The supervisors don't want to honor the isolation period of the five days. They don't," Rubio said." If they can get you back in the building before that, they will try to get you back, which is not okay because you are literally dealing with medically-fragile children who, for example, may be diabetic."
"If they contract COVID, it's not a regular flu. They can end up hospitalized," she continued. "So it's really important that you put your foot down and say 'I need to do my isolation period and I can't be in contact with these children until I'm fully recovered and either the five days are done or there's no symptoms.'"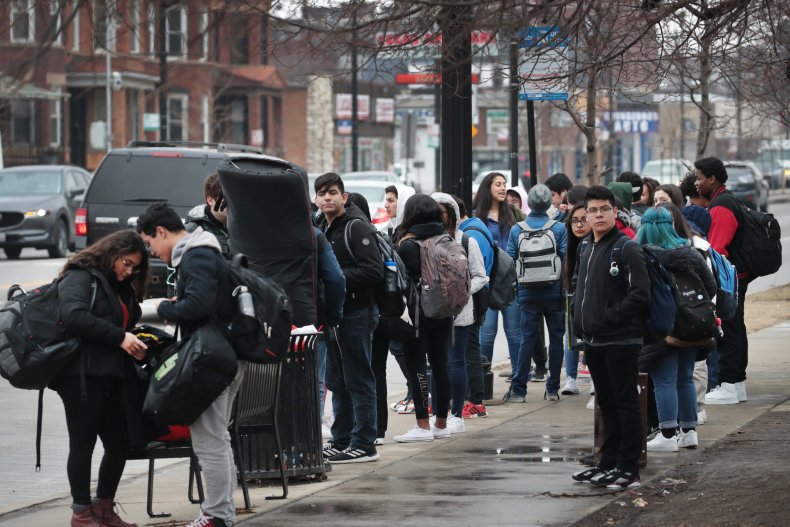 School nurses have been exhausted, not only by the influx of COVID duties and pressures to continue working in an understaffed environment but by the lack of credit they've been given by the city and school officials.
"The mayor and the CEO of CPS were on national platforms calling out nurses, saying we're not doing enough," Kosuth said. "My response is we've been doing stuff since day one, since the pandemic started in Chicago. We are in the schools and working with families to help them stay healthy."
Rubio said school nurses were asked by Lightfoot's administration if any of them would be willing to help with citywide contact tracing over the winter break, but because many of them were on holiday, did not see the mayor's request.
"When the mayor came out and said we're not willing to help, many of the nurses felt like, 'Well, that's not fair. We weren't notified [about the need for contact tracers],'" she said. "I can attest to that. We were never notified prior to that."
The immense stress that the pandemic has brought has only made the recent labor dispute and union deal even more upsetting for school nurses, Kosuth said.
"It was very frustrating to me that we're at a point in this city—the third-largest city in the richest country in the world—that these basic things take so much effort," he said. "This city was handed—just for the schools—$1.9 billion [from the federal government]. That's an outrageous amount of money and yet, we have to go four days without pay to get masks and contact tracing and all the rest. It just doesn't make sense."