Chicago Schools' COVID Testing Taking Double the Promised Turnaround Time
Nicole Granacki has spent weeks dedicating her time to encourage parents at her daughter's school to sign up for the COVID testing program provided by the Chicago Public Schools (CPS) district.
When her hard work finally appeared to pay off—with testing enrollment among pre-K students jumping from 35 percent to 70 percent in a month—the district's program failed to take advantage of her efforts, with stagnant testing rates and delayed results.
For many parents and families at Helen C. Peirce Elementary, the testing program offered by CPS has been critical to their children's COVID safety.
Parents like Granacki rely on weekly testing to ensure that her four-year-old, who is too young to be eligible for COVID vaccination, is healthy.
But the delay in testing results has rendered CPS' program almost pointless now that quarantine guidelines have shifted again.
While CPS has promised to deliver digital access to test results within 24 to 72 hours, parents at Peirce Elementary have been waiting four to five days—and some up to seven days—for their results.
By the time they've received their child's results, the recommended five-day isolation period for unvaccinated kids—a CPS policy that went into effect this week—has already passed.
"This essentially means no quarantining for unvaccinated students like my pre-K child," Granacki told Newsweek. "I've been at our school advocating everybody to sign up for the testing program and we have a lot of families enrolled in that program, more than at other schools."
"Now the families are asking me, 'Well, what's the point of even doing this?' because the results are so slow that we can't take action on it," she said.
Comparably, students in nearby District 65, which includes Evanston and Skokie, have reportedly received next-day or same-day results as part of their testing program, which is being run by SHIELD Illinois and the University of Illinois.
School administrators in Chicago have noted that the result delays may be because Thermo Fisher samples are mailed and processed in Atlanta, unlike the SHIELD program, which is being used by more than 1,700 school districts and universities in the state.
In a statement sent to Newsweek, CPS said that the district has been working to deliver results in the provided timeframe but has faced some challenges to meet those deadlines.
"CPS has been working with our vendor to ensure COVID-19 tests are conducted and results are delivered between 24 to 72 hours," press secretary Sylvia Barragan told Newsweek. "There have been some challenges but CPS is working to resolve those as quickly and effectively as possible. The District conducted more than 55,400 COVID-19 tests last week and we are working toward testing at least 10 percent of all students at each school on a weekly basis."
"We are continually working to increase efficiency and timeliness," she added.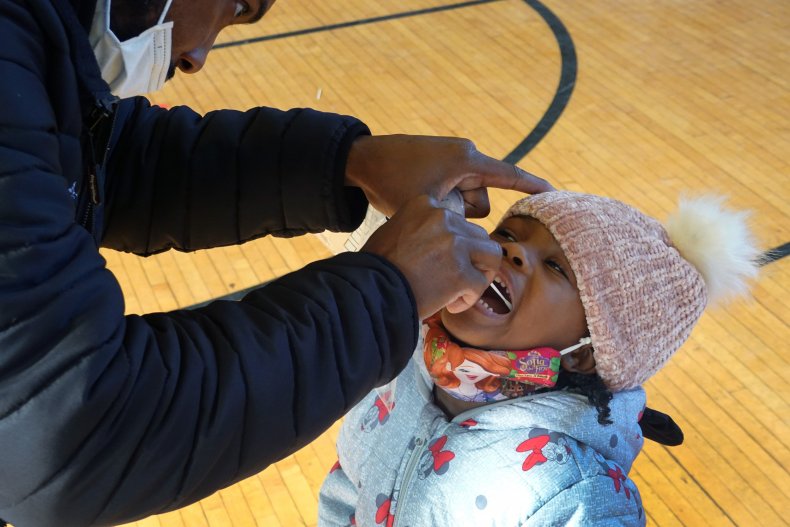 Not only are testing results being delayed at Chicago schools, but Thermo Fisher Scientific—the company conducting the tests in partnership with CPS—has also reportedly failed to send enough testers to adequately test all the students enrolled in the program.
During the last week of January, Thermo Fisher only tested 38 percent of the Peirce Elementary students who signed up for weekly testing.
"One thing that had changed after the [Chicago Teachers Union] work stoppage was that [the district] encouraged more people to enroll, but there's not actually more testing being done at our school because there are not enough [testers]," Granacki said.
A district spokesperson told Newsweek that the testing program was able to test 360 staff and students at Peirce Elementary this week—135 more tests than they conducted last week.
CPS has said that while they are aspiring to be able to test all the students enrolled in the program, it is not currently committed to doing so.
"It's really discouraging to see this amazing joint effort between our families and our school administration—we're all working together to get everybody signed up for testing to keep our kids safe—and then we didn't actually see an increase in the number of tests that were being given in their school," Granacki said. "Families have been disappointed each week when their kids are untested."
The district's failure to provide enough testing resources to schools has forced some parents, like Granacki, to make difficult decisions.
For most of January, when the Omicron wave was sweeping through much of the country, she decided to keep her daughter at home even though the four-year-old wanted to be in person because Granacki didn't feel safe sending her child to school while positivity rates were still high.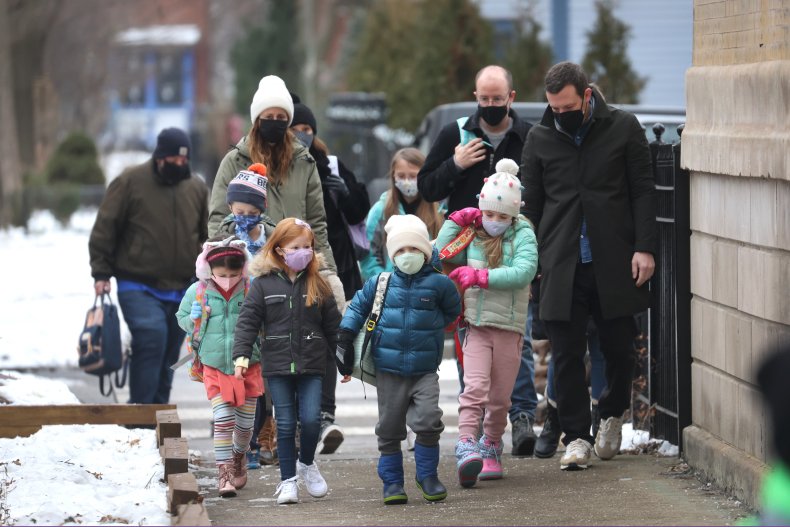 Granacki hopes that by using COVID relief funds, CPS will be able to provide quicker test results and more resources to ensure that everyone enrolled in the weekly testing program can get a test.
In an ideal world, she said she wishes the district would adopt an opt-out program—an idea Mayor Lori Lightfoot has adamantly opposed.
Lightfoot has called it morally wrong for schools to be performing a "quasi-medical procedure" without parental consent.
"As a parent of a child, I would be outraged if a school system was doing anything with my child that I didn't know about, and I didn't affirmatively authorize," the mayor said earlier this month. "Why would we take that option away from parents? We're not going to do that. Come up with a different plan."
But Granacki said that most of the parents she's spoken to are not against expanded testing. She said the real reason many families haven't opted-in yet is that the district has made it difficult for parents to access enrollment forms.
"Every family that I spoke to was open to signing up their child for testing," she said. "The barriers for them were not knowing how to sign up, not being able to navigate the form to sign up."
"I've had to walk families step-by-step through the form and assure them that it is the right form," she added. "People didn't know where to find the form. There wasn't a lot of information distributed about signing up. So, all the barriers that I'm hearing from families has nothing to do with them not wanting to sign up. They just haven't from these other reasons."
Other Illinois school districts, including some charter schools in Chicago, have already chosen to use an opt-out policy. SHIELD Illinois has said that 30 percent of the schools using their test have also chosen to follow an opt-out program.
Newsweek reached out to Thermo Fisher for comment.
Updated 02/04/2022, 1:00 p.m. ET: This story has been updated with comments from CPS.