Chicago Sees Most Violent Weekend of 2021 With More Than 70 People Shot
Chicago recorded its most violent weekend of the year after more than 70 people were shot over this past weekend.
From 6 p.m. on Friday until Monday morning, Chicago police said 74 people were shot in the city, with six dying from their injuries. A third of the victims were injured in four mass shootings where four or more people were wounded.
This weekend's figures break the previous record over the June 4 to June 6 weekend, where 58 people were shot over the 54-hour period.
There have been at least 1,842 shootings in Chicago this year, compared to the 1,625 at this time last year—a more than 13 percent increase.
The most violent mass shooting over the weekend took place in the city's Chicago Lawn neighborhood on Sunday night when three unknown men emerged from an ally and opened fire on a crowd gathered outside the 6300 block of South Artesian Avenue.
Police said 11 people were wounded and one person died from their injuries.
Just two hours earlier, another six people were shot in the South Shore neighborhood when a black SUV drove by a group of five men and one woman on the 2000 block of E 71st Street and opened fire.
The woman was shot six times and transported to the University of Chicago Medical Center, where she later died. All five men were wounded and are recovering from their injuries.
No one was in custody in either shooting.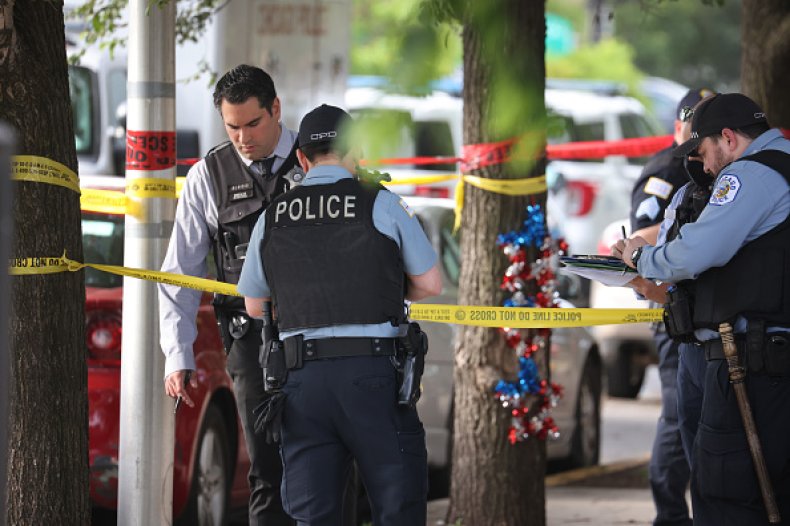 "Both incidents appear to be internal gang conflicts. Retaliatory shootings for past incidents," Chicago Mayor Lori Lightfoot said on Monday.
Lightfoot said it was "both heartbreaking and frustrating" to see another weekend dominated by gun violence.
"What's also frustrating and heartbreaking is that, for some in our community, their thirst for revenge has no sense of decency. They don't want to let the criminal justice system play itself out," she said.
"They want to engage in street justice, which is tragic and terrible because, invariably what happens—like we've seen so many times with way too many children in our city across this year—when they aim, they don't get the target," Lightfoot added. "They get the children and the innocent bystanders who have a right to live in our city without fear of being felled by gun violence."
Just before the weekend, President Joe Biden unveiled a new plan to target gun violence across the nation. He announced on Wednesday that the federal government will provide funds to cities that need more police, offer community support and crackdown on those supplying illegal firearms.
"Crime historically rises during the summer, and as we emerge from this pandemic the traditional summer spike may be even more pronounced than it usually would be," Biden said, adding that, "This is not a time to turn our backs on law enforcement."
Chicago City Hall and police officials have stressed that the increase in violence from last year to this year has been slowing, but noted that 2020 was one of the city's worst for gun violence since the mid-1990s.