Chicago Students Protest After Teacher Allegedly Tells Hispanic Girl to 'Go Back to Your Country'
Students at a school in Chicago staged a mass protest after a teacher allegedly told a Hispanic pupil to "go back to your country" because she sat during the national anthem.
Videos posted on social media show dozens of students at Senn High School staging a sit-in and chanting "we want justice" on Wednesday in protest at the incident which is believed to have occurred during a school assembly in January.
According to the Block Club Chicago, four female senior Senn students sat down when the national anthem started playing.
The teacher then came over and told them to stand up or leave before allegedly telling one of the girls, a U.S. national of Mexican descent, to "go back" to her country.
"I told [the teacher] I was born here, and [the teacher] told me to go somewhere else," the student told Block Club Chicago.
The student was identified by the Chicago-Sun Times as 17-year-old Yésica Salazar. She said that she chose to sit down during the national anthem to protest against the treatment of immigrants in the U.S. as well as police brutality.
"I felt very offended because my parents have fought hard to be a part of this country," she said. Salazar's parents both moved to the U.S. from Mexico when they were 13.
Speaking to Block Club Chicago, Salazar said, "These young people have the same experiences as me and want to come here, but are dying. They're put in cages, treated as animals. And I'm over here, living the life, but not fighting for them?"
The teacher is also alleged to have asked an African American student who also sat during the national anthem if she was eligible for the school's free and reduced lunch program. The teacher reportedly told the student she was disrespecting those who died for her right to receive a free lunch by staging the protest.
A student who took part in the protest also claimed the same teacher made fun of his disability two years ago.
A 15-year-old girl was also arrested at the protest on suspicion of battery after allegedly pushing a school administrator to the ground.
Chicago Public Schools said they are investigating the alleged incident of racial discrimination.
"CPS is committed to fostering learning environments that embrace and support all students, and the alleged actions of the teacher in question run counter to our beliefs and priorities as a school district," spokesman James Gherardi told Newsweek.
"The district is opening an investigation into the alleged actions, and we support the students who have peacefully raised their concerns."
In a letter to students sent prior to the sit-in, Senn High School Principal Mary Beck said she was "concerned about a narrative that I have heard from several students, and I wanted to reach out to all of you to ensure there is clarity around this situation and who we are as a school."
It is unclear if the teacher will face any disciplinary action. Beck and CPS have been contacted for further comment.
In a tweet, the ACLU of Illinois said: "Forced patriotism is not just bad policy—it is unconstitutional. CPS should investigate completely the allegations—including the targeting of students of color—and make clear this is not tolerated."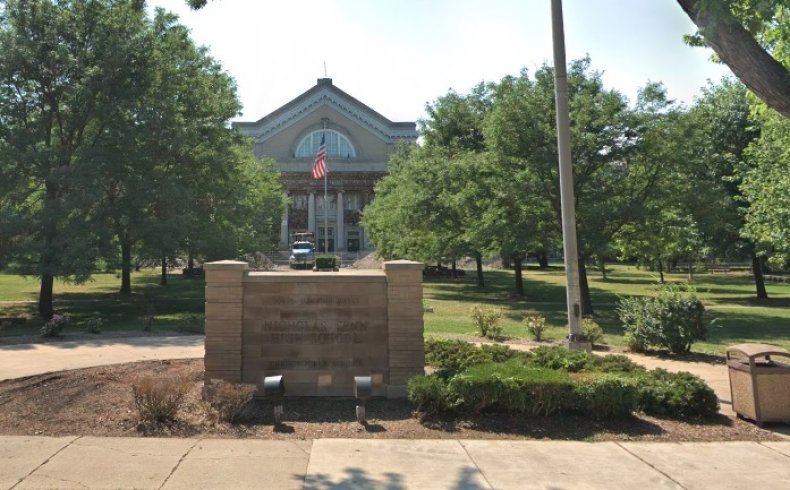 Correction 2/13/20, 12:30 p.m. ET: This article was updated to correctly attribute Block Club Chicago.