Multiple People Shot at Chicago House Party Commemorating Gun Crime Victim
More than a dozen people have been shot at a memorial party in Chicago for a victim of gun violence.
The Chicago Police Department responded to reports of a shooting at a house party on South May Street in Englewood at around 12:35 a.m. on Sunday.
At least 13 people were injured in the shooting, with all victims transported to local hospitals for treatment. At least one 16-year-old is said to be in a critical but stable condition. The condition of the other victims is not known.
Giving a press conference, Chief of Patrol Fred Waller said the shooting was an "isolated incident" that originally took place inside the home before spilling out onto the street. Waller said suspects then appeared to have "shot randomly" at people fleeing the party.
According to the Chicago Tribune, the shooting took place at an event celebrating the birthday of Lonell Irvin, a 22-year-old man who was shot dead during an attempted carjacking in April.
"It was his birthday and they were just celebrating a memorial for somebody that passed away, and this is what they do," a 29-year-old woman, who did not wish to be named, told the paper. "It's real f****** sad. Your kids can't grow up, you can't do nothing. This is what our life is going to be about."
She added a shooting at a memorial event for a man previously killed by a firearm is indicative of the extreme level of gun violence in the Illinois city.
"Y'all can try your best to stay out here and watch these streets all night, but no matter how they do it, it's going to be multiple deaths, multiple shootings, innocent people getting shot," she said. "I cannot wait to leave Chicago."
Neighbor Terrence Daniely said he was woken by the sound of "four, five or six" gunshots. "It seemed pretty loud, so it seemed kind of close," he told WLS.
"I didn't see any commotion when I looked out the window but then shortly after I heard the sounds of people screaming and running from a party on the street."
Speaking to the Chicago Tribune, Daniely said those responsible for the shooting showed a "lack of caring for life," and pushed for stricter gun law penalties.
"It's reckless, just reckless," he said. "How does it continually happen? When is it going to stop?"
Area South Detectives are currently investigating the shooting.
According to the Chicago Sun Times, four people were shot dead over the weekend in the city, with 29 injured, including those at the Englewood party.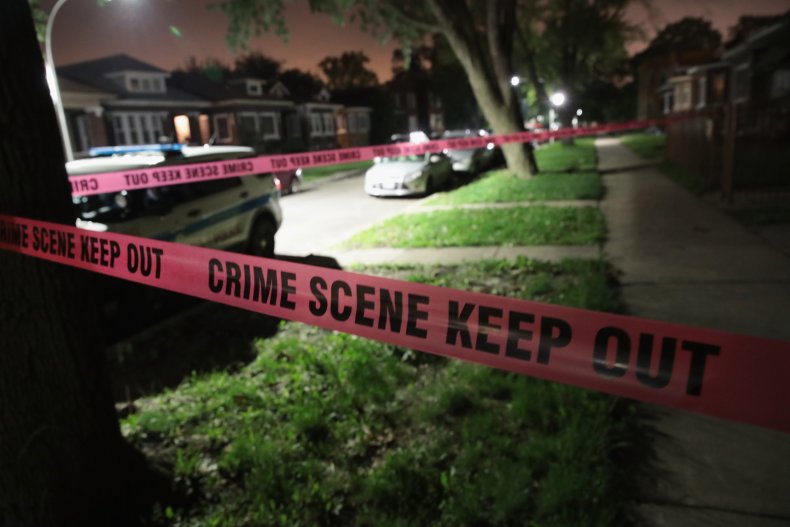 Multiple People Shot at Chicago House Party Commemorating Gun Crime Victim | U.S.