Chicago Teacher Strike Moves Into Second Week, 300,000 Children off School
The Chicago teacher's strike, which is affecting more than 300,000 students, has continued into a third day—despite some reported progress in talks.
The Chicago Teachers Union (CTU) is picketing today, as the ongoing negotiations with Chicago Public Schools (CPS) over a series of demands move into a second week. They staged a two-day walkout last Thursday and Friday.
Teachers are striking over a number of issues, including class sizes, hiring more support staff such as social workers and special education teachers and contract negotiations.
As with the other strike days involving around 25,000 teachers, CPS has a contingency plan in place to keep children safe during the day. This includes keeping all school buildings open and providing breakfast, lunches and free rides for students.
After 10 months of negotiations, CTU President Jesse Sharkey claimed that the talks could end "within a couple days" if there was more commitment from Chicago Mayor Lori Lightfoot.
"We're holding strong and things look good," he told teachers while at a picket line at William P. Gray Elementary School, reports The Chicago-Tribune. "After 10 months of telling us that they would not bargain over class size and staffing, we saw written proposals over class size and staffing."
In a series of tweets, Lightfoot said that while progress has been made, there still has not been a counteroffer from the union with regards to class size or staffing— described as the two core issues that CTU has identified as being "essential to resolve" before an agreement is met.
"It is crucial that CTU provide such counteroffers if we are to move this negotiation to a resolution," Lightfoot wrote on Sunday. "Yesterday, we received a partial counteroffer on class size, after having updated our offer on Thursday. And we have yet to receive a counter to our updated offer on staffing, which we put forward on Friday."
Lightfoot added: "These negotiations must move more swiftly so that we can get students back into school as fast as possible."
Speaking to WLS, the CTU's Jennifer Johnson said there are still other issues that must be resolved such as the contract disputes.
"We want to settle as quickly as possible, but we're not going to settle for a fast contract if it is not a just contract," she said.
In a comment piece for the Chicago Sun-Times, Lightfoot said she understands the strike action as she knows what it is like to attend a school that "lacks the basics."
"We shared textbooks, and they were often worn and out-of-date. We went without modern tools of learning throughout my entire K-12, public school experience. I also look back with horror at the treatment that my classmates with different learning abilities received," she wrote.
"I am deeply disappointed that we were not able to reach an agreement with the Chicago Teachers Union's leadership before this work stoppage.
"I respect the collective bargaining process and the right of workers to organize and to strike. Still, I am committed to continuing the hard work to get through this."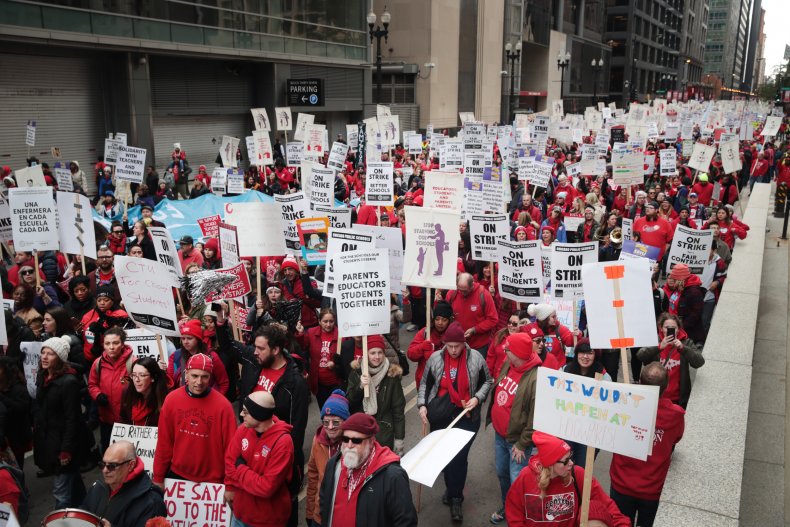 Chicago Teacher Strike Moves Into Second Week, 300,000 Children off School | U.S.