Chicago Teachers Defy Order to Return to In-Person Work, Cite COVID Fears
Months of negotiation culminated on Sunday when the Chicago Teachers Union (CTU) voted to not begin in-person classes on Monday, defying an order from Chicago Public Schools (CPS) to return to classrooms.
Citing health and safety concerns over COVID-19, union members agreed the school district, one of the nation's largest, was not prepared to support the safe return of nearly 10,000 teachers and staff members ahead of kindergarten through eighth grade students beginning part-time classes in person on February 1. About 61 percent of the union's full membership voted on the resolution, according to The Chicago Sun-Times, and is not considering a strike because teachers will proceed with leading classes from home.
According to WBEZ, teachers have written letters and voiced fears of unnecessary COVID-19 exposure at schools and bringing infection back home to their families. Additionally, staff and teachers are worried that the students will have additional exposure that could put their households at risk, too, further curbing efforts to contain the spread of the virus.
Chicago Public Schools on Sunday provided Newsweek with a copy of a letter sent to families following the union vote, in which the district agreed to provide more time for deliberation by moving the return of the teachers and staff to January 27. The statement also affirmed February 1 would remain the start date for kindergarteners through eighth graders, noting that students in private and parochial schools across the city have been safely learning in-person since the fall.
"We are pursuing this return because local, sate and federal health officials have made it clear that schools can operate safely with proper mitigations," the letter stated. The letter noted that CPS has channeled $100 million into developing the city's health and safety strategy in response to COVID-19.
Chicago Mayor Lori Lightfoot retweeted the post by CPS sharing the letter, but has not yet released an official response to the vote.
The next step will be for the district and educators to work toward a compromise. CPS could bar teachers from online learning if an agreement is not finalized, and the union has reportedly expressed it will strike if the discussions reach that point.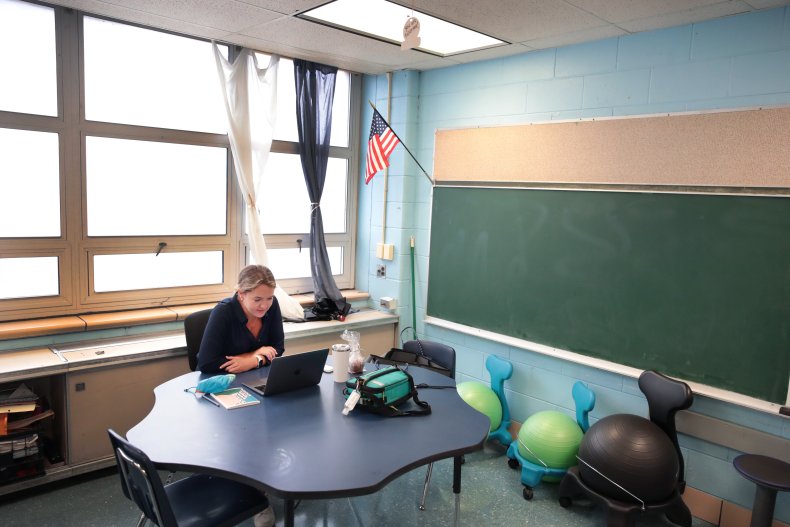 As things stand now, if teachers do not show up to schools on Wednesday, they will be considered "unauthorized" by CPS and subject to consequences.
The school district is also seeing more students opt for remote learning when it's available. New attendance data released by CPS showed only 19 percent of pre-kindergarten and special needs students chose to come back to classrooms this month —a much smaller group than the district anticipated, according to Block Club Chicago.
Last month, the Illinois Educational Labor Relations Board turned down an emergency injunction from the union that CPS schools do not reopen without an agreement between the two parties officially in place.
Further, the union considers the district's pressure a threat to education equity in the city. Most of CPS' student body is Black, Brown, or Latino in addition to being low-income. COVID-19 has affected communities of color in the U.S. at significantly higher rates versus white Americans. As a result, many non-white families have opted to keep their students home to protect themselves and their communities. Fewer students of color attend private or parochial schools in Chicago, so an agreement between the union and district is likely to impact the families who are most susceptible to COVID-19 infection.
According to the CPS website, school-based staff will be eligible for the COVID-19 vaccine as of January 25.
The Chicago Teachers Union did not respond to Newsweek's request for comment.