Chicago Public Schools (CPS) may finally be back to in-person instruction after a week of remote learning, but teachers may have another chance to go back to online classes as a rank-and-file union vote looms ahead.
Members of the Chicago Teachers Union (CTU) will have until Wednesday afternoon to vote on the tentative agreement with the district before the latest labor dispute officially ends.
The recent five-day action against the district's COVID response to the raging Omicron variant is the third major dispute with Chicago Mayor Lori Lightfoot in 27 months. The walkout saw teachers refusing to teach in-person classes, resulting in five days of school cancllations. Students were out of school on Tuesday, but teachers were in school for a planning day.
Electronic ballots went out to CTU's 25,000 members on Tuesday, a day after the union's House of Delegates, a 700-member governing body, voted 63 percent to 27 percent to suspend the work action in the nation's third-largest school district.
Voting will end at 4 p.m. on Wednesday and the outcome will be decided by a simple majority.
If the deal fails, the union's delegates—which have the power to stop or start a work action—will vote on Wednesday evening to decide if the labor action will resume as soon as Thursday.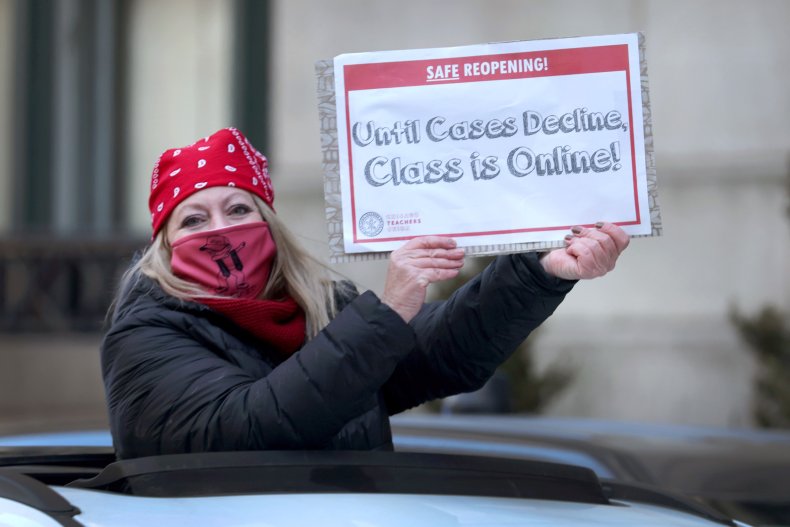 Ahead of the vote, President Jesse Sharkey reminded members that the union wasn't "fighting to make something good a little better."
"It's not fair or just, but we had to fight this hard to win even the basic protections that we forced the mayor to agree to. And while it falls short of so many things that we and our students deserve, she didn't want to give us any of it," he wrote to members on Tuesday. "Whichever way you vote, every last word of protection in that document, you fought and sacrificed to gain."
While the district's proposal compromised with some of the union's demand, including increased testing and protocols for school closures over outbreaks and teachers shortages, many teachers seemed frustrated that the mayor wouldn't budge at the bargaining table, especially since educators lost four days of pay during negotiations.
"Some members will turn down the agreement and feel that we would be better off staying out longer to provide more safety for the next week, even if the mayor would have less motivation to reach an agreement each day," Sharkey said.
"Some of us worry about the risk of more lost days and pay, the public attacks, or the divisions that strain could bring on our union," he added. "But this virus is deadly and there's no question that continuing the remote action could provide some immediate safety even if it left us less likely to have a long-term agreement in place."
The CPS proposal allows schools to go remote for at least five days if 30 percent or more of a school's teachers are absent for two consecutive days or if 40 percent of students are in quarantine.
Originally, CPS capped the teacher absence bar at 40 percent and CTU had pushed for schools to go virtual if 20 percent or more of staff were in isolation or quarantine.
The tentative agreement will also include expanded COVID-19 testing and KN95 masks for students and teachers, although the testing program will be opt-in and not opt-out as teachers wished and the supply of masks remains unclear.
Two of CTU's key provisions that were left out include metrics that would prompt district-wide moves to remote learning and assurances that teachers wouldn't be punished for failing to report to schools.