Chicago Teachers Union Head Touts Success But Won't Seek Re-Election
Jesse Sharkey, the president of the Chicago Teachers Union (CTU) that recently went head-to-head with Chicago Public Schools over remote learning, has announced he will not seek re-election.
Sharkey released a statement on Wednesday night, explaining that he will finish his tenure as president when his term ends in June. The statement comes nearly a month after the CTU publicly battled with Chicago Public Schools over the lack of remote learning resources and access. The battle resulted in a week-long negotiation phase that closed Chicago schools. In his statement, Sharkey thanked his colleagues for the work they had put in during times like this.
"We had seen the joy of teaching fall under attack by moneyed interests and corporate hacks, and we wanted to protect schools and honor classrooms by making our union more responsive and more effective," Sharkey wrote. "In the eyes of many around our city, and our country, we succeeded."
He elaborated on what the union has done since the beginning of the COVID-19 pandemic.
"During the last two years, as we all collectively struggled to survive COVID-19, our union secured a moratorium on school closings, historic safety agreements, the restoration of our bargaining rights, an elected representative school board and a multi-million dollar settlement for Black educators impacted by racist turnaround layoffs," Sharkey wrote.
"We will have a nurse and a social worker in every school by 2024. We have students recognizing the power of their voice, and their action, to fight for the schools and the city they deserve."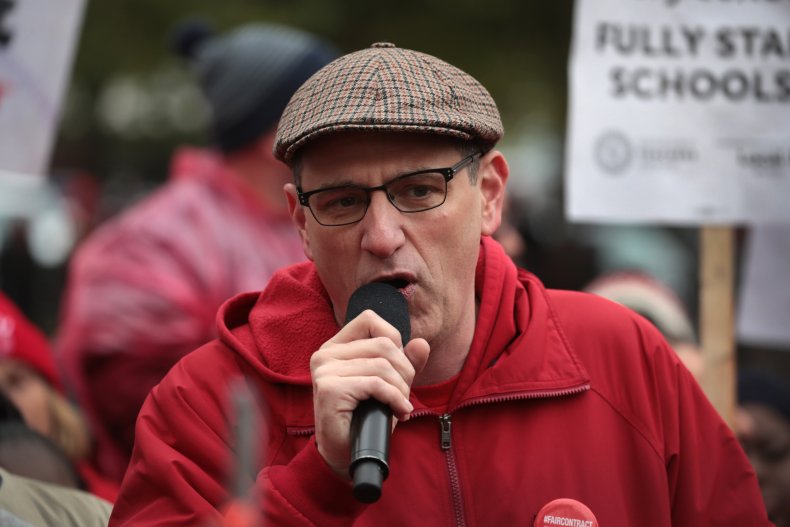 The bargaining rights were critical during the union's negotiations with Chicago Public Schools in early January. The union voted with 70 percent approval to resume online learning during the city's COVID-19 surge. What ensued was several days of negotiations for a "safe return to classrooms," as well as accusations against Chicago Public Schools for locking teachers out of the system's remote learning platform. Sharkey and Chicago Mayor Lori Lightfoot also exchanged barbs, with the union head calling the mayor a liar.
"We know the mayor lies, a practice that has unfortunately rolled downhill to the CPS CEO who serves her," Sharkey said at the time. "They continue to falsely claim that we're engaging in an illegal strike, when we want to teach but cannot because they've locked us out."
At the end of Sharkey's Wednesday statement, he thanked union members for their hard work and dedication, saying that he was "confident in the future of" the CTU. He also welcomed ongoing change in leadership within the union.
"I am immensely proud of our union's work, and the commitment that our educators bring to their classrooms every day," he wrote. "Movements have to change as people change, with new leaders and new vision stepping to the fore."
Once Sharkey's tenure is complete, current Vice President Stacy Davis Gates will assume the role.