Chicago Teachers Union Suggests It Prevented Health Care Collapse as Classrooms Return
As Chicago students returned to in-person classes for the first time in a week, the Chicago Teachers Union (CTU) suggested its remote work action was instrumental in preventing a health care collapse.
"Teachers were, in the end, able to secure a 5 day quarantine to prevent further infections. What they did likely saved lives in the long run," a screenshot tweeted by CTU on Wednesday reads. "The teachers absolutely flattened the curve to prevent the health care collapse in the city of Chicago. And the teachers did it unpaid at the risk of their own financial health."
"The economy will never be more important than the lives of teachers, healthcare workers, students and their families," the post said. "We don't forget what the teachers did to save us during a pandemic."
Students of Chicago Public Schools (CPS), who missed a total of five days of classes, returned to school on Wednesday after a tentative deal was reached between the district and the union Monday night.
Teachers were back in their classrooms on Tuesday to prepare for Wednesday's classes. Teachers lost four days of pay during the work action.
"We can never forget the impact on the lives of our children & their families. Every decision has to be made with them at the forefront," Chicago Mayor Lori Lightfoot said in a statement announcing the end of the work stoppage. "Some will ask who won and who lost but no one wins when our students are out of the place where they can learn the best & where they're safest."
The work action was suspended after just under two-thirds of the union's House of Delegates supported advancing the CPS measure, despite criticisms from some union members who say it does not go far enough to respond to the rampant Omicron variant.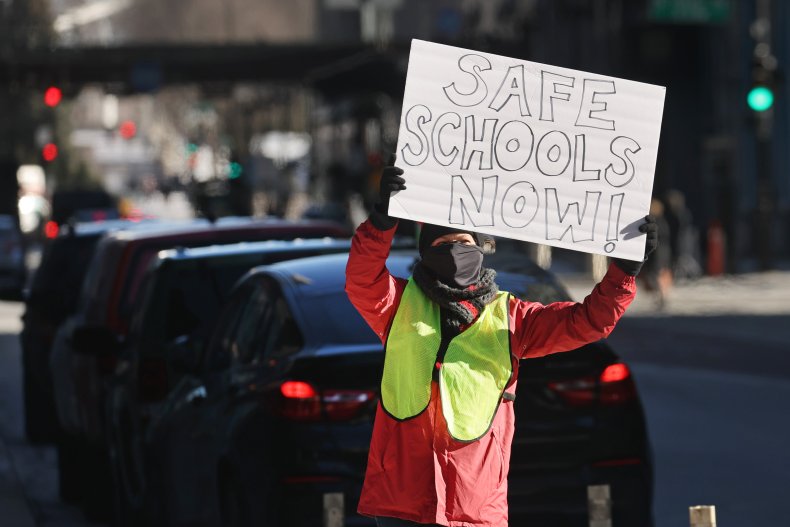 The measure, which is expected to include new COVID-19 policies and expanded testing, still needs to be ratified by the union later Wednesday.
School officials have offered to increase testing at CPS schools to at least 10 percent of the student population and to provide all staff with testing this week. The district also vowed to ramp up student testing and vaccination to 100 percent next month.
While CPS agreed to shut down schools for at least five days if there is a student outbreak or a significant teacher shortage due to COVID infection or quarantines, the district did not guarantee that missed days would be paid out at the end of the year.
CTU President Jesse Sharkey acknowledged that the tentative agreement "certainly isn't everything we wanted" but "there's more than nothing in it" in a virtual union meeting on Tuesday night.
Teachers had been pushing for a lower threshold when it comes to school closures as well as an opt-out testing program that would automatically sign students up, but the district ultimately stuck with the opt-in format.
Newsweek reached out to Lightfoot's office for further comment but did not hear back before publication.
Update 16/01/22 11:45 a.m. This story was updated to clarify the post was shared on CTU's Twitter account.