Chicago Appears Calm Following Release of Video Footage Showing Police Shooting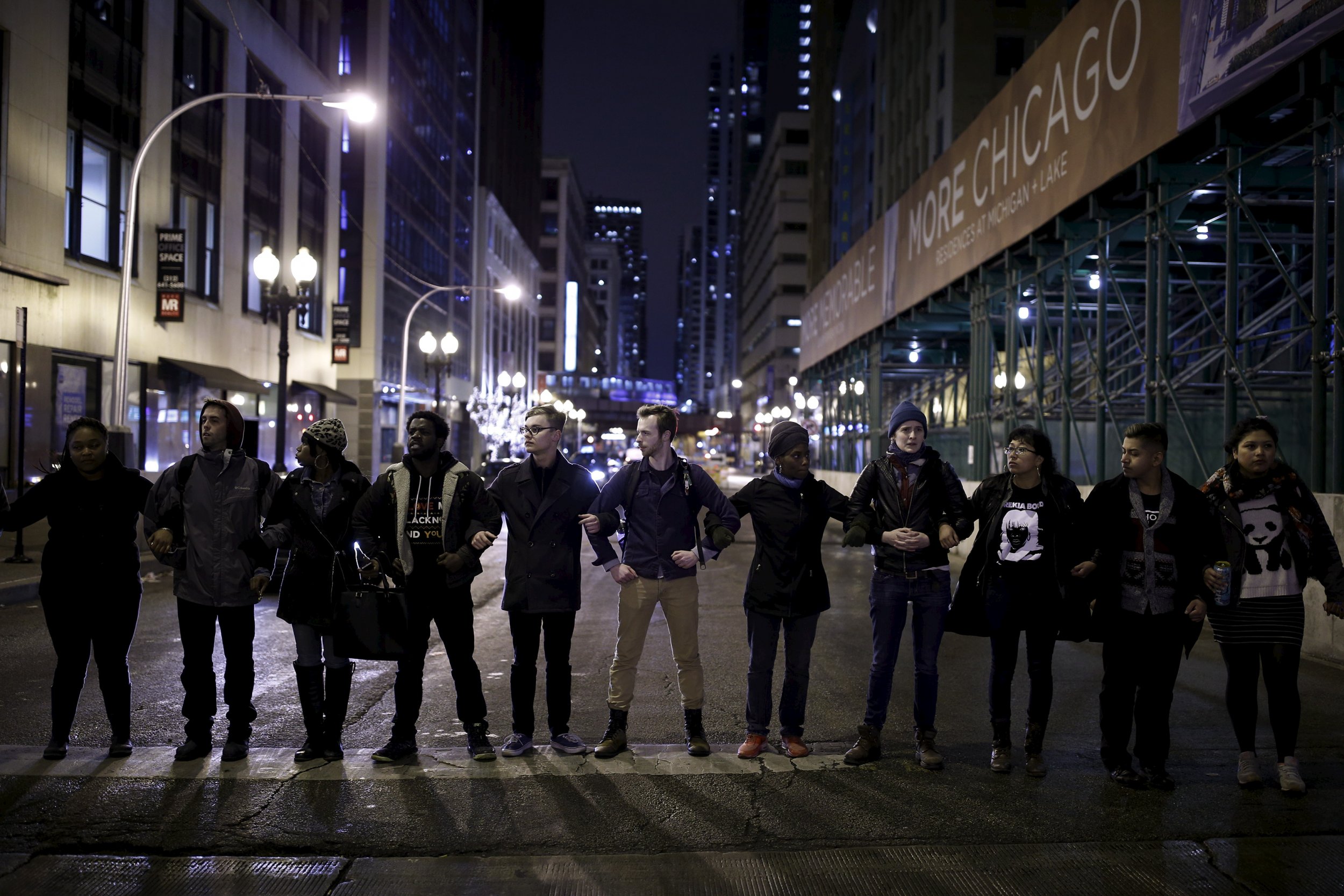 CHICAGO (Reuters) - The white Chicago policeman charged with murdering a black teenager he shot 16 times spent his first full day in custody on Wednesday in a jail hospital ward, as calm prevailed in a city braced for civil unrest over new video footage of the slaying.
Protests were mostly small and peaceful on Tuesday and Wednesday following the release of a graphic clip showing 17-year-old Laquan McDonald being gunned down in the middle of a street on Oct. 20, 2014, as he was walking away from police who had confronted him.
The tape, recorded from a dashboard-mounted camera in one of several patrol cars arriving on the scene, was made public on Tuesday under court order hours after the officer who fired the fatal volley of gunshots, Jason Van Dyke, was charged with first-degree murder.
Related: Five Arrested During Chicago Protests After Officer Charged in Black Teen's Death
Investigation of the case comes amid a national debate on race and police tactics sparked by a series of high-profile killings of unarmed black men at the hands of mainly white law enforcement in several U.S. cities in the past two years, leading to widespread demonstrations and some violent unrest.
Late on Wednesday, the Chicago Tribune newspaper reported it had exclusively obtained video footage from the dashboard cameras of five police vehicles that were on the scene.
Those tapes include the one widely shown on Tuesday, which provides the most complete coverage of the shooting released to date. There is also footage taken from four other squad cars, including Van Dyke's vehicle, that were on the scene, the Tribune said.
None of those four tapes show the moment McDonald was shot.
The Tribune also said that, like the original video made public, the new tapes all lack any discernible audio that should have been included - a shortcoming police have previously attributed to unspecified technical problems.
Related: Chicago Officials Release Video of White Police Officer Shooting Black Teenager
The additional videos were furnished to the Tribune by Mayor Rham Emanuel's Law Department under an open-records request for footage from all eight police vehicles present at the shooting. Tapes from three vehicles inexplicably remained missing, the newspaper said.
The Tribune posted one of the new videos online late on Wednesday.
Protective Custody
Van Dyke, 37, is the first Chicago police officer charged with murder over an on-duty exercise of lethal force in decades. If convicted, he could face 20 years to life in prison. He was denied bail at a hearing Tuesday.
Van Dyke began his incarceration under protective custody at a hospital facility segregated from the general population of Cook County Jail, the county sheriff's office said. No information was given about his medical condition.
His lawyer, Daniel Herbert, told CNN that the video was not an indicator of his client's guilt. He said Van Dyke arrived on a street on the southwest side of Chicago 18 minutes after a suspect carrying a knife was reported to have threatened businesses and vandalized police cruisers.
"Video by its nature is two dimensional. It distorts images," Herbert said. Van Dyke, he said, "truly was in fear for his life as well as the lives of his fellow police officers."
Authorities said McDonald was carrying a pocket knife and had the hallucinogenic drug PCP in his system at the time. Footage of the incident contradicts Van Dyke's account that McDonald was moving toward officers when he was shot.
The video shows McDonald jogging away from patrol vehicles pursuing him from behind, then veering off diagonally at a walk as two more officers, one of them Van Dyke, pull up in a squad car ahead of him.
The officers are seen emerging from their vehicle and drawing their weapons while advancing toward McDonald, who continues to move away. Within seconds he is shot, spins and crumples to the ground, his body jerking as he is hit by more gunshots.
Prosecutors said 16 rounds fired by Van Dyke struck McDonald as the officer unloaded his weapon at the youth.
More Rallies Planned
Authorities in Chicago, a city of 2.7 million people, had girded for the possibility of civil unrest on a scale seen in cities such as Baltimore and Ferguson, Missouri, but the city remained mostly tranquil by Wednesday night.
Five people were arrested late on Tuesday in mostly peaceful rallies, and a new round of protests on Wednesday at Chicago's criminal courthouse and City Hall were sparsely attended. Members of the City Council's black caucus again demanded the resignation of Police Superintendent Garry McCarthy.
"We want McCarthy gone. We want new leadership," Alderman Roderick Sawyer told a news conference.
Critics of the police department and prosecutors have questioned why it took investigators 13 months to bring charges against Van Dyke and to release police video from the case.
A group of between 100 and 200 protesters began a march at the start of the evening rush-hour in Chicago's busy downtown area on Wednesday, and were still on the streets more than five hours later despite the onset of rain.
Additional rallies were planned for Chicago's annual Thanksgiving Day parade on Thursday and another for Friday.
President Barack Obama, who hails from Chicago and began his political career there, said on Facebook he was "deeply disturbed" by the video but "personally grateful to the people of my hometown for keeping protests peaceful.