Chicago Top Cop to Meet With Joe Biden to Talk Gun Violence After Dozens Shot Over Weekend
President Joe Biden is scheduled to discuss gun violence on Monday afternoon with Chicago Police Superintendent David Brown; Washington, D.C., Mayor Muriel Bowser; New York City Democratic nominee for mayor Eric Adams; and other local leaders.
The meeting comes after a violent weekend in Chicago that saw 10 people killed and at least 35 injured in shootings.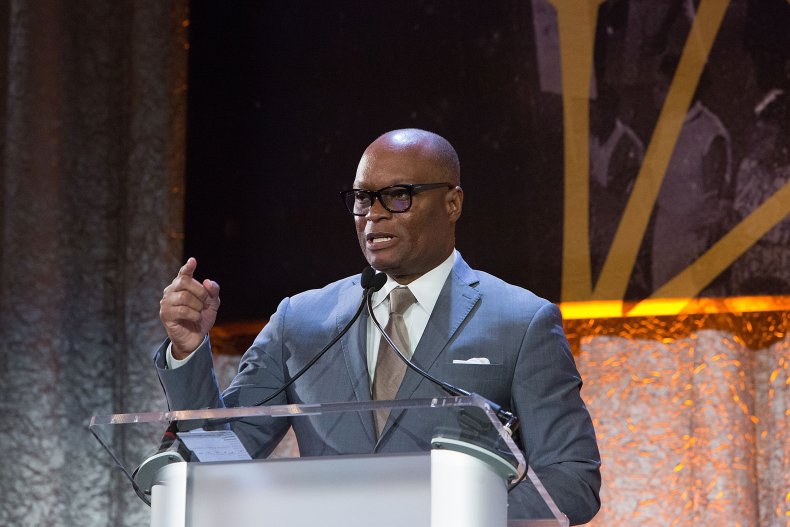 According to the nonprofit research organization Gun Violence Archive, 2020 was the deadliest year of gun violence in at least 20 years. The research group also reported in June that 2021 is on pace to be even worse, with gunfire having already accounted for more than 8,100 deaths in the U.S. in the first five months of the year.
Leaders across the country have sought measures to curb the trend, including New York Governor Andrew Cuomo. Last week, Cuomo declared a state of emergency on his state's gun violence and pledged almost $139 million to fight it.
During a press briefing on Friday, White House press secretary Jen Psaki discussed Biden's Monday meeting with officials. She said the president "will meet with local leaders—including law enforcement, elected officials and a community violence intervention advocate—to discuss his administration's comprehensive strategy to reduce gun crimes and other violent crimes."
The White House has since confirmed that in addition to Brown, Bowser and Adams, others at the afternoon meeting will be San Jose (California) Mayor Sam Liccardo, Memphis (Tennessee) police chief Chief C.J. Davis and Lt. Anthony Lima of the Newark (New Jersey) Police Department.
Chicago has been particularly hard hit with gun violence, and Mayor Lori Lightfoot met with Biden on July 7 at O'Hare International Airport after a bloody Independence Day weekend in her city. She asked the president to accelerate plans he announced on June 23 to provide additional federal resources to Chicago within a month.
At least 108 people were shot—17 fatally—in Chicago between July 2 and 1 a.m. July 6. The shooting victims, which included two police officers, represent the highest number ever recorded over a July 4 weekend in the city.
Following Chicago's deadly holiday weekend, Brown spoke with the press. He praised police efforts, noting 244 guns were recovered despite the shootings. He said of his officers, "I am truly proud of their efforts over the weekend. They risked—literally risked life and limb over this weekend for what was an extremely challenging weekend for American police."
Brown also placed at least some of the blame for the shootings on the criminal court system. During the same press conference, he said, "There are too many violent offenders and too little consequences in our courts."
"There are too many illegal guns in our city and too little consequences in the courts," Brown added.
Brown shared his plans of Monday's visit on his Twitter account. He wrote he was meeting with Biden "to continue our work toward preventing the senseless gun violence hurting our communities."
The presence of Adams at the White House meeting comes after he won the Democratic nomination for New York City mayor last week. Adams, a former New York police officer, made law and order a cornerstone of his campaign.
Many Republicans have sought to portray Democrats as soft on crime and wanting to defund the police. Biden, meanwhile, has never called for federally defining police and has proposed sending federal funds to cities to enhance their law enforcement efforts.