Chicago 'Tornadic Supercell' Seen From Space in Incredible Video
Chicago was struck by an extreme storm on Monday and a video of a "tornadic supercell" forming from space has gone viral on social media.
The video was posted by the US StormWatch Twitter page and so far has been viewed over 200,000 times.
"View from space of the violent tornadic supercell that tore through Chicago. Breath taking imagery," the page tweeted alongside the short video.
Supercell thunderstorms—sometimes dubbed rotating thunderstorms—contain "deep and persistent rotating" updrafts, producing tall storm clouds with anvils stretching east, according to the National Weather Service. Most common in central states, they often create severe weather and sometimes tornadoes.
Damage reports were being tallied on Monday evening after the twister and heavy rains, according to a Chicago Tribune report.
"A lot of the damage has been tree damage but certainly whenever there are large trees down that means it's possible that trees came down on houses and cars in the city and in the suburbs," said Ricky Castro, a meteorologist with the National Weather Service.
Castro also said that there were reports of 84 mph wind gusts at O'Hare International Airport and a structural collapse in Bellwood.
The National Weather Service Chicago Twitter page highlighted that the severity of the extreme weather in the city.
"Recap of the June 13, 2022 Supercell that moved through northeast Il into northwest In," it tweeted alongside an image explaining the weather conditions.
"Additional details will become available throughout Tuesday as more investigation is completed with this event."
The bullet points explaining the weather experienced on Monday read: "A severe thunderstorm tracked from northern Kane and McHenry Counties southeast across the Chicago metro and northwest Indiana.
They also added that there were "numerous reports of wind damage were received along the path with O'Hare airport reporting a gust to 84 mph."
"Assessment of various pieces of data and imagery will determine if any tornadoes occurred with this storm; no tornadoes have been confirmed so far."
In a previous tweet, NWS Chicago asked for information from the public to help understand the extent of the damage caused by the extreme weather.
"Please comment any reports to us by copying, pasting, and filling out the following: Damge/Winds/Rainfall, location, estimated time of occurrence," it tweeted.
Several Metra lines temporarily suspended service as the storm blew through. As of 10 p.m., ComEd reported over 33,000 are without power due to the storm, down from a height of 88,000.
ComEd said 600 workers were making the rounds in the dark Monday night, trying to restore electricity and order before sweltering temperatures make the task unbearable.
Temperatures are expected to spike into the 90s on both Tuesday and Wednesday. With added humidity, it is expected to feel as hot as 105 F, potentially hotter in some places.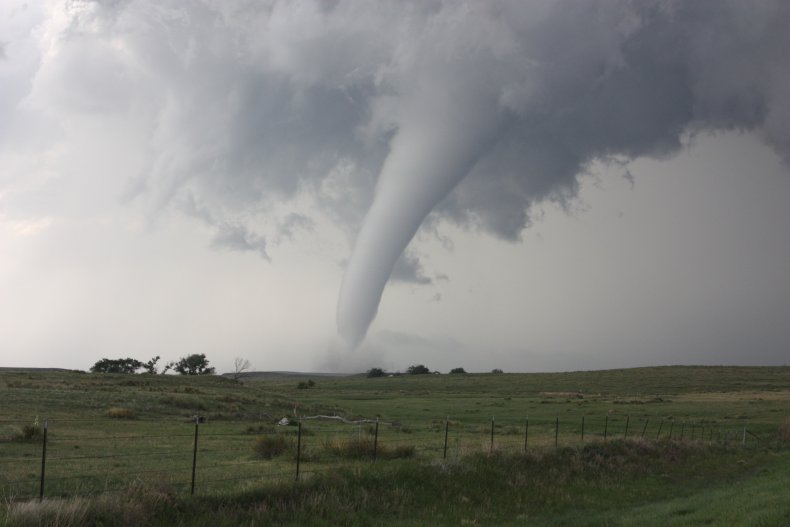 Update 6/16/22, 4:40 a.m. ET: This article has been updated with the NWS' definition of supercell thunderstorms.