Chicago Weather: Flood Warning in Effect As River Just Inches Away From Breaking Historic Record
Heavy rain and thunderstorms across the Chicago area have led to widespread flooding as the river overflowed, leading to some road closures.
The Chicago River could be seen bursting its banks in some areas on Sunday evening, with images shared on social media of floodwater submerging vehicles and entering garages.
A flood warning remains in effect, but the National Weather Service has said the Des Plaines and Illinois rivers have not yet crested and are not expected to recede soon.
"Waterways will likely continue to rise into overnight & Monday morning. Avoid driving tonight and anticipate some flooded roads on Monday," the National Weather Service tweeted.
Meteorologist Nick Stewart wrote on social media that the Chicago River was just inches from breaking a record. "A 5.12' crest is now the second-highest on record behind 10/10/1954 (5.50'). Wacker Drive flooded causing water rescues to take place by Chicago Fire Department," he said.
"The North Branch of the Chicago river hit 5.19', also the second-highest on record behind the 5.70' in 1954. The river rose about five feet in five hours," he added.
In October 1954, the Chicago area was hit with some of the worst flooding in its history, causing damage that totaled more than $25 million, according to the U.S. Geological Survey.
The National Weather Service said the storm had ended but the flooding was ongoing as of Monday.
"Even though the heavy rain ended last evening, flooding is still affecting many areas this morning. Several roads remain closed and rivers, creeks and streams continue to rise in some locations. Use extra caution if traveling this morning and do not drive through flood waters," it warned.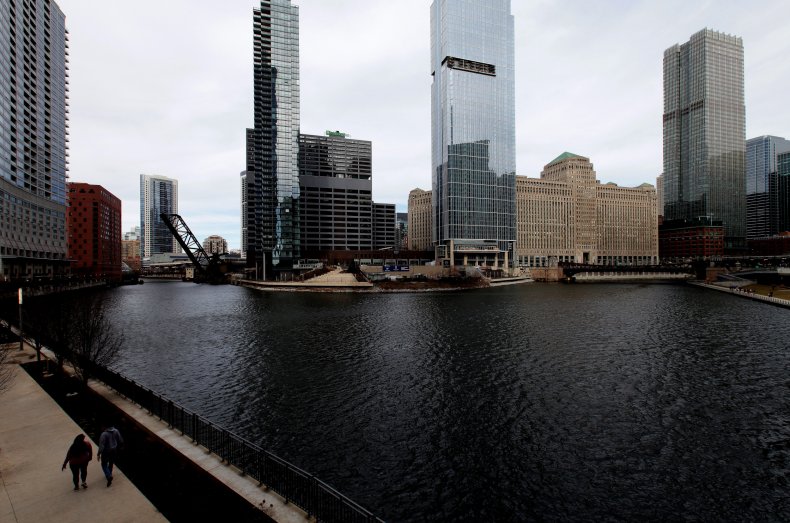 Major flooding was reported on roadways across the Chicago area including Lower Wacker Drive, where the water had risen so high that the Chicago Fire Department had to send in boats to remove people who had become stranded.
The department said it had used inflatable watercraft to rescue six people from the flood zone area on Sunday.
As the Chicago River rose, gates were opened to reverse the flow into Lake Michigan to prevent further overbank flooding, the Metropolitan Water Reclamation District said.
"To mitigate the impact of the storm event, we have reversed the flow of the Chicago Area Waterway system to Lake Michigan at the Wilmette Pumping Station and at the Chicago River Controlling Works downtown to minimize overbank flooding," the MWRD wrote on social media.