Chicago, Minnesota Wind Chill Warnings: Map, How to Calculate, Future Forecast
Freezing cold air is spreading across the north-central part of the United States and the National Weather Service is warning people to stay bundled up and avoid heading outside if possible.
In some areas, the coldest wind chill was expected to reach into the range of negative 50 degrees Fahrenheit, according to the NWS. Not only were the wind chill temperatures expected to be incredibly low, but the actual temperatures in many areas would also be between 20 and 40 degrees below the average.
Observed wind chill temperatures beginning Tuesday morning were reaching as low as negative 57 degrees Fahrenheit which was observed in Flag Island, Minnesota.
In Minneapolis, there was a wind chill advisory in effect until noon CST Tuesday and then a wind chill warning in effect from then until 9 a.m. CST Thursday. The wind chills Tuesday were expected to reach 35 below and at night be as low as 55 below zero.
In Chicago, the temperatures were expected to be between 18 degrees below zero and 27 degrees below with wind chills of 45 below to 55 below. The two cities make up some of the most populated areas in the area under warnings and advisories.
Wind Chill Warning Definition
There was a wind chill warning issued for much of the northern and central part of the country on Tuesday. " A Wind Chill Warning is issued when wind chills of -20F or lower are expected east of the Blue Ridge Mountains, and when wind chills of -25F or lower are expected along and west of the Blue Ridge Mountains and in Frederick and Carroll Counties in Maryland," according to the NWS.
The wind chill warning was issued from Tuesday night through Thursday afternoon. It was Arctic air coming into the region that was causing the freezing conditions. There was also a winter weather advisory in place for some areas as well where snow was expected.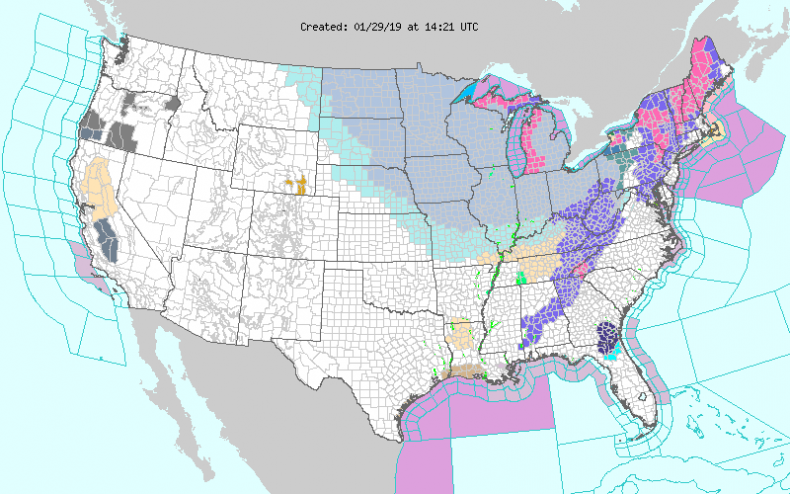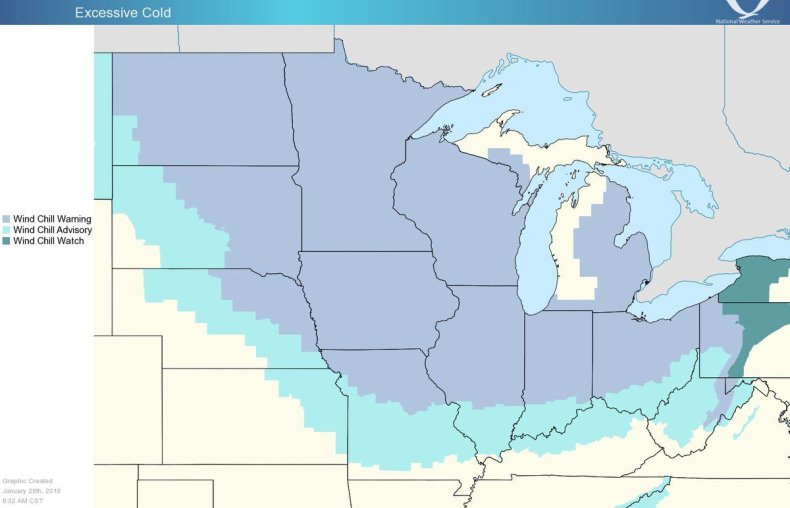 Wind chill measures the amount of heat lost from the body due to the wind and calculations are used to determine what temperature approximately the wind plus the actual temperature can feel like. The temperatures happening in the U.S. Tuesday could cause frostbite in just 10 minutes. A chart from the NWS shows how to calculate the wind chill and how long it takes for frostbite to develop in those temperatures.
The best way to protect against such low temperatures and wind, causing very low wind chill is to stay dry, stay covered and wear layers, according to the NWS. "To minimize frostbite, make sure all body parts are well covered. When frostbite starts, feeling is lost in the affected area and the frozen tissue will take on a white or pale appearance. If you suspect you are experiencing frostbite, hold the frostbitten area closely against warm skin to return blood flow and warmth to the affected area," says the NWS.
Such low temperatures and wind chill can also increase the risk of hypothermia which is a body temperature that is so low it becomes dangerous. Again the same steps can be taken to avoid hypothermia and it's important to stay dry and to wear layers.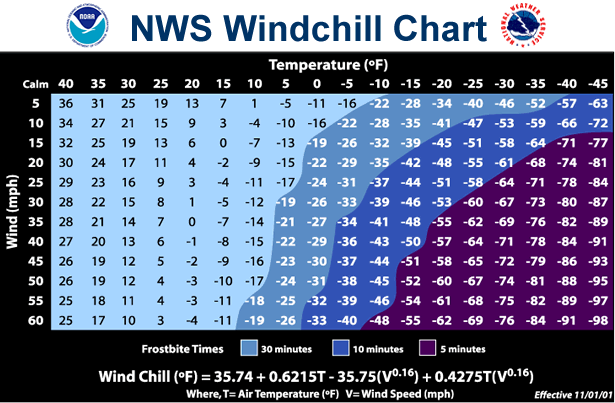 Chicago, Minnesota Wind Chill Warnings: Map, How to Calculate, Future Forecast | U.S.