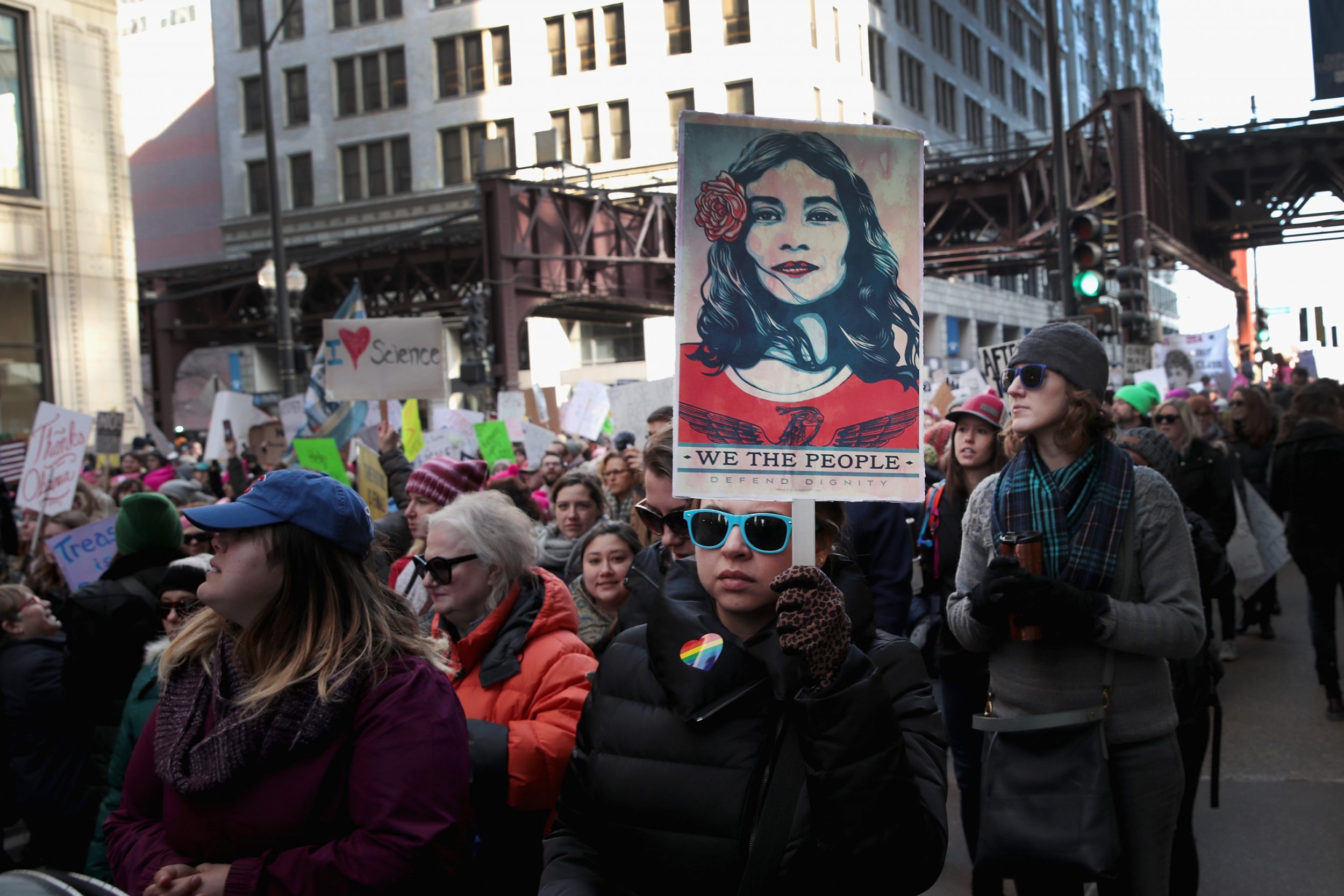 Chicago Women's March organizers announced in a social media post last month that they would not be holding a Women's March in January 2019 because they had already invested "so much time, money, energy and effort" into a "March to the Polls" event ahead of November's midterm elections.
"It's a Herculean effort to host a march. It would've been literally impossible to hold two marches that close together," Harlene Ellin, a Women's March Chicago organizer, told Newsweek.
The local Chicago group's decision was unrelated to any national group issues. But the timing of the non-event brought the spotlight back onto the controversy swirling around organizers of the national initiative, which was first launched two years ago in response to President Donald Trump's election victory.
The Chicago branch of the Women's March has worked to clarify its independence from the national initiative, criticizing the national group leaders' ties to the Nation of Islam, a religious group that has been condemned by the Southern Poverty Law Center as a designated hate group because of its "deeply racist, anti-Semitic and anti-LGBT rhetoric," with its primary teaching promoting black racial superiority.
Tamika Mallory, the co-president of the national Women's March group, had already faced backlash in February after attending the Nation of Islam's annual Savior's Day gathering in Chicago, during which the group's leader, Minister Louis Farrakhan, made a slew of anti-Semitic statements, including asserting that "the powerful Jews are my enemy."
"White folks are going down. And Satan is going down. And Farrakhan, by God's grace, has pulled the cover off of that Satanic Jew, and I'm here to say your time is up, your world is through," he also said, according to CNN.
While Mallory later denounced Farrakhan's anti-Semitic comments after facing pressure, she defended her attendance of the Nation of Islam event, asserting that she had been attending the annual gathering since she was a child, after receiving help from the religious group.
In March, Women's March Chicago organizers said, "No universe exists in which it is acceptable to support anti-Semitic statements." The Chicago branch said it "condemns bigotry in all its forms."
The Chicago branch also made efforts to clarify its independence from the national Women's March movement, stating on its Facebook page that it receives "zero funding or organizational support from them and shares no common leadership."
Instead of participating in the nationwide Women's March, Women's March Chicago said it would instead hold an action called "Operation Activation" for the day of the January 19 march.
Sparked in response to proposed policies and statements made by Trump that were viewed as anti-women, the Women's March began as a worldwide protest on January 21, 2017, the day after the U.S. leader's inauguration.
Correction, 12/31, 11:30 a.m.: The headline and story have been corrected to reflect that Chicago Women's March did not cancel a January 2019 event.