Chicago's Loose Alligator Nicknamed 'Chance The Snapper' in Honor of Hometown Hero Chance the Rapper
An alligator is on the loose in Chicago's Humboldt Park Lagoon, and Chicago natives have made the reptile seem right at home with a nickname inspired by a homegrown superstar.
Many are starting to call the creature "Chance The Snapper," an ode to Chicago's Chance the Rapper, who has used his fame to make a positive impact on the city. Even the rapper is in on the joke, which has surfaced on social media platforms from Facebook to Twitter.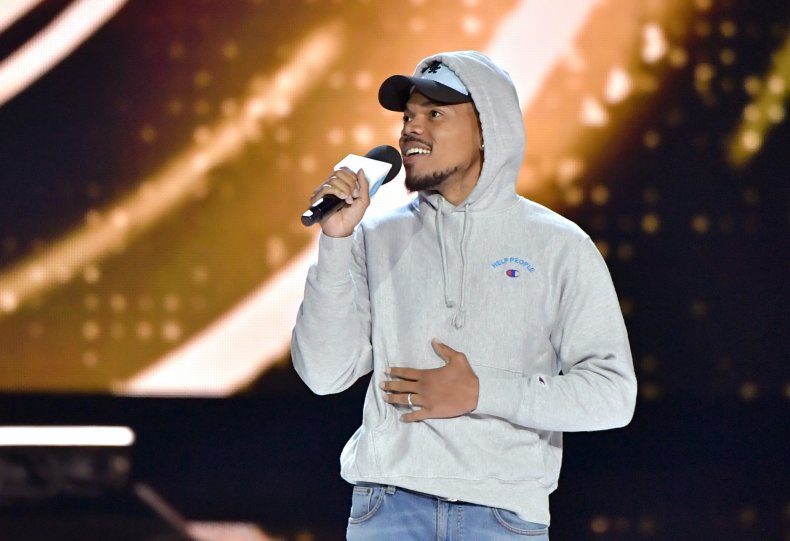 It appears the name was started by Chicago's Off Color Brewery, who posted a photo with the "Chance the Snapper" moniker on its Facebook page Wednesday. That photo has been shared by over 2,700 people, and quickly spread throughout the Chicago community, so far that even Chance the Rapper himself was in the loop.
The rapper signed on to Twitter Wednesday to briefly share a thought on his namesake reptile. In a tweet that sounded like Chance may have been caught off guard by the news, he wrote: "Just landed and found out I gotta alligator."
It was unclear how the alligator made its way into the Humboldt Park Lagoon, as alligators are far from native to the Chicago area. Authorities suspected it may have been someone's pet that was released, according to the Chicago Tribune. Reptile specialists assumed the animal is between four and five feet in length, according to the Tribune. Humane traps have been set throughout the area, but so far, had not caught the animal.
While Chance the Snapper remained on the loose, Chicagoans were taking the opportunity to make a joke of the rare occurrence. A Facebook event titled "SWIM WITH OUR NEW ALLIGATOR Sponsored by White Claw!" jokingly invited Chicago residents to swim with, and wrestle with, the alligator in a family-themed event.
Parts of the Facebook event read "The kids can feed the alligator bunnies at 3 PM," and "Meet and greet with children $50, Meet and greet and leave without your children $125."
A Twitter account for the alligator also surfaced, and has been mocking the incident from the view of the gator since Tuesday.
To those around Humboldt Park, though, the incident could be dangerous. Signs posted around the park urged pedestrians and park-goers to avoid tall grasses in the area, and to steer clear of the park's water sources. The sign's text does disclose that there is an alligator in the area.
Chance the Snapper was not the first alligator to skulk the streets of Chicagoland. In fact, the region has a long history of random gator invaders. The most recent was in a suburb of the city, Waukegan, in 2018. Before that, a few alligators have been spotted in the Chicago river in 1902, 1953, 2008 and 2010 according to the Tribune.