Chicago's Top Cop Won't Attend Trump's Speech to Police Chiefs, Says City's Values Are 'More Important' Than What Trump Has to Say
The International Association of Chiefs of Police (IACP) conference will be hosted in Chicago from October 26-29, but a spokesperson said Chicago Police Superintendent Eddie Johnson will not be attending President Donald Trump's speech.
"While the superintendent is looking forward to leading the International Chiefs of Police Conference and he's looking forward to participating in discussions about making our communities safer, he will not be attending the speech of the president because the values of the people of Chicago are more important to him than anything the president has to say," police spokesman Anthony Guglielmi told The Chicago Tribune on Tuesday.
Johnson, as the "host chief" of the conference, will attend other conference functions and sessions, Guglielmi said.
The IACP is a not-for-profit organization with headquarters in Virginia, and the world's largest professional association for police leaders. Their website boasts more than 30,000 members in 160 countries.
Newsweek subscription offers >
Chicago and its violence was one of Trump's frequent subjects during his presidential campaign, and a theme he has returned to while in office.
He brought up Chicago and other sanctuary cities while taking questions from the media after announcing a delay in a nationwide immigration sweep to deport people living in the United States illegally, including families. He gave lawmakers two weeks to work out solutions for the southern border.
"If you look at Chicago, they're fighting it. If you look at other cities, they're fighting it. Many of those cities are high crime cities and they're sanctuary cities. People are tired of sanctuary cities and what it does and the crime it brings," President Trump said in June 2019.
"The crime spree is a terrible blight. There's no reason for what's going on there," he said in October 2018.
Newsweek subscription offers >
"Chicago Police have every right to legally protest against the mayor and an administration that just won't let them do their job. The killings are at a record pace and tough police work, which Chicago will not allow, would bring things back to order fast...the killings must stop!" he said at the FBI Academy graduation in 2017.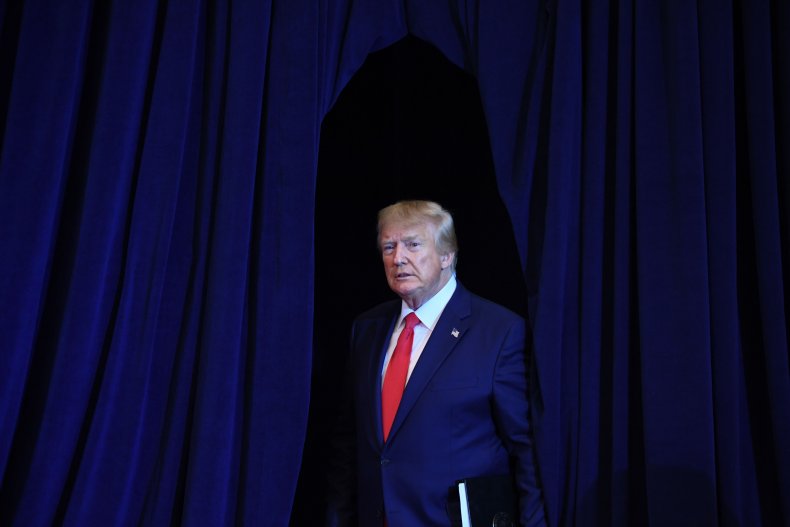 "The city of Chicago. What the hell is going on in Chicago? There are those who say that Afghanistan is safer than Chicago, okay? What is going on? You know what's wrong with Chicago? Weak, ineffective politicians," said the president at a rally in Florida.
A few months before the 2016 election, Trump told Fox News host Bill O'Reilly that an unnamed Chicago police officer said "he could solve Chicago's crime problem within a week if he was in charge."
Trump also slammed Chicago in a speech to the police chiefs group at its annual conference last year in Orlando.
While Trump's carousel of negative comments about the city could be a small part in the Superintendent's decision to boycott the speech, it is likely connected to Trump's signing of an executive order aimed at slashing funding to sanctuary cities like Chicago.
Guglielmi said crime has fallen in recent years and that Chicago is a welcoming city "to all." Chicago has been a sanctuary city since 1985.
Newsweek reached out to The White House for comment but did not receive a response in time for publication.
Chicago's Top Cop Won't Attend Trump's Speech to Police Chiefs, Says City's Values Are 'More Important' Than What Trump Has to Say | News