#ChicagoTrumpProtest Trends as Americans Share Images, Videos of Demonstrations Across the State
On Monday, #ChicagoTrumpProtest trended on Twitter in America as people congregated outside of Trump Towers in Chicago to protest President Donald Trump's first visit to the city since his election in 2016.
The number of people thronging the street outside of Trump Tower caused several roads to be closed, according to Bloomberg News Whitehouse Reporter Josh Wingrove.
The president had arrived at Trump Towers for Trump Victory, a joint fundraising committee benefiting both the president's 2020 campaign and the Republican National Committee, and will be hosted by Chicago Cubs co-owner Todd Ricketts.
"Protest across from Trump Tower in Chicago is slowly growing. Protesters chanting 'lock him up' and holding signs saying 'impeach,'" reported Grace Hauck, with USA Today.
"Trump seems to have quite a lot to say about Chicago, but he never comes here. Instead, he speaks to police and has a private meeting in his hotel. He never talks to the people who are impacted by his policies the most,'' said Marj Halperin, member of Invisible Chicago, according to Hauck.
Protesters brought a Trump-shaped Pinata to the protest, and they also shouted that this wasn't a fraternity prank but "a monumental moment in the history" of antifascism.
Signs held by protesters include "Trump is a Fascist," "Resist," and "Trump and Pence Out Now."
Others had a more lighthearted approach.
"Trump puts ketchup on his hot dog" is most savage of all the Chicago protest signs," said Rex Huppke, Chicago Tribune humor columnist.
Others showed up to support the President.
"One one side, a guy shouting "best president ever." On the other side, demonstrators respond "Obama!" #TrumpVisitChicago" said Chicago reporter Will Lee.
Laura Rodriguez, meanwhile, captured two different women at the protest - one anti-Trump protester, another holding a "Latina for Trump" sign.
The protesters dispersed by 2:35 local time, and traffic around the area reopened.
This isn't the only bit of history that President Trump has stirred up during his Chicago visit. On Monday, in a speech to the International Association of Chiefs of Police, he described the state of policing in the city as "worse than Afghanistan."
"People like (Chicago Police Superintendent Eddie) Johnson put criminals and illegal aliens before the citizens of Chicago," Trump said. "Those are his values and, frankly, those values to me are a disgrace."
He added that Chicago was "embarrassing to us as a nation."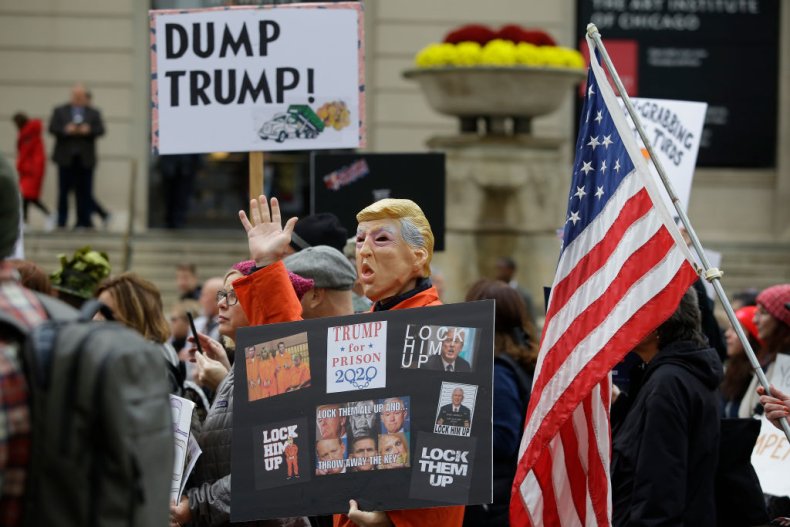 "Comments like that being made just lets me know I am doing the right thing and moving Chicago in the direction it should be going," Johnson replied in a press conference, according to The Chicago Tribune.