Chick-fil-A Contest to Break Drive-Thru Record Slammed as 'Cruel'
An advertisement for Chick-fil-A's "Break the Record Day," urging customers to place more orders through a drive-thru than it had ever served in one hour, sparked an outcry in defense of fast food workers this week.
The flyer was circulated on TikTok by user Monroe, whose video garnered 775,000 views in three days. "What did the Chick-fil-A employees do to deserve this," he asked in text overlay on the clip.
The piece of paper titled "Break the Record Day!" said the event would occur on July 22 between 12 and 1 p.m. at a drive-thru in Mount Pleasant, South Carolina.
"Help us break our record for the most amount of cars we have served in one hour (262!)" urged the restaurant. Its standing record comes to over four cars served per minute.
The flyer also offered coupons for a free chicken sandwich or sandwich/nugget meal to entice drive-thru customers to show up.
"Break the Record Day" is held regularly at Chick-fil-A locations across the country. In 2018, a Chick-fil-A drive-thru in Louisville, Kentucky made local news for breaking its location record to serve 178 cars in one hour.
Monroe's TikTok video swiftly racked up thousands of reactions from viewers horrified for the fast food workers.
"Okay but did the employees agree to this," one comment wondered. "I feel like this is borderline cruel."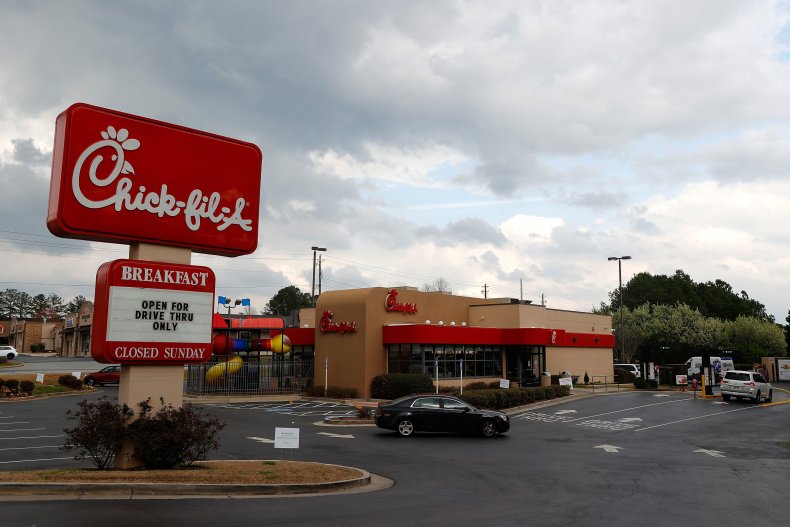 Some viewers claimed to have left jobs at Chick-fil-A after their local "Break the Record Day."
"That's the day I quit," one wrote. "$15 an hour isn't enough to slave [for] 250+ cars."
"Left outside during a heatwave with 100+ cars for $11.75 is exactly why I quit," another agreed.
The proportion of Americans who use drive-thrus has spiked since COVID-19 hit the country and many restaurants closed. According to a 2021 survey by mobile marketing company Bluedot, 74 percent of U.S. consumers have used a drive-thru since the start of the pandemic, up 43 percent from April 2020.
The scandalized reaction to "Break the Record Day" comes on the back of a shooting at the restaurant chain in June. A teenage employee at a Philadelphia, Pennsylvania Chick-fil-A was shot by a delivery driver over an argument about the food he was picking up, police said.
Drive-thrus can be a dangerous place for employees in the United States. In June, an Atlanta Subway worker was shot dead after a drive-thru dispute with a customer about "too much mayonnaise on his sandwich." Meanwhile, in May, a dispute at a Taco Bell drive-thru in California led to a man shooting at another customer's vehicle in an attempted homicide.
Newsweek reached out to Chick-fil-A and Monroe for comment.