TikTok viewers have been left divided after a viral video showed Chick-fil-A fans a little-known fact about how their drive-thru orders are handled.
A video posted by a Chick-fil-A employee named Alex Guerrero, known as @alexg_14 on the video-sharing platform, shows how his store is able to quickly fulfill drive-thru orders with the use of an elaborate conveyor belt.
The video begins as Guerrero fills a gallon bucket with ice. Overhead, an elaborate conveyor belt system is used to both minimize contact between the kitchen and hand-off personnel and "speed up" the drive-thru order process.
"A Chick-fil-A secret I bet you didn't know," Guerrero writes in video text overlay. "Our kitchen send [sic] the food to the [drive-thru] window using a conveyor belt to move things faster."
The brief video ends as the bag of food is dropped off next to the drive-thru employee, who collects the order to hand off to the customer waiting in their car.
The video was posted on May 29 and has garnered over 19.5 million views and more than 2.2 million likes. Prior to comments being turned off on the post, thousands called the chain restaurant "lazy" for turning to a conveyor belt rather than manpower to deliver drive-thru orders, according to The Daily Dot.
But the Chick-fil-A conveyor belt policy appears to have been part of restaurant operations for quite some time, unbeknownst to critics. In 2006, Chick-fil-A began using the double-lane drive-thru in Texas, according to The Houston Chronicle. The paper said that the conveyor belt system had a "breathtaking design...[with] bold, sweeping lines and risk-taking use of windows."
"It was Chick-fil-A's idea to do the second drive-through," franchise owner Jesse Chaluh told the outlet at the time. "It made everything more difficult and longer to build. The 'translogic system' used to deliver food to the remote drive-through cost $95,000. But the improved customer service will be worth it in the long run."
A Chick-fil-A representative confirmed with Newsweek that the fast-food chain has utilized the conveyor belt system "for several years" in only about "30 restaurants chainwide," which accounts for approximately 1 percent of Chick-fil-A restaurants in America.
"It's mostly used horizontally at restaurants with a [second] lane drive-thru kiosk and vertically at a few urban locations that have multiple stories," the company representative explained. "The goal is to make Team Members' jobs safer, easier and more efficient by reducing any need to cross in front of cars or walk up and down stairs in order to serve guests quickly."
The chain's customers have also taken to Reddit to slam the "ineffective" conveyor belt policy. Footage showing a conveyor belt mishap with a petite employee went viral on r/WatchPeopleDieInside two months ago. As the woman was too short to reach the bag floating above her on the machinery, it fell to the ground and spilled the contents everywhere.
"Somewhere is a PowerPoint presentation about how this new conveyor system will improve productivity and profits," one aggravated viewer wrote. "Presented by the board who sit in the corporate office doing nothing but 'important' meetings all day," another chimed in.
Several joked that Chick-fil-A would come to the undisclosed establishment in the video to "improve" the worker rather than the existing machine.
"They definitely should have designed her taller," one teased. "Probably be better for corporate PR if they replace her legs with taller cybernetic ones," another added.
Others reflected on their own experiences working in fast food and retail, calling many "efficiency" initiatives to be a failure on the executives' part.
"The actual problem with these corporate initiatives is that the test markets they try them out in often lie or work their team to death to 'make it work' because they don't want to look like they failed," one Redditor proclaimed.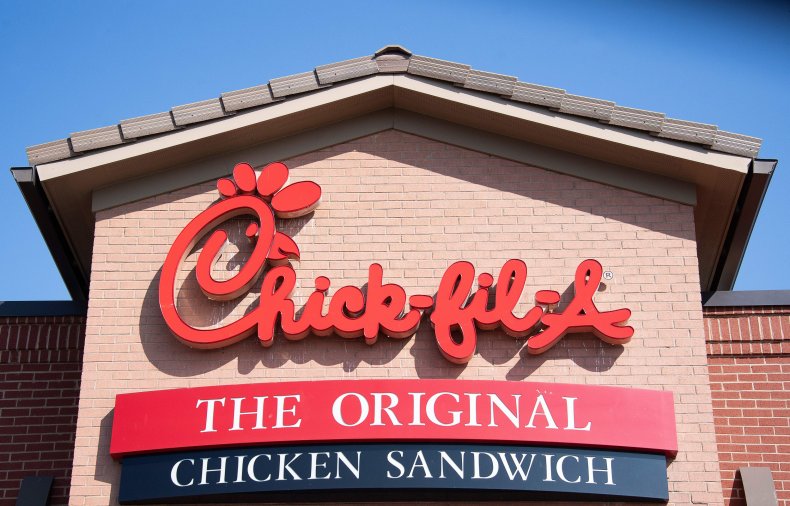 Similarly, a woman who worked for Olive Garden for 10 years went viral on TikTok earlier this month with wild stories about alleged uncleanliness and popular dishes. And, a former Dunkin' Donuts employee took to the video-sharing platform to reveal how the franchise makes popular drinks and snacks.
Newsweek reached out to Guerrero for comment on the viral video.
Updated June 15, 2021, 12:19 PM ET, to include a comment from a Chick-fil-A representative.