Chick-fil-A Employee Saves Choking Child Trapped by Seat Belt in Drive-Thru
A quick-thinking Chick-fil-A employee saved a child who was choking on his seat belt while in the car at the drive-thru.
The restaurant in Columbus, Georgia, shared the story of what happened on Monday, October 12, on its Facebook page, and told the page's followers how its hero employee managed to save the child.
Chick-fil-A employee Zack Kokenzie was working at the restaurant's drive-thru just after a busy lunch rush when he heard frantic cries coming from an SUV parked just outside the drive-thru window.
The cries that Kokenzie had heard were coming from the children in the back seat of the car, as somehow, the seat belt had become wrapped around one of the children's neck, and they were choking.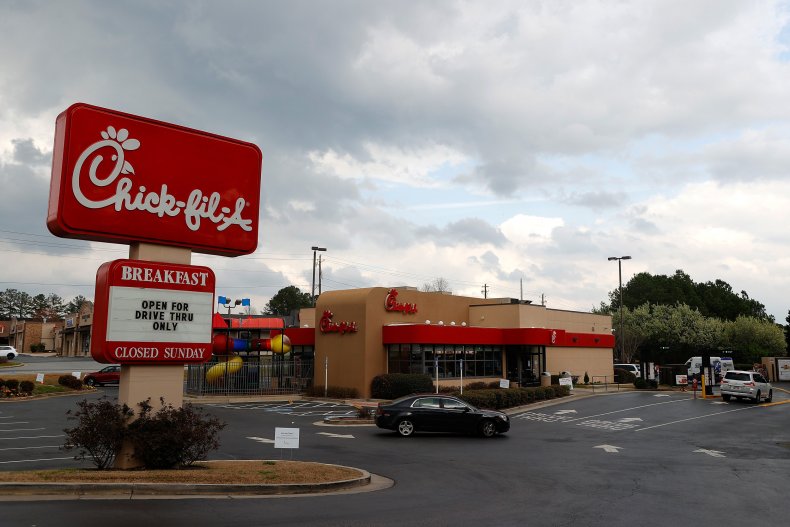 The father driving the SUV rushed to the back seat to help his child and another customer had left his vehicle to try and help, unsuccessfully.
But Kokenzie and fellow employee Zackary Bullock were there to save the day. Kokenzie, who was an Eagle Scout and is CPR certified, calmly went towards the vehicle and was handed a pair of scissors through the drive-thru window by Bullock, which he used to cut the seat belt in seconds, freeing the child.
Store owner and operator Alex Vann said in a statement: "Zack and our team acted quickly in rescuing a child from a life-threatening situation. I am proud of Zack, Justin, Zachary B., and our team for their quick thinking and quick responses.
"This could have been far worse, but Zack and others were in the right place, with the right training and the right attitude to potentially save the life of one of our customers. We are glad everyone is alright."
Kokenzie is known for being calm under pressure and is nicknamed "Cowboy" after nearly breaking his finger when a horse tried to buck him off.
The restaurant said in its Facebook post: "Great job Cowboy and to our team for responding so quickly to avert a life-threatening situation. We are thankful that everyone is okay. The Boy Scout motto is 'Be Prepared' and Zack certainly was."
Zack's story received praise from Chick-fil-A fans, including Facebook user Cynthia Gunnarsson, who said: "Great job! Doesn't surprise me that an Eagle Scout stepped up in a time of need! He and his family should be very proud!"