Hungry patrons craving Chick-fil-A have long been disappointed when a glance at the calendar reveals it to be a Sunday. But the fast-food chain broke with its regular policy of being closed on Sunday to whip up some much-needed food for evacuees of Hurricane Florence, now a tropical depression.
Donovan and Nikki Carless, owners of a Chick-fil-A in Garner, North Carolina, told KGO they'd been watching coverage of the storm on television and decided they needed to help. After placing a few calls to the rest of the team, who were readily onboard, the restaurant troops mobilized and hit the kitchen.
Donovan and Nikki coordinated with the Red Cross and, thanks to the owners' initiative and the team's willingness to pitch in, delivered 500 sandwiches and 1,200 nuggets to evacuees at three different shelters. Newsweek reached out to Chick-fil-A but did not receive a response in time for publication.
Because of its founder's deep Christian roots, Chick-fil-A franchises are closed on Sundays. However, in times of need, some franchises made an exception to lend a helping hand.
When passengers at Atlanta's Hartsfield-Jackson Airport found themselves stranded during a power outage in December 2017, Chick-fil-A employees prepared and handed out 2,000 meals. The blackout occurred on a Sunday, when the restaurant would normally be closed, but when Mayor Kasim Reed called for assistance, the restaurant got to work.
"It has been a very difficult day for thousands of travelers, and while Chick-fil-A is always closed on Sunday, our restaurants open occasionally to serve communities in need," the company said in a statement at the time. "We do not make a profit, but do what we can to offer comfort to people experiencing hardship."
Earlier in the year, during Hurricane Harvey, Houston franchisee manager Jeffrey Urban saved two of his regular customers' lives. As one of the only employees who could get through the flooded roads, he ventured to the restaurant to check on the damages. While there, he received a call from JC Spencer, who came in daily for breakfast with his wife.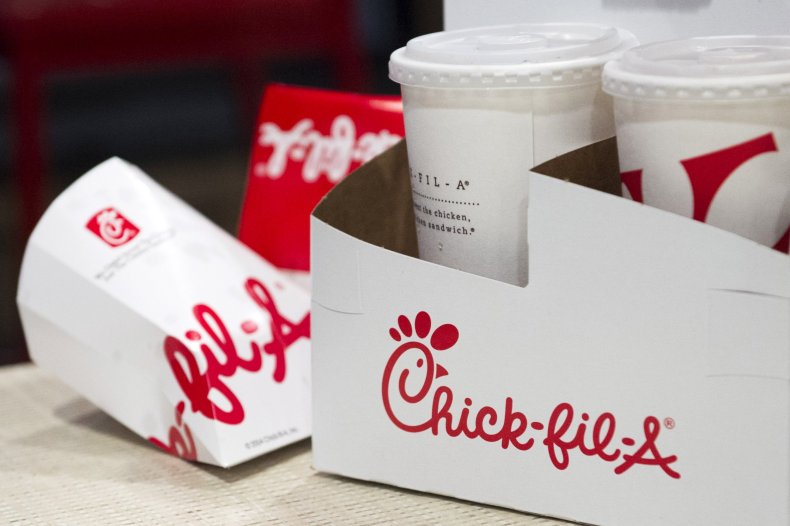 Spencer and his wife were stranded in their house, which was quickly filling with water. Urban called his co-worker, Cindy Smith, whose husband fired up his fishing boat, while their neighbors grabbed their Jet Skis. They helped the Spencers load their belongings onto the boat, and the couple escaped their flooded home on the Jet Skis.
Florence made landfall as a Category 1 hurricane on Friday morning. Ahead of its arrival, more than one million people were ordered to evacuate. The storm brought heavy rainfall and deadly flooding to the Carolinas, claiming the lives of at least 19 people, including a 1-year-old who was ripped out of his mother's grip in the raging water.
Emergency services organizations, the military and ordinary civilians have all offered assistance during Florence. ANd Chick-fil-A wasn't the only fast-food enterprise to help.
On Monday, Waffle House brought an estimated 150 workers to North Carolina in an effort to keep establishments open to feed those displaced by the storm, according to WLOS. Waffle House was also flying food to Wilmington, North Carolina, which was cut off from the rest of the state due to flooding.
Areas of North and South Carolina are still reeling from the flooding, which is expected to worsen as more rain hits the state. North Carolina Governor Roy Cooper warned residents on Sunday that the worst of the storm was yet to come.