Chick-fil-A Order Argument Turns Fatal as Shot Fired in Drive-Thru: Police
An argument over an order in a Chick-fil-A drive thru in Clinton, Mississippi turned deadly after a gun unintentionally discharged in a car Friday night.
The driver of the car, 23-year-old Kendarius Vaughn, was in the drive-thru when he began arguing about the order with a backseat passenger, local television news station WLBT-TV reported.
During the argument, Vaughn allegedly grabbed a handgun and began waving it, holding it toward the roof of the car. He then swung it toward his brother in the back seat.
His brother allegedly grabbed Vaughn's arm to prevent the gun from being aimed at him, but when he pushed his brother's arm toward the front seat, the gun accidentally discharged, striking Vaughn.
A passenger in the back seat then jumped into the driver's seat to drive Vaughn to the hospital where he later died of his injuries. No charges are currently being filed.
Clinton Police Chief Ford Hayman told another local television news station WAPT-TV: "Whatever they were doing in the car, the intended consequence was not for someone to get shot, but we are going through all the evidence. If something in the evidence points us in a different direction then we will come back and charge, but right now it's unintentional."
Clinton is a city of just under 30,000 people located about 15 miles west of the state's capital of Jackson, according to data from the United States Census.
Many people die from unintentional shootings each year across the U.S. According to data from the Gun Violence Archive, at least 2,315 people died in unintentional shootings in 2020—an increase from 1,905 in 2019.
So far this year, about 30 people have been fatally shot in Mississippi.
Several other people have died after being shot at restaurants or shops over the weekend.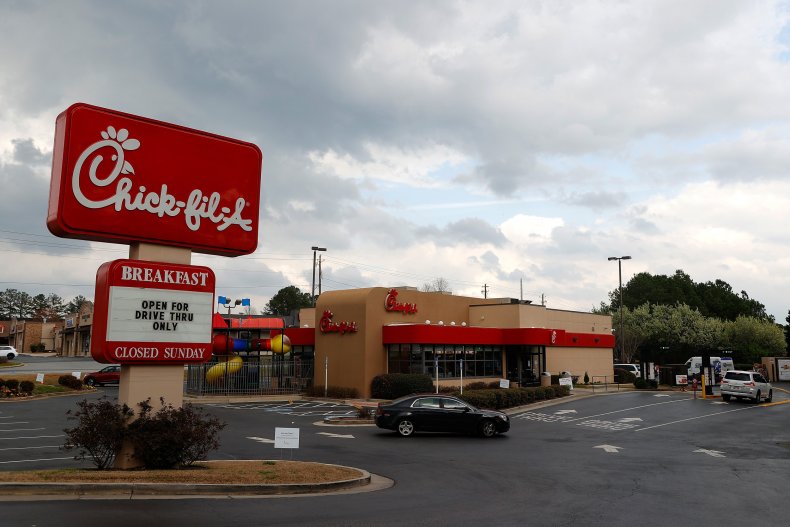 On Saturday night, an argument between two men in a check-out line at a Publix grocery store near Miami escalated, with one of the shoppers opening fire on the other, killing him. Police arrested the suspected shooter and the store was open by Sunday morning.
In Blacksburg, Virginia, 18-year-old Isiah O. Robinson was shot and killed at a hookah lounge on Friday. At least four other people suffered injuries, and police arrested the suspected shooter, 24-year-old Jamel Flint.
Newsweek reached out to the Clinton Police Department and Chick-fil-A for comment Sunday afternoon, but did not hear back by publication. This story will be updated with any response.