Chick-fil-A is giving away free nuggets through the end of January with an in-app deal and Popeyes is giving away its famous chicken sandwich through the end of this week, in partnership with DoorDash.
Free Chick-fil-A nuggets Deal
From now through January 31, you can get a free eight-piece portion of chicken nuggets at Chick-fil-A by signing in to your Chick-fil-A One account on the Chick-fil-A App. The free nuggets offer can be found under rewards and you can claim your free Chick-fil-A nuggets either in a restaurant, drive-thru or through a mobile order.
If you don't have an account already, the Chick-fil-A app is available to download on both the Apple Store and the Google Play store, and the offer is limited to one per customer.
Additionally, if you're not into chicken nuggets, you can still make the most of Chick-fil-A's offer. Instead of nuggets, you can redeem the offer for a free Kale Crunch Side, which debuted nationwide on January 13.
The Kale Crunch Side is a blend of curly kale and green cabbage tossed with an apple cider and dijon mustard vinaigrette, topped with salted, crunchy roasted almonds.
Kevin Purcer, director of customer digital experience at Chick-fil-A said in a statement: "Our giveaways are just one way that we like to show appreciation for our guests. It's also a fun way to reward our most loyal guests and welcome back guests who haven't visited in a while."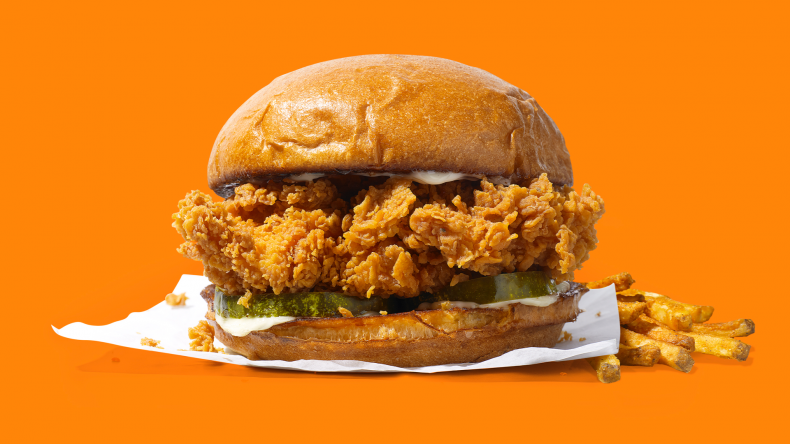 Free Popeyes Chicken Sandwich Promo Code
Popeyes is also offering its guests free chicken—the fast-food chain is giving away its popular chicken sandwich from now through Sunday, January 19. To get a Popeyes chicken sandwich combo meal for free, order $20 worth of Popeyes food through DoorDash and use the promo code CHICKENWINNER. This promo code will also get you free delivery and the offer is limited to one per person.
The chicken sandwich combo meal comes with a battered and hand-breaded white-meat chicken fillet served on a toasted brioche bun with two barrel-cured pickles and a choice of classic mayo or spicy Cajun spread, with a signature side and small beverage.
Bruno Cardinali, Head of Marketing North America at Popeyes Louisiana Kitchen said in a statement: "The positive response and demand for our new Chicken Sandwich sparked a social media frenzy and it was incredible to see this new product generate such excitement from our fans.
"We are thrilled about the continued buzz around our chicken sandwich and excited to deliver it to our loyal fans for free through our partnership with DoorDash."
Toby Espinosa, Vice President of Business Development at DoorDash added: "Over the past few months, we've worked closely with Popeyes to build a robust partnership. As one of the most requested stores to date, we're excited to bring the beloved Popeyes brand to our marketplace, and there is no better way to celebrate this new partnership than to offer the famous Popeyes Chicken Sandwich to customers for free."